Joni Ernst Calls for Sanctions on Russia 'Now,' Slams Biden 'Appeasement'
Senator Joni Ernst sharply criticized the Biden administration on Sunday over its response to Russia amassing troops near its Ukraine border.
During an interview on ABC's This Week, the Iowa Republican, who sits on the Senate Armed Forces Committee, was asked, "What happens if [the Russians] do invade? Should a NATO military response be on the table?"
"We want to make sure that invasion doesn't happen," replied Ernst. "So far with this administration, we have seen a doctrine of appeasement, and that certainly is not going to deter President [Vladimir] Putin from invading Ukraine."
She also called for hitting Russia with strong sanctions immediately.
"Let's make sure that we are pushing back right now with stiff sanctions, making sure that we are showing Putin we do mean business, but also making those preparations to pull out Americans that are in the most vulnerable area of Ukraine, which is that eastern part of Ukraine, the Donbas region."
Secretary of State Antony Blinken, during an interview on Sunday with Meet the Press host Chuck Todd, said that the U.S. is "not sitting still" as it engages in diplomacy and dialogue with Russia.
"We are building up defense, we're building up deterrence. We have now provided to Ukraine more security assistance this year than in any previous year. We've rallied allies and partners around the world. We are preparing massive consequences for Russia if it invades Ukraine again," he said.
Ernst said that the U.S. needs to be "very aggressive in pushing back" against Putin. She suggested placing sanctions on the Nord Stream 2 pipeline and banning Russia from the Swift financial system.
"All of these actions need to be put into place as well as continuing to equip our Ukrainian friends with not only defensive capabilities, but also offensive weapons," she added.
Russia this week told the U.S. to stop providing military aid to Ukraine, warning it had "almost completed" its assembly of 127,000 troops at the Ukrainian border.
The Russian mission in Washington said if the U.S. was "truly committed to diplomatic efforts to resolve the internal Ukrainian conflict" it should "abandon plans to supply new batches of weapons for the Armed Forces of Ukraine."
Ernst noted that diplomacy is "very important" during the current situation, but reiterated her remarks about a strong U.S. response. She warned that with the "very little pushback" from the U.S. and NATO, Putin might move into other Eastern European countries if he invades Ukraine.
"We do need to fight for democracy and understand that Putin's goal is to retain some of what he had during the Soviet era, that power and control to expand his reaches across Europe," she said.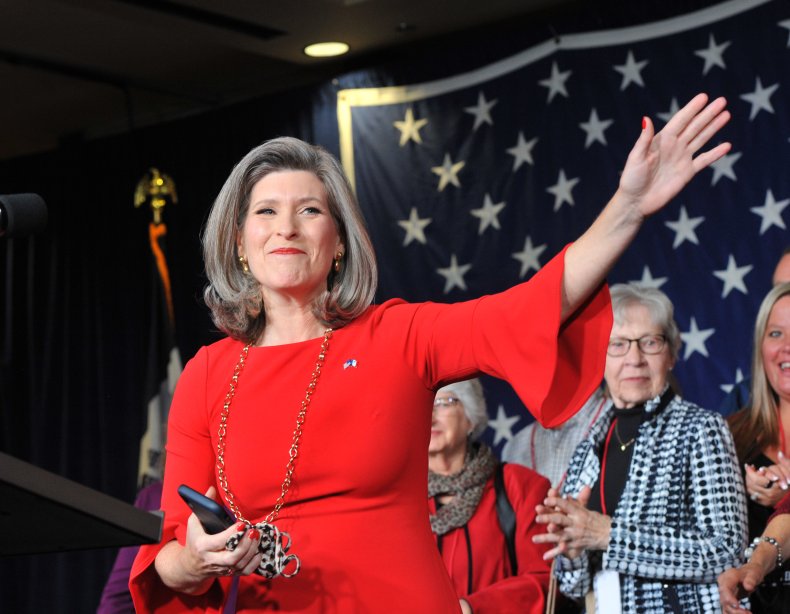 Senator Mitt Romney made similar remarks last weekend during an interview on Meet the Press with Todd, who asked the Utah Republican whether he backs the idea of "us supporting an insurgency, basically what we did to the Soviets in Afghanistan?"
"Absolutely," Romney replied. "I think [Putin] has to understand that the consequences are going to be significant. And will there be insurgency there? Yeah, the Ukraine people are proud and they know how to fight for the things they believe in and for their independence."
He added that the U.S. should make sure that Putin "doesn't have the Nord Stream 2 pipeline," which bypasses Ukraine, providing "extraordinary wealth" to Putin and Russia.
Newsweek contacted the White House for comments and will update the story when a response is received.