CNN Host Suggests People Would Believe Trump If He Said 'Two Plus Two Is Five' After Sharpiegate Scandal
CNN host Brian Stelter slammed President Donald Trump over the so-called Sharpiegate scandal from the past week, comparing the fiasco to a line from the dystopian novel 1984 by George Orwell.
"The less you believe real reporting, the more you might fall for his [Trump's] unreality," Stelter warned during a segment of his Sunday show Reliable Sources. "So that when he says two plus two is five, you'll believe him." Displaying a quote from 1984 on the screen, Stelter explained his reference to the classic dystopian novel.
The 1984 excerpt referenced by Stelter reads: "In the end the Party would announce that two and two made five, and you would have to believe it. It was inevitable that they should make that claim sooner or later: the logic of their position demanded it."
"It's a book that came to mind this week as Trump tried to convince people that his faulty [Hurricane] Dorian forecast was right," the host said. Asking, "where will this end," Stelter criticized Trump for making a "daily attempt to deny reality" and "destroy trust in media." He accused the president of "manipulating the levers of government to make a lie retroactively true."
On September 1, Trump inaccurately claimed on Twitter that Alabama was among the states "most likely to be hit (much) harder than anticipated" by Hurricane Dorian. In response to the president's warning, the National Weather Service (NWS) in Birmingham, Alabama, tweeted later: "Alabama will NOT see any impacts from Dorian. We repeat, no impacts from Hurricane Dorian will be felt across Alabama. The system will remain too far east."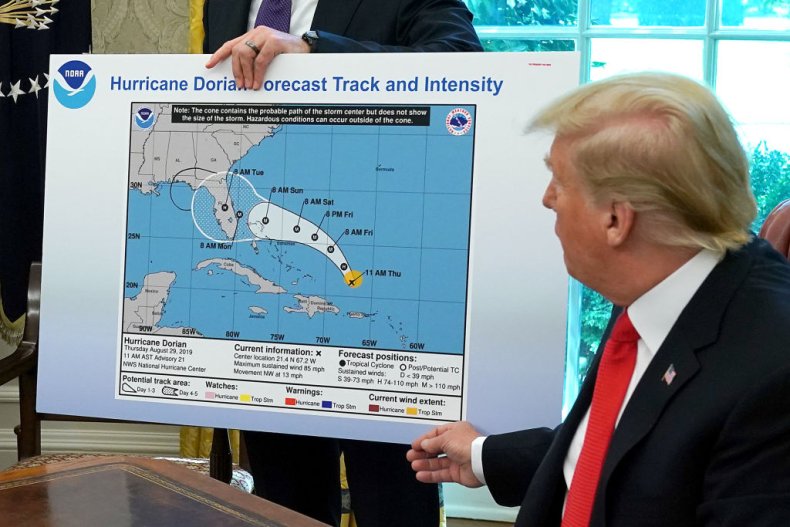 But the president dug in further, insisting that his warning was accurate. In a White House briefing, Trump sat next to a map of the storms' predicted path, including a small additional bubble that appeared to be drawn in with a marker over part of Alabama. This led many to speculate that the president or one of his aides had added the black line to be consistent with his previous warning. Some earlier weather predictions had suggested that there was a relatively slim chance that tropical storm force winds would hit parts of Alabama, but the president got the National Oceanic and Atmospheric Administration (NOAA) to back his more dire warning.
An unidentified spokesperson for the agency issued a statement late Friday saying that the president had seen some reports that "tropical-storm-force winds from Hurricane Dorian could impact Alabama." The individuals also criticized the NWS in Birmingham for speaking in "absolute terms that were inconsistent with probabilities from the best forecast products available at the time." However, last Sunday, NOAA spokesperson Chris Vaccaro had stated plainly that "the current forecast path of Dorian does not include Alabama."
Some meteorologists were angered by the president's insistence that he was correct, while others chided the NOAA for providing him cover.
"Either NOAA Leadership truly agrees with what they posted or they were ordered to do it. If it is the former, the statement shows a lack of understanding of how to use probabilistic forecasts in conjunction with other forecast information. Embarrassing," former National Hurricane Center director Bill Read wrote in a Facebook post. "If it is the latter, the statement shows a lack of courage on their part by not supporting the people in the field who are actually doing the work."
"Let me assure you the hard working employees of the NWS had nothing to do with the utterly disgusting and disingenuous tweet sent out by NOAA management tonight," Dan Sobien, president of the union representing weather service employees, wrote in a Friday tweet.