CNN's Jake Tapper Calls Out Ted Cruz, Mitch McConnell For Declining Invite to Discuss Mass Shootings on His Show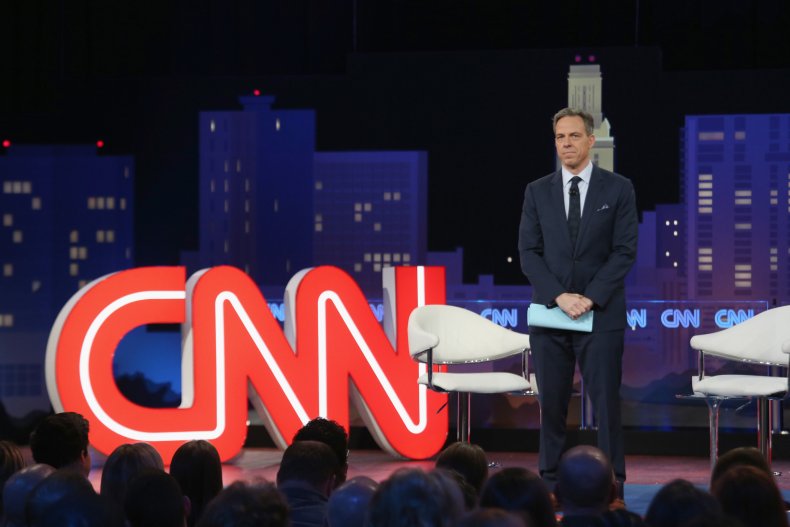 After two mass shootings took 19 lives and injured dozens more over the course of a single weekend, CNN host Jake Tapper named and shamed eight Republican lawmakers who declined to discuss gun violence on his State of the Union on Sunday morning.
Tapper tweeted a list that included Senators Ted Cruz and Senate Majority Leader Mitch McConnell, among others.
The White House also declined to send someone to CNN on Sunday to discuss gun violence on State of the Union. The president issued a tweet Sunday morning reading, "God bless the people of El Paso, Texas. God bless the people of Dayton, Ohio."
In the aftermath of this weekend's tragedies, Senate Majority Leader Mitch McConnell has been the target of much criticism for his position on federal gun control regulations.
Newsweek subscription offers >
Back in February, the House of Representatives passed HR 8, The Bipartisan Background Checks Act of 2019, a bill that would force all firearm vendors, including those at gun shows and online retailers, to run background checks on every person person who wished to purchase a gun.
The bill has not been put before the Senate for a vote, which would be the next step towards becoming law. Critics blame McConnell for blocking the bill from debate. As Senate Majority Leader, he is central in setting Republican legislative priorities and scheduling time on the Senate floor.
Last year, following the deadly shooting at Marjory Stoneman Douglas High School in Florida, McConnell told community leaders in Danville, Kentucky, that the only way to improve school safety is to increase security, adding, "I don't think at the federal level there's much that we can do other than appropriate funds."
Kentucky lost two students to school shootings that year. Nationwide, 114 people were killed or injured on K-12 campuses, according to data collected by Education Week.
Among the local politicians who declined to comment was Ohio Governor Robert DeWine, who signed his first bill as governor earlier this year in an act he called "a reaffirmation of the Second Amendment." The bill reworded an earlier law so that many rifles and shotguns would no longer qualify as "dangerous ordnance."
Texas Senator Ted Cruz defeated presidential candidate Beto O'Rourke to keep his senate seat in 2018, running on a pro-gun platform that included attack ads telling Texas voters O'Rourke "wants to take your guns." Cruz also declined an invitation from State of the Union, according to Tappers tweet.
Democratic presidential candidates were outspoken in the wake of this weekend's shootings. Candidates Corey Booker, Pete Buttigieg, Julian Castro, and Beto O'Rourke all agreed to appear on Tapper's show.
Before State of the Union aired, Beto O'Rourke spoke to CNN early Sunday morning, denouncing Trump for promoting racism after a white supremacist manifesto was linked to Patrick Crusius, the suspect in Saturday's mass shooting at a shopping center in El Paso, TX.
On air, Tapper once again listed all of politicians who had declined to comment. Tapper described the nation as "horrified and enraged, enraged by the lack of effort by our leaders to do anything about that which continues to horrify us."
CNN's Jake Tapper Calls Out Ted Cruz, Mitch McConnell For Declining Invite to Discuss Mass Shootings on His Show | News