CNN's Jim Acosta to Sarah Huckabee Sanders: 'Have the Guts' to Say Which Media Is the 'Enemy of the People'
In the White House's press briefing on Monday, the first of its kind in several weeks, press secretary Sarah Huckabee Sanders passionately defended President Donald Trump's assertion that the media was the "enemy of the people," even following several pipe bombs that were mailed to CNN.
Trump has not toned down his attacks on political opponents, the media and those who were targeted by a series of pipe bombs last week. A third suspicious package addressed to CNN, this time to its headquarters in Atlanta, was intercepted on Monday at a mailing facility. In a tweet that morning, the president again referred to the press as the "true enemy of the people."
Sanders told reporters the president was "not referencing all media. He's talking about the growing amount of fake news in the country, and the president is calling that out."
CNN's Jim Acosta pressed Sanders to specify which outlets the president regarded as the "enemy of the people." Trump has repeatedly singled out CNN and Acosta's reporting as "fake news" during his political rallies across the country.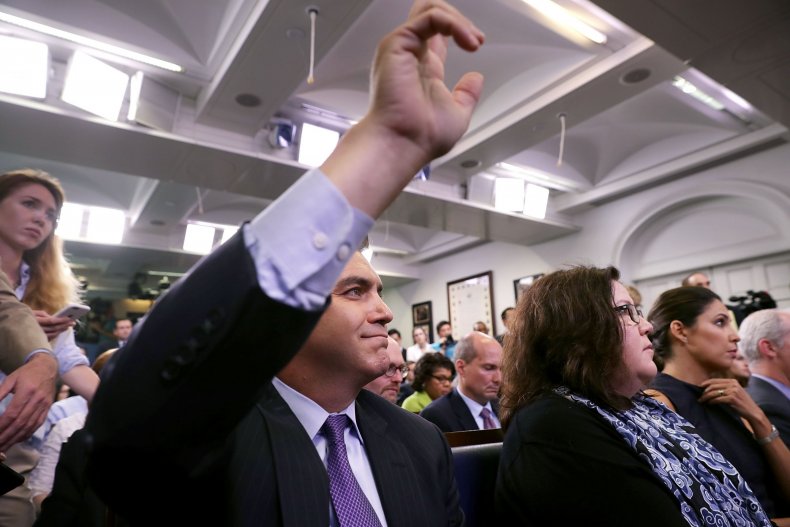 "If the president is going to say the 'fake news media' are the 'enemy of the people,' and if you're going to stand there and continue to say there's some journalists, some news outlets in this country that meet that characterization, shouldn't you have the guts, Sarah, to state which outlets, which journalists are the enemy of the people?" Acosta asked Sanders.
Sanders said she wasn't going to "walk through a list" and did not provide any specific names or organizations.
"I think it's irresponsible of a news organization like yours to blame responsibility of a pipe bomb that was not sent by the president—and not just blame the president, but blame members of this administration—for those heinous acts," Sanders said. "I think that's outrageous and irresponsible."
CNN has not said the president was directly responsible for the pipe bombs sent to its offices. The outlet, along with other critics of the president, suggested that Trump's political rhetoric could have played a role. The alleged bomber, Cesar Sayoc, was a supporter of the president, attended past political rallies and had pictures of Trump's face on the sides of his white van.