Georgia Representative Marjorie Taylor Greene had to endure a stinging rebuke over her election fraud claims on a radio show from a disgruntled caller—and it shows that U.S. democracy "stands a chance," according to CNN's Jim Acosta.
The network's anchor and correspondent appeared to relish the "earful" that the Republican congresswoman got during a phone in on the Georgia station UCTV.
In a segment on Friday, Acosta played a clip of Greene pursing her lips as one caller called her "an embarrassment to the state of Georgia."
Another caller lambasted her on air for her support of the baseless claim that the 2020 election that ex-President Donald Trump lost had been marred by fraud.
The unnamed woman took Greene to task saying that "you all refuse to accept Biden," and that "maybe we didn't like Trump, but he won."
"You will not accept the fact that Joe Biden won," the caller continued as Greene sat quietly, "and that is the whole thing. You're not gonna accept it. You're gonna keep on and keep on and just peck, peck, peck."
"You're not ever going to get anything done. You've got to work together. And you are not doing it. You're not doing it," she said.
The caller also criticized the vote recounts in the Peach state in which money was "wasted" and said, "you won't get anything done if you're not going to respect the man and realize that he's the president," she said.
Back in shot, Acosta said, "Bless her heart."
"The look on the congresswoman's face as she listened to all of that," he said, "it's a little early for Valentine's Day but I think I'm in love with that nice lady on the phone.
"In part, because it's a sign our democracy stands a chance after all."
He said it also showed that "if you peddle the worst kinds of conspiracy theories, sometimes reality bites you back."
Acosta, who endured much ridicule from Trump during press conferences by the former president Greene is a loyal ally of, then described some of the other areas in which Greene has been at the center of controversy.
These included comparing congressional COVID restrictions to the Holocaust in comments she later apologized for.
Greene has falsely claimed that the election President Joe Biden won saw "mass voter fraud that should terrify every American."
This is despite GOP election officials and Trump-appointed former Attorney General William Barr saying there is no evidence of a fraudulent ballot.
In response, Greene's spokesman, Nick Dyer, dismissed Acosta as a "Democrat state propagandist."
Dyer said in a statement to Newsweek that the congresswoman "had tons of wildly supportive calls and had just finished a congressional town hall packed with a standing room only crowd at the venue."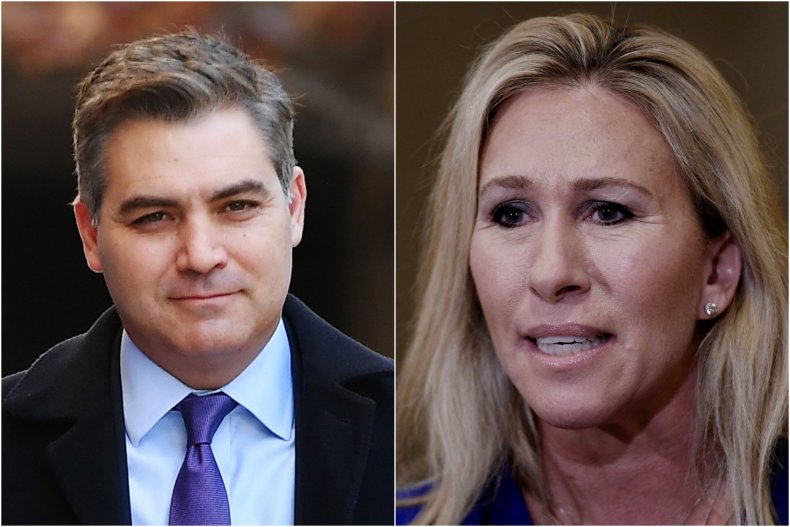 Update 01/29/22, 3:25 p.m. E.T.: This article has been updated with a statement to Newsweek from Greene's office.