Prominent Jewish groups have slammed Representative Marjorie Taylor Greene for another reference to Nazi Germany, after she described those who would go door-to-door to encourage COVID-19 vaccinations as "medical brown shirts."
The Republican lawmaker from Georgia tweeted a video in which President Joe Biden said his administration would step up efforts to get Americans vaccinated in a program involving "literally knocking on doors," to urge people to get the shots.
But Greene objected to the plan and in sharing the video of Biden on Tuesday, she added the message: "Biden pushing a vaccine that is NOT FDA approved shows covid is a political tool used to control people."
"People have a choice, they don't need your medical brown shirts showing up at their door ordering vaccinations. You can't force people to be part of the human experiment," she said.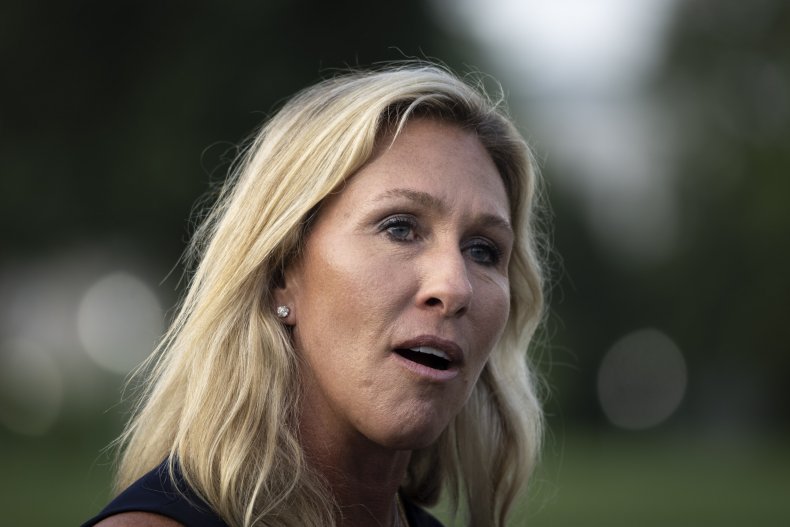 The "Brown shirts" refer to the Sturmabteilung or SA, a notorious paramilitary force assembled in the 1920s which targeted Jews and other groups and facilitated Adolf Hitler's rise to power.
Her tweet comes only weeks after she had caused outrage for comparing House COVID safety protocols to how Jews were made to "wear a gold star" and then "put in trains and taken to gas chambers in Nazi Germany."
She later issued an apology at a press conference and visited the U.S. Holocaust Memorial Museum in Washington, D.C.
However, Eric Fingerhut, CEO of the Jewish Federations of North America (JFNA) condemned Greene's latest tweet, telling Newsweek that her "repeated use of Nazi imagery to discuss public health issues is outrageous, offensive and unacceptable."
"Jewish Federations are working hard to secure Jewish communities facing rising antisemitism across the country, and this kind of rhetoric only adds fuel to the fire. Greene should retract her statement and apologize," Fingerhut added.
Meanwhile, Joel Rubin, executive director of the American Jewish Congress, called on lawmakers to denounce Greene.
"Rep. Greene continues to prove that there is no limit to her brutal trivialization of the Holocaust for her own personal political power," Rubin told Newsweek in a statement.
"The Holocaust and Jewish suffering is not a prop for her delusional views comparing efforts to save lives through vaccines with the most heinous, systematic state-sponsored slaughter of millions of innocent victims."
"With antisemitism rising in the U.S. to levels unseen in decades, we call on all members of Congress to denounce her, he said.
Jake Hyman, spokesperson for the Anti Defamation League (ADL), said that Greene's remarks showed that her visit to the Holocaust Memorial Museum had been "a publicity stunt."
"It's all the more clear Rep. Greene is not interested in learning about the unique horrors of the Shoah and the genocidal Nazi regime; rather, she just seeks to generate headlines and outrage," he told Newsweek.
On Wednesday, White House spokesperson Jen Psaki responded to Greene's criticism of Biden's plans, telling CNN, "We don't take any of our health and medical advice from Marjorie Taylor Greene. So I can assure everyone of that."
Newsweek has contacted Greene's office for comment.