Representative Marjorie Taylor Greene has defended comparing mask mandates to the treatment of Jews in Nazi Germany, suggesting that she was more attuned to what ordinary people think than her critics.
The controversy surrounding the Georgia congressperson continues to grow after she made a parallel between House COVID safety protocols and the way Jews were made to "wear a gold star" and then "put in trains and taken to gas chambers in Nazi Germany."
House Minority Leader Kevin McCarthy called the comments "appalling" but has not called for her to face disciplinary measures.
Senate Minority Leader Mitch McConnell also condemned Greene as the unease with which her comments have been received among her own party alienates her within the GOP.
But in an interview with Real America's Voice host Steve Bannon, Greene said: "They fear me because they know that I'm with the people. I am not a politician," in a comment which her opponents are likely to agree with.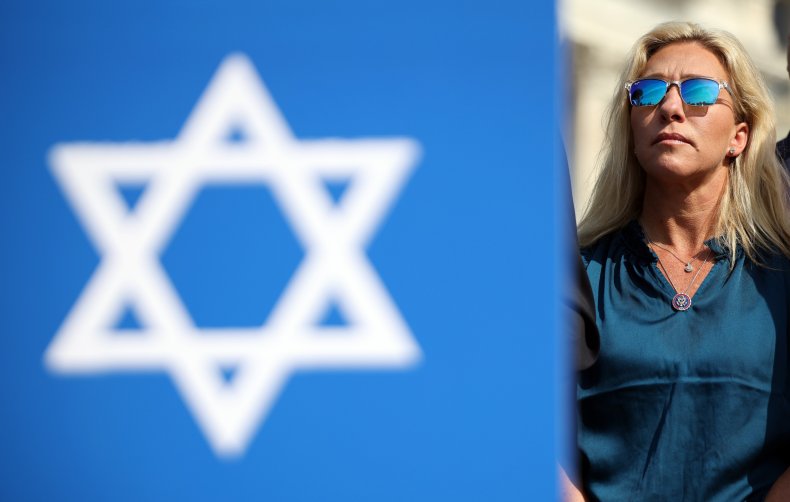 Boasting that her America First rallies "are drawing thousands of people," Greene then took aim at "the establishment," the Democrats, the media and those within her own party.
"I've done nothing wrong," she told the former White House strategist on Wednesday. "I have literally done nothing wrong."
"The only thing that I have done that they're so offended by is I go in every single day and I speak exactly how real Americans talk at their kitchen tables, how real Americans talk when they're on break at work, how real Americans talk to one another," she said, adding: "I refuse to back down."
Her train of thought segued into talking about the Civil Rights Movement through which "we got rid of racism." She also said that the GOP "needs to stand up against racism that is constantly preached from the Democrats through the media," although she didn't specify exactly how this is being done.
With her future in the House in the balance, an online petition calling her expulsion has garnered more than 100,000 signatures. However, it is unlikely that enough Republican lawmakers would reach the two-thirds majority required to remove her.
The Democrats have called for her to be removed from the House, but the expulsion of a member is a rare occurrence, happening only 20 times since the first Congress met in 1789.
When contacted for comment about the furor surrounding her, Greene's office referred Newsweek to a statement she made on May 25 in which she accused the media of a "cover-up of Democrat antisemitism."
"I'm sorry some of my words make people uncomfortable, but this is what the American left is all about," she said, as Newsweek reported earlier.