Petition Demanding Marjorie Taylor Greene's Expulsion Amasses Over 100,000 Signatures
A petition urging House Republican leader Kevin McCarthy to expel Rep. Marjorie Taylor Greene from Congress has amassed more than 100,000 signatures in three days.
David Weissman, who started the Change.org petition during the weekend, wrote that Greene's recent comparisons of mask mandates and COVID safety measures to the Holocaust are "just one of the many different ways she's violated her oath as a member of Congress."
"I've been trained to assess threats and there is a serious threat to our country sitting in Congress that goes by the name of Marjorie Taylor Greene," Weissman wrote in the petition.
"I used to believe the Republican Party stood for decency, family values and good faith principles, but any continued support of Marjorie Taylor Greene, renders that demonstrably untrue.
"She is an active security threat to her colleagues, is unfit to serve the good people of this country, and she's directly harmed our civil liberties and freedoms with her divisive and hateful rhetoric. Marjorie Taylor Greene must be immediately expelled from Congress."
In his Twitter bio, Weissman describes himself as a former Donald Trump supporter and former Republican who is now a Democrat.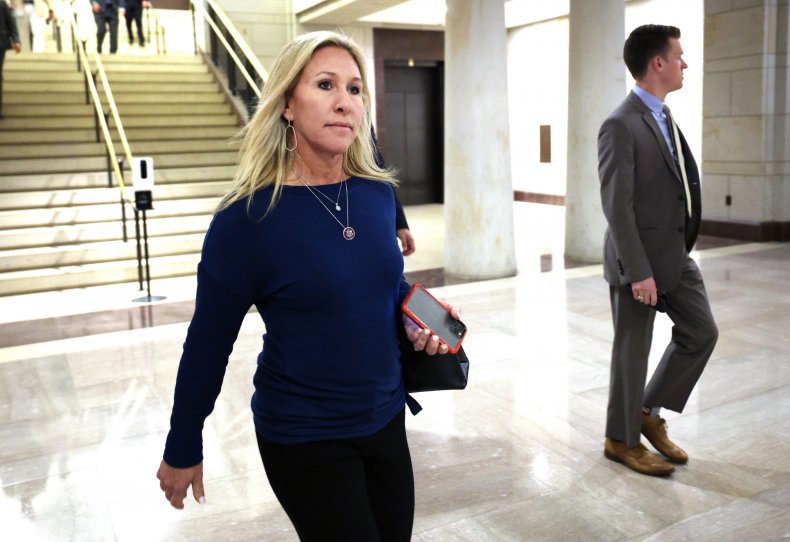 The petition gained traction as McCarthy, the House minority leader, and other Republicans condemned Greene following days of mounting criticism and calls from Democrats to discipline her.
"Marjorie is wrong, and her intentional decision to compare the horrors of the Holocaust with wearing masks is appalling," McCarthy said in a statement Tuesday, which did not mention disciplinary measures.
"Americans must stand together to defeat anti-Semitism and any attempt to diminish the history of the Holocaust. Let me be clear: the House Republican Conference condemns this language."
Senate Minority Leader Mitch McConnell called Greene's comments one of her "frequent outbursts that are absolutely outrageous and reprehensible." McConnell added that any disciplinary action against her would have to come from the House.
Rep. Elise Stefanik, the No. 3 House GOP leader, issued her own rebuke in a tweet that didn't mention Greene by name or call for any disciplinary action.
"Equating mask wearing and vaccines to the Holocaust belittles the most significant human atrocities ever committed," she wrote. "We must all work together to educate our fellow Americans on the unthinkable horrors of the Holocaust."
Greene, an ally of former President Donald Trump, has thrived on controversy since taking her seat in the House in January.
But Republican leaders have largely refrained from criticizing her, and mostly stood by her as House Democrats stripped her of committee assignments in February over her past social media endorsements of extremist conspiracy theories.
Their condemnations on Tuesday came after Greene compared House COVID safety protocols, including mask requirements on the House floor, to the persecution of Jews in Nazi Germany during an interview last week.
"You know, we can look back in a time and history where people were told to wear a gold star, and they were definitely treated like second-class citizens, so much so that they were put in trains and taken to gas chambers in Nazi Germany," Greene said Thursday. "This is exactly the type of abuse that Nancy Pelosi is talking about."
Her remarks sparked a torrent of criticism, but Greene has refused to apologize and has only leaned further into the comparison.
On Tuesday, she tweeted out a news article about a grocery store chain that will allow vaccinated employees to go maskless and wear a logo on their name badges indicating they had been vaccinated.
"Vaccinated employees get a vaccination logo just like the Nazi's forced Jewish people to wear a gold star," Greene wrote.
After McCarthy issued his statement condemning her comparison, Greene shared another Twitter user's tweet describing him as a "moron" and "feckless c**t" before quickly deleting it.
Greene's spokesman has been contacted for comment.