Marjorie Taylor Greene 'Fine' With Committee Removal, Insists GOP Is Still Trump's Party
Representative Marjorie Taylor Greene (R-Ga.) told reporters Friday that she felt "freed" after a 230 to 199 vote in the House to remove her from sitting on the education and budget committees.
"I'm fine with being kicked off of my committees because it would be a waste of my time," Greene said at a press conference.
With the extra time on her hands, Greene said she will work to "build a huge amount of support with people who want to put America first and don't care about party lines and don't care about political identities involved."
The freshman congresswoman added, "Going forward, I've been freed. I do, I feel freed. Because you know what's happening on these committees? You see we have basically a tyrannically-controlled government right now."
The effort led by Democrats to remove Greene came after Republican leadership declined to take action against her over controversial posts she made on social media before being elected to Congress in 2020.
In 2018 and 2019, Greene liked and spread content supporting the conspiracy theory known as QAnon—a broad movement that believes former President Donald Trump is working to expose an elite cabal of child sexual abusers. In one post, Greene liked a comment that said "a bullet to the head would be quicker" to remove House Speaker Nancy Pelosi. Others spread conspiracies that mass school shootings were staged events.
Before the vote on Thursday, Greene made her case to her colleagues and separated herself from QAnon. "These were words of the past and these things do not represent me," she said in remarks from the floor.
On Friday, Greene equated the Democratic push to strip her of committee assignments as a violation of free speech.
"Free speech really matters and yesterday when the Democrats and 11 of my Republican colleagues decided to strip me of my committee assignments, they actually stripped my district of their voice," she said. "They stripped my voters of having representation to work for them."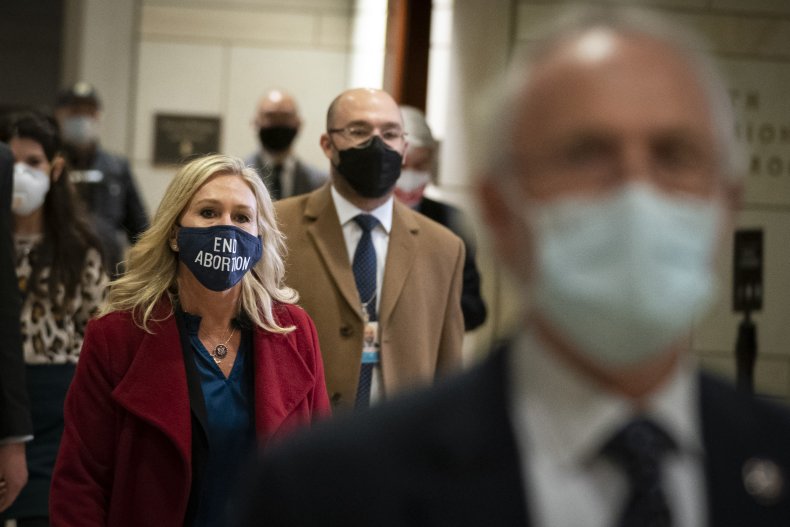 Greene also had a warning for the conservative members who voted against her, arguing that their actions could hurt the GOP's chances of taking back the majority in the 2022 election cycle.
"I hope that my Republican colleagues really think about what they've done," she said. "I'm sure they're going to hear from their voters at home because the base is loyal to President Trump and the base has been very loyal to me and they've shown me that."
Multiple times throughout the press conference, Greene praised Trump and defended him ahead of his upcoming impeachment trial—which she called a "circus." Trump has been charged with incitement of insurrection after a mob of his supporters stormed the U.S. Capitol on January 6.
"The party is his," Greene said. "It doesn't belong to anyone else."