CNN's Jake Tapper Ridicules Trump By 'Accidentally' Airing President's History of Anti-Semitic Moments During Omar Segment
CNN host Jake Tapper on Wednesday ridiculed Donald Trump's condemnation of Minnesota Democratic Congresswoman Ilhan Omar by airing clips of the president's history of anti-semitic moments.
After Omar was criticized by Democratic leadership—who declared that her "use of anti-Semitic tropes and prejudicial accusations about Israel's supporters is deeply offensive"—the congresswoman apologized on Monday for posting tweets over the weekend which suggested that the American Israel Public Affairs Committee (AIPAC) bought influence over U.S. politicians.
Despite the apology, which was backed by Rep. Alexandria Ocasio-Cortez (D-N.Y) and Chelsea Clinton, Trump condemned Omar on Tuesday and called on the congresswoman to resign over her comments.
"Anti-Semitism has no place in the United States Congress and I think she should either resign from Congress or she should certainly resign from the House Foreign Affairs Committee," the president said, adding that her comments were "deep-seated in her heart."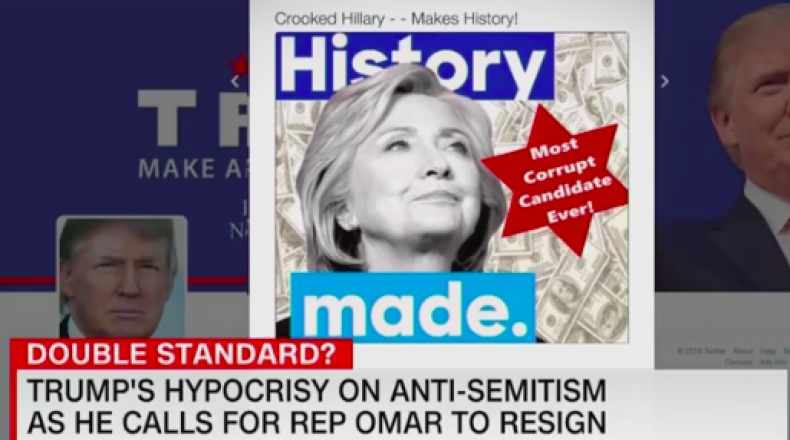 During a segment on The Lead today, host Jake Tapper pointed out that the president has never apologized for his own history of anti-Semitic behavior before launching into several clips proving his statement.
The first was of Trump accusing a Jewish group of wanting to "control" politics.
"I'm sorry that was the wrong clip, that was then-candidate Trump in front of Republican Jewish Coalition suggesting that haggling Jews like to control their politicians with their money," Tapper joked. "We wanted the clip of Congresswoman Omar. Control room, I want the Omar clip."
A clip of a deleted retweet from the president of a Star of David next to stacks of cash was then played before Tapper said: "Wait no, that's not it either. Control room, I'm not looking for stuff about Trump, I'm looking for the Congresswoman Omar clip. Do you have it? Okay, I'm being told we have it. Thank you. Run it please."
But as expected, the control room instead played the infamous clip of the president commenting that there were "very fine people" on both sides in reference to the neo-Nazi Charlottesville march in 2017. The clip was quickly followed by a tweet from House Republican Leader Kevin McCarthy where he accused wealthy Jews, including George Soros, of attempting to "BUY" the 2018 midterm election. The tweet has since been deleted.
"We seem to have some issues here sorting out which anti-Semitic tropes are offensive and which are not," Tapper humorously said.
The chyrons at bottom of the segment read: "Double standard? Trump's hypocrisy on anti-semitism as he calls for Rep Omar to resign."
CNN's Jake Tapper Ridicules Trump By 'Accidentally' Airing President's History of Anti-Semitic Moments During Omar Segment | U.S.