CNN's Jake Tapper Shuts Down Susan Collins' Trump Hush Money Spin: We 'Do Have the Whole Picture'
CNN's Jake Tapper sternly shut down Senator Susan Collins (R-ME) after she attempted to downplay evidence of President Donald Trump's alleged involvement in the illegal hush money payments.
During State of the Union on Sunday, the host and Washington correspondant asked Collins whether it bothered her "that the president of the United States is being accused of ordering felony crimes in order to help him win the election."
"Let me point out that there are a lot of unanswered ethical, legal and factual questions, but clearly this was not a good week for President Trump nor for his campaign organization," Collins started.
"And these allegations are concerning. But we need to wait until we have the entire picture and that's why it's so critical that the special counsel be allowed to complete his investigation impeded so that we can have the full picture."
Tapper quickly admitted that her comments applied to the Russian investigation "because we're still waiting to hear the whole picture there," but stated that "when it comes to Michael Cohen, we kind of do have the whole picture."
"The Southern District of New York said these payments were illegal campaign contributions, and the prosecutors say they were done at the direction of and in coordination with President Trump, and now Michael Cohen is going to jail as a result of that and other crimes," Tapper continued. "Don't we have the whole picture there?"
Collins responded by claiming the picture is still "murky," citing Cohen's credibility and the fact that many of his crimes had nothing to do with Trump. "The U.S. Attorney's Office described Michael Cohen as being deceitful, motivated by greed," she said.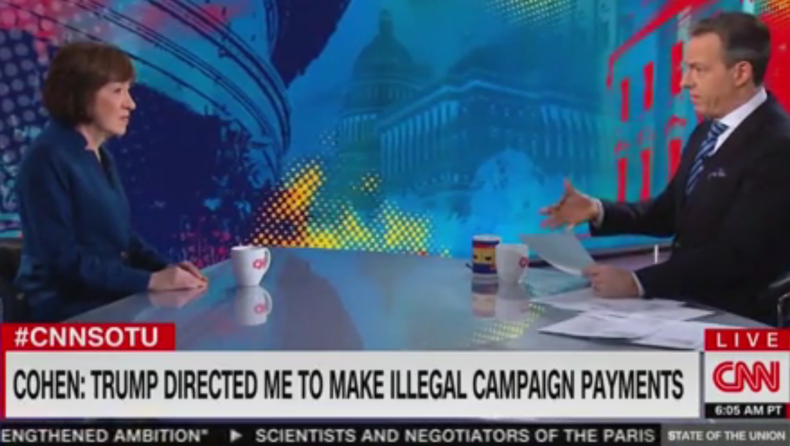 But Tapper moved to shut her down by pointing out the existence of an audio tape featuring Cohen discussing the payments with Trump. "You haven't seen enough evidence to convince you that Donald Trump told Michael Cohen, directed him to make these payments, to get Stormy Daniels and Karen McDougal to keep their stories quiet?" he asked.
Collins replied: "I'm not going to engage in speculation cause I don't feel that I have the entire picture yet. Certainly this is concerning. I don't mean to imply otherwise, but I'm going to wait until I have the full picture."
On Wednesday, Cohen, Trump's former attorney and personal "fixer," was sentenced to 36 months in prison after he pleaded guilty to multiple federal crimes, including campaign finance violations, lying to Congress and tax fraud. Although Cohen admits he paid off two women who claimed they had affairs with Trump leading up to the 2016 election, he said he did so because it felt like it was his job to cover up the then-presidential candidate's "dirty deeds."
"Today is one of the most meaningful days of my life. The irony is that today I get my freedom back," Cohen said in court. "Blind loyalty to this man led me to choose a path of darkness over light."