CNN's Jim Acosta Mocks Donald Trump Ahead of CPAC, Calls Him a 'Karen'
CNN's Jim Acosta branded Donald Trump a "Karen" as he mocked the former president's comeback tour ahead of an appearance at the Conservative Political Action Conference in Dallas, Texas, on Sunday.
"Former President Donald Trump is returning to the CPAC stage tomorrow," Acosta said at the start of a segment on CNN Newsroom on Saturday, with a chyron on screen that said: "How Trump is pretending he's still the president."
"Hide the flags," Acosta quipped, before playing clips of Trump hugging and kissing the U.S. flag at previous CPAC appearances. "And now the same man who gripped the Stars and Stripes won't let go of something else: the idea that he's still president."
He pointed to the setting of a press conference Trump held this week, where he announced he was suing Facebook, Twitter and Google, alleging he and other conservatives were censored by the tech giants.
"The flags, the columns, that vaguely familiar seal on the podium," Acosta said. "Of course, that's not the White House. That's Trump's golf club at Bedminster. But it looks like some kind of POTUS Potemkin Village with Trump as the pretender-in-chief."
Acosta added that Trump "seems to be spending his post-presidency playing president."
Another case in point was Trump's recent visit to the U.S.-Mexico border, Acosta noted. "Trump hopped on a plane to the Texas border," he said. "He met with the governor and more than 20 House Republicans, and then stood in front of a border wall he no longer controls and gave instructions about the paint job.
"It was like old times, as Trump revived his wishes to paint the wall black so the hot border sun will scald anyone who tries to climb it."
Acosta continued: "What's next? Another Stop the Steal rally on the National Mall? He might find some of the Proud Boys and Oath Keepers are busy, in jail."
During the segment, Acosta referenced his own comments from a couple of weeks ago, where he compared Trump's comeback tour to a circus "full of sideshow acts and clowns."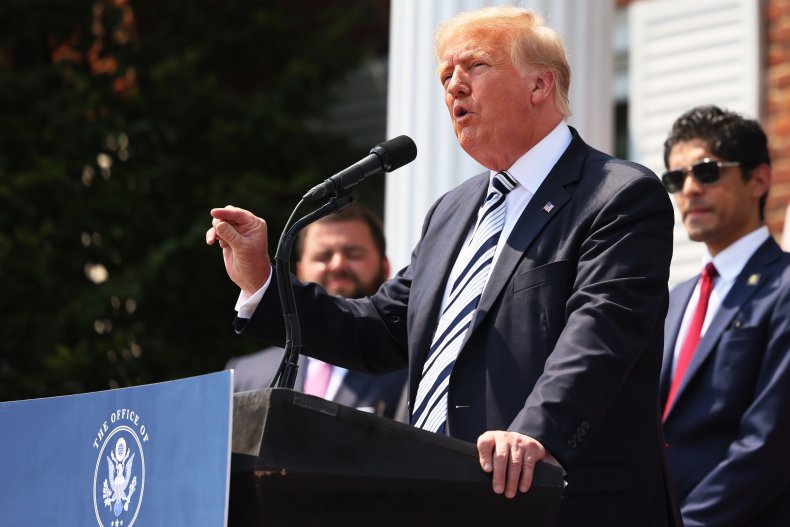 Acosta said he later got an email from an expert on the circus industry who said the comparison was unfair as "unlike the chaos of Trumpworld, a circus is carefully composed and organized."
Acosta said he agreed. "Comparing Trump to a clown is most definitely an insult to clowns," he said. "He's more like one of those mask-hating customers at the grocery store. A Karen, or whatever the name would be in Trump's case. You can almost hear him saying, 'I want to talk to the manager about the election, I want to talk to the manager of Twitter or Facebook.'
"And the American people are kind of like the store manager. We have to explain, 'Well sir, you lied about the election, you incited an insurrection. You're going to have to leave the store or we're calling security. Please take your fake White House seal, and go play president somewhere else.'"
Speaking about Trump's upcoming appearance at CPAC, Acosta said it was the same event where "an enormous golden statue of Trump with American flag shorts and a magic wand" was erected earlier this year.
"But there's no wand that can change the election results, even though the CPAC crowd may need some reminding," Acosta added. "They'll need more reminders because Trump keeps making the rounds to Florida, North Carolina, Ohio, where some of his followers have convinced themselves that he'll be reinstated."
Even "conspiracy-loving" congresswoman Marjorie Taylor Greene has cautioned against embracing the "wacky theory," Acosta noted. Greene recently shut down claims that Trump could be back in the White House in August, saying it is "a very difficult thing to make happen."
But Acosta noted that "it's not just very difficult, it's impossible. There is no constitutional mechanism that would allow for it."
He went on: "This is the land of the free, not the land of the make-believe. But Trump loves to play pretend."