Coal Miners Urge Joe Manchin to Reconsider BBB as Bill Sits Stalled in Senate
After refusing to support the ambitious Build Back Better social and climate spending bill, Senator Joe Manchin of West Virginia is getting pushback from a surprising source: coal miners.
On Tuesday, the United Mine Workers of America (UMWA) released a statement urging the Democrat to reconsider his opposition to the legislation, a cornerstone of President Joe Biden's domestic agenda. A prominent coal miner union with strong ties to the senator, the UMWA cited provisions in the bill that would benefit miners.
"We urge Senator Manchin to revisit his opposition to this legislation and work with his colleagues to pass something that will help keep coal miners working, and have a meaningful impact on our members, their families, and their communities," the statement reads.
In particular, the union singled out a provision in the Build Back Better bill that would help miners suffering from black lung. This disease is caused by long-term exposure to coal dust, which builds up in the lungs and causes inflammation, scarring and cell death.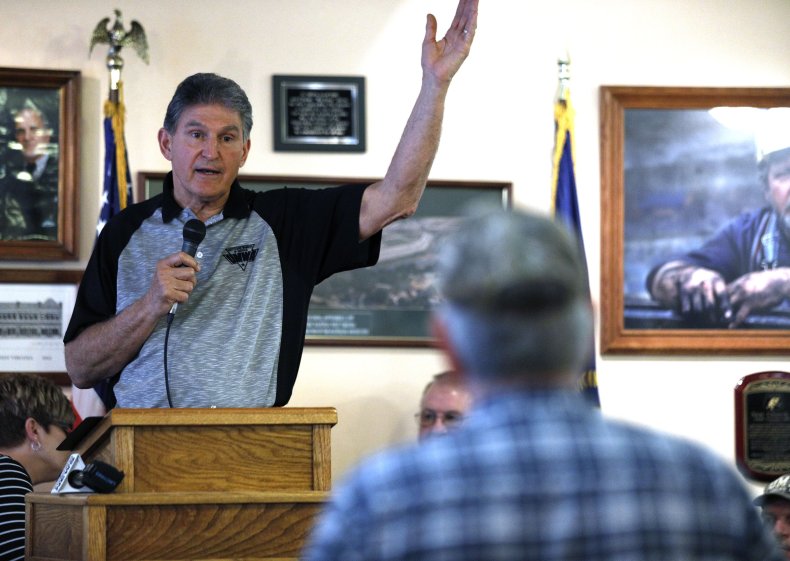 "The bill includes language that would extend the current fee paid by coal companies to fund benefits received by victims of coal workers' pneumoconiosis, or Black Lung," UMWA President Cecil Roberts wrote to Manchin in the statement. "But now that fee will be cut in half, further shifting the burden of paying these benefits away from the coal companies and on to taxpayers."
The specific provision of Build Back Better extends the excise tax that funds the Black Lung Disability Trust Fund. Without this extension, the fund will expire at the end of 2021.
Roberts also highlighted another provision of the Build Back Better package that will create tax incentives that could create new jobs for out-of-work miners.
"The bill includes language that will provide tax incentives to encourage manufacturers to build facilities in the coalfields that would employ thousands of coal miners who have lost their jobs," Roberts said. "We support that and are ready to help supply those plants with a trained, professional workforce. But now the potential for those jobs is significantly threatened."
Manchin made his latest opposition to Build Back Better known during a Sunday appearance on Fox News. A longtime holdout against Senate passage of the bill, Manchin had previously said he would be open to negotiating a trimmed-down version.
"If I can't go home and explain it to the people in West Virginia, I cannot vote for it," he said. "And I cannot vote to continue with this piece of legislation. I just can't. I've tried everything humanly possible. I can't get there."
Roberts and other leaders in the coal industry previously supported Manchin in his opposition to the clean energy provisions in Biden's package. Last month, Roberts praised the senator after he successfully got the Clean Electricity Performance Program, which would have pushed for the establishment of clean energy plants over the continued use of fossil fuels, removed from Build Back Better.
"Senator Manchin has always been a strong advocate for the UMWA and led legislation to address the black lung excise tax expiration," Sam Runyon, communications director for Manchin, said in a statement sent to Newsweek. "He will of course continue to work to shore up the black lung excise tax in the New Year to address the needs of our brave miners."
Updated 12/21/2021, 5:38 p.m. ET: This story has been updated with a statement from Manchin's office.