Coast Guard Searching for Dozens After Suspected Smuggling Vessel Capsizes Off Florida
The U.S. Coast Guard on Tuesday announced a sizeable search operation after a boat capsized off the coast of Florida.
In a statement released via Twitter, the Coast Guard reported that it was carrying out a search for an estimated 39 people that were on the boat, roughly 45 miles east of the central Florida coast. The situation was reported on Tuesday by an individual who found a survivor of the incident, which is believed to have occurred on Saturday night.
"Coast Guard Sector Miami watchstanders received a report from a good Samaritan who rescued a man clinging to a capsized vessel approximately 45 miles east of Fort Pierce Inlet," the southeast branch of the U.S. Coast Guard said in its statement. "The survivor reported he left Bimini, Bahamas, with 39 other people Saturday night and encountered severe weather, causing the vessel to capsize."
"According to the survivor, no one was wearing a life jacket," the statement continued. "Coast Guard air and surface asset crews are actively searching for people in the water. This is a suspected human smuggling venture."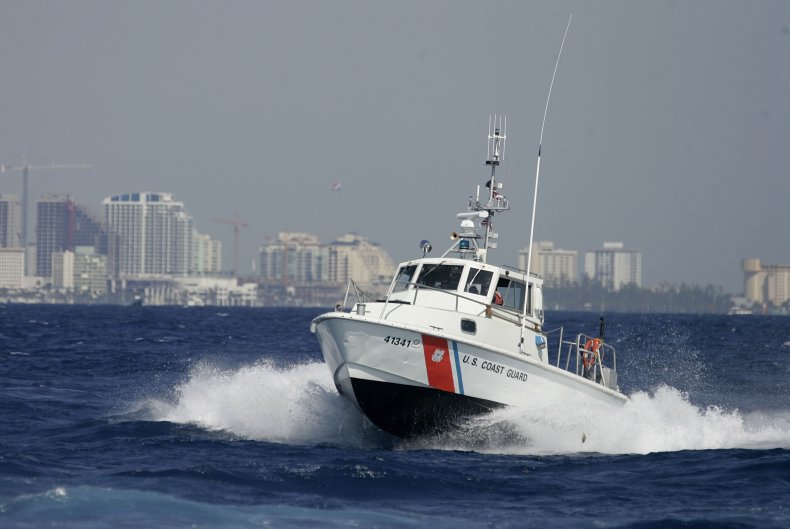 Fort Pierce, Florida, is located roughly 60 miles north of West Palm Beach. Bimini, where the boat is believed to have set off from, is located due east of Miami, which is roughly 125 miles south of Fort Pierce.
Little else is known about the case as of Tuesday afternoon. Newsweek reached out to the U.S. Coast Guard for comment.
Owing to its proximity to several island nations, the Florida coast is often a hot zone for Coast Guard activity. In August, the U.S. Coast Guard 7th District Southeast offloaded roughly 59,700 pounds of cocaine and 1,430 pounds of marijuana at Port Everglades in Fort Lauderdale. The drugs were seized from roughly 20 interdictions around the Caribbean Sea, as well as some from the Pacific Coast.
At a combined value of around $1.4 billion, it was the single largest illegal narcotics offload in U.S. Coast Guard history at the time. Officials with U.S. Customs and Border Protection (CBP) and Canadian Defense agencies helped with the seizure of the drugs.
"For the past several months, the ship and crew of 150 sailors have worked together employing all of the national security Cutter's capabilities and intelligence and a cooperative effort with the Joint Interagency Task Force South to stop the flow of illegal narcotics across the maritime border," Captain Todd Vance said at a press conference about the offloading.