Coast Guard Warns Against Cuba Travel As Floridians Set Off in Boats
The U.S. Coast Guard is warning people against making unpermitted journeys from Florida to Cuba after social media posts suggested Floridians were planning to set sail to deliver supplies amid rare anti-government protests on the island nation.
Rear Admiral Eric Jones, the commander of the U.S. Coast Guard District 7, said the agency and local, state and partners are monitoring the seas for signs of illegal migration in the Florida straits.
"The United States Seventh Coast Guard District, as the lead agency protecting our southeast maritime border, is aware that yesterday tens of thousands of Cubans took to the streets to peacefully protest the dramatic rise in suffering and repression on the island," Jones said in a statement posted on Twitter.
Jones said the agency supports "the Cuban people exercising their fundamental right of freedom of expression and assembly, but also remind anyone considering a migrant voyage to not take to the sea."
He added: "The transit is dangerous and unforgiving as nearly 20 lives were tragically lost in recent weeks as a result of these dangerous voyages."
He also warned anyone in Florida who may be considering traveling to Cuba by boat against doing so.
"The Coast Guard along with our local, state, and federal partners are monitoring any activity that may indicate increases in unsafe and illegal maritime migration in the Florida straits; including unpermitted vessel departures from Florida to Cuba," he said.
The Coast Guard and its federal partners were maintaining "persistent and vigilant" airborne and surface patrols in the Caribbean, including the Florida Straits, Jones said. "Please don't take to the sea," he added.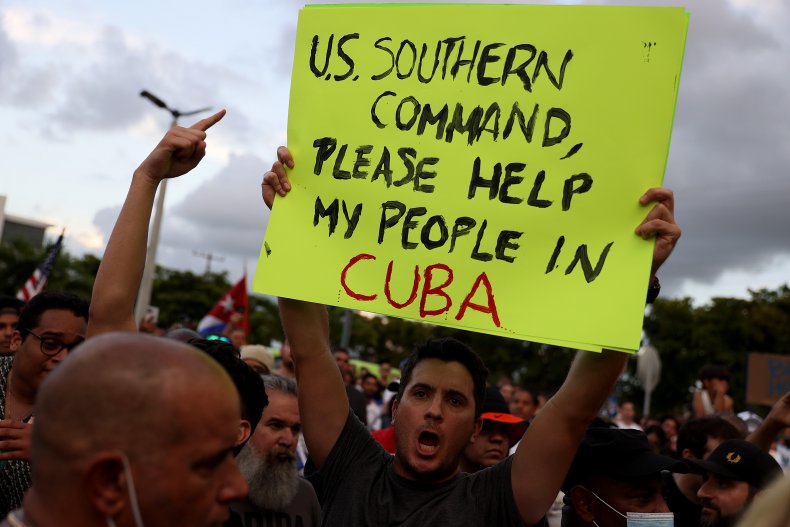 Jones' warning came as posts circulated on social media about boaters preparing to sail to Cuba in a bid to deliver supplies.
One post from Instagram, shared on Twitter by WLRN reporter Danny Rivero, said a boat would be heading for "international waters" from Miami on Monday evening.
"Says any guns need to be legal, even tho the plans are 'peaceful," Rivero wrote alongside a screenshot of the post.
Rivero also shared a photo of a woman who reportedly loaded her boat with supplies and was preparing to sail to Cuba.
"We are just bringing supplies," Dennis Suayero told CBS Miami. "They are trying to create a group to take on water, food, medicine, whatever we can to take a Cuba. We are just waiting for the approval so we can enter and give it to them."
The Coast Guard's warning came after demonstrations swept cities across Cuba at the weekend, demanding an end to the communist dictatorship.
Protesters expressed their anger over food shortages, high prices, blackouts and a lack of vaccines to tackle the coronavirus pandemic, as the nation struggles with its worst economic crisis in decades.
President Joe Biden addressed the unrest on Monday, telling reporters: "The Cuban people are demanding their freedom from an authoritarian regime. I don't think we've seen anything like these protests in a long long time if, quite frankly, ever."