Coastal Fire Update: Power Company Notes 'Circuit Activity' Near Blaze
A California power company told a regulator Wednesday that it detected "circuit activity" near the time that a fire in Orange County started.
In a message to the California Public Utilities Commission, Southern California Edison, noted that the Coastal Fire was reported at around 2:45 p.m. "in the Laguna Hills area."
"The cause of the fire is under investigation and has reportedly consumed over 150 acres and has destroyed multiple residential structures. Our information reflects circuit activity occurring close in time to the reported time of the fire. Our investigation is ongoing," the company said in the message, which was posted online by CBS Los Angeles.
Reggie Kumar, an SCE spokesman, told Newsweek:
"Our thoughts are with the community members whose homes have been damaged and those who were evacuated because of the Coastal Fire, and we are coordinating with fire agencies as needed to ensure firefighter safety.
"Our top priority is the safety of customers, employees and communities, which is why we continue to enhance our wildfire mitigation efforts through grid hardening, situational awareness and enhanced operational practices."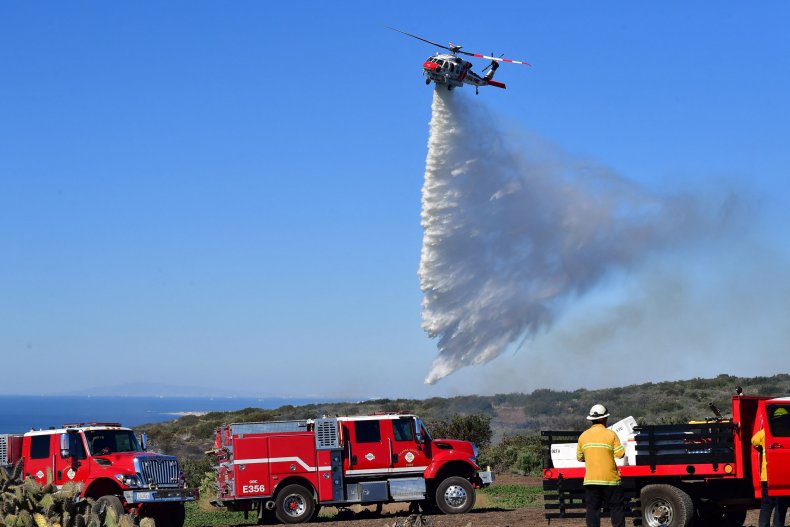 Kumar added that the company's submission of an Electric Safety Incident Report to the California Public Utilities Commission "is intended to put them on notice of an incident so that it can conduct its own investigation."
In a press conference on Thursday morning, TJ McGovern, assistant chief of field operations for the Orange County Fire Authority, said that the blaze is currently under investigation. "We have fire investigators out working at this time," he said.
The fire has impacted around 200 acres, but McGovern said officials didn't have information on how much of the fire has been contained. At least 20 homes in the Laguna Niguel area were on fire on Wednesday, and officials called for some areas to be evacuated.
Captain Virgil Asuncion, chief of police services for Laguna Niguel, said during Thursday's press conference that an estimated 900 homes are currently under evacuation, "with road closure in place around those evacuated areas."
Officials did not say how many people have been injured by the fire, or provide an update on how many homes have been damaged.
McGovern noted that one firefighter was injured responding to the blaze on Wednesday and was taken to a hospital. He also said that "damage inspection teams" were on the scene to evaluate damaged homes.
Update 5/12/22, 1:05 p.m. ET: This story was updated with additional information.