'Cobra Kai' Season 3 Release Date Moved Up to New Year's Day
Netflix has a special Christmas gift for fans of Cobra Kai—the streaming service is moving up the release date for season 3 of the popular series.
The show's official Twitter account announced on Thursday morning that Cobra Kai Season 3 will now debut on January 1, instead of the previously scheduled January 8 release date.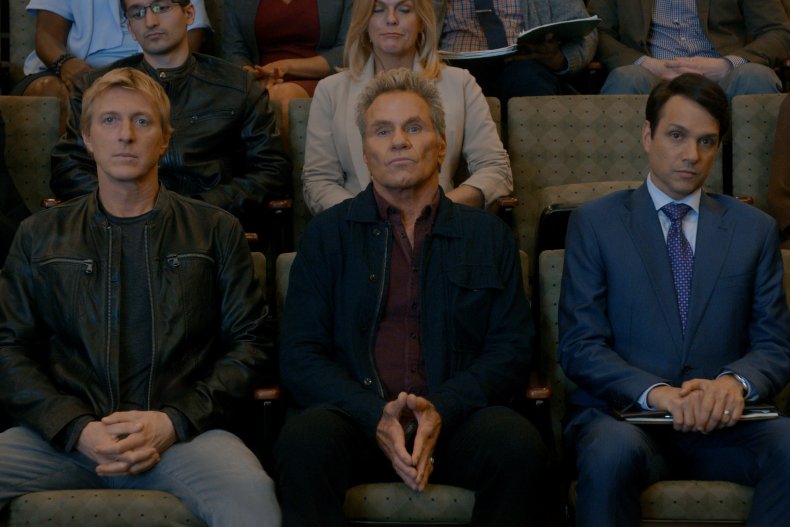 The release date change makes Cobra Kai the first big television release of 2021, and it's positioned to be a dramatic season. Following the huge school fight between Cobra Kai and Miyagi-do, Miguel (Xolo Maridueña) took a bad fall and was hospitalized, which is how season 2 ended.
Netflix released a new Season 3 trailer earlier this week to get fans ready for January 1. In the clip, featured below, Johnny Lawrence (William Zabka) talks to Miguel and tries to make sure he isn't getting down on himself about his injury and subsequent surgery. (Of course, he does it in classic Johnny Lawrence fashion.)
There's plenty to look out for in Cobra Kai Season 3. Aside from Miguel's recovery, it seems like Johnny and longtime rival Danny LaRusso (Ralph Macchio) will be joining forces in the new season. Meanwhile, the Cobra Kai dojo has been taken over by Johnny's former teacher, John Kreese (Martin Kove), and it seems the "old" Cobra Kai has returned. How will Johnny and Danny save the kids?
An earlier trailer for Cobra Kai Season 3 shows Johnny's son, Robby (Tanner Buchanan), in trouble and also teases that Danny will head to Japan, where he'll meet up with an old flame. Entertainment Weekly spoke with Tamlyn Tomita—who played Danny's love interest in The Karate Kid Part II, Kumiko—about her return to the character, and she hinted at what fans can expect.
"I think it'll answer a lot of questions, and fans will be happy as to where [the characters] find themselves and the kind of discussions they have," Tomita said. "I think fans will be pleased. I just hope with all the hope in my heart that we all did a good job."
Yuji Okumoto's Chozen—Danny's nemesis in The Karate Kid Part II—will also pop up in the new season of Cobra Kai.
So, will Miguel be able to fight again? What will happen to the Cobra Kai dojo now that Crees has taken over? There are a lot of questions surrounding Cobra Kai Season 3 and hopefully fans will get the answers to them once the next season drops on New Year's Day.
Are you excited for the third season of Cobra Kai? Let us know your theories and thoughts on what's going to happen in the new season down in the comments section.