'Cobra Kai' Season 3: 5 Things We Learned From the First Trailer
The third season of Cobra Kai, the follow-up TV series to the Karate Kid movies, is nearly here and Netflix has released the first trailer in anticipation of its debut early next year.
After the bonkers Season 2 finale that saw the kids of Cobra Kai and Miyagi Do duke it out on school property, we finally have a glimpse of what fans can expect in season three. Sure enough, it looks like there's plenty at stake in the new episodes.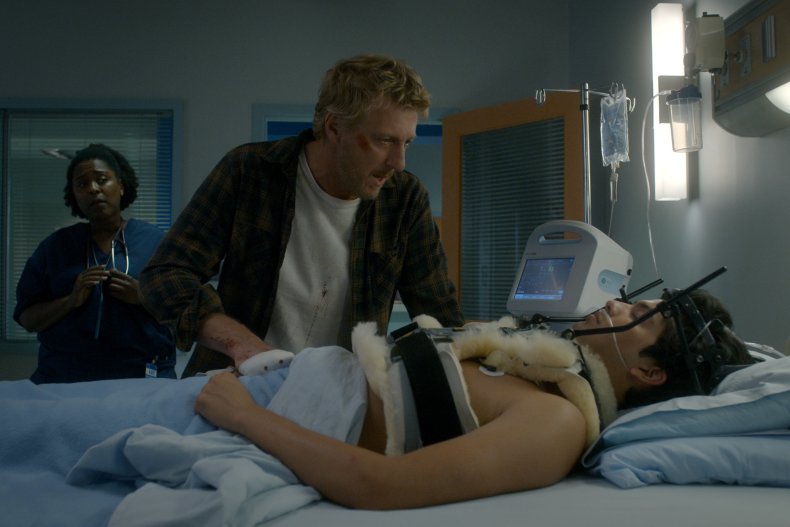 KREESE IS IN CHARGE NOW
This first observation picks up a plot thread from the end of Season 2. After Miguel (Xolo Maridueña) is injured in the school fight, a distraught Johnny (William Zabka) decides to give ownership of his revived Cobra Kai dojo to his former teacher, John Kreese (Martin Kove).
Of course, Kreese, who has been acting as if he's a changed man, isn't all that different from when he was teaching Cobra Kai back in the '80s.
The trailer shows Kreese telling the remaining members of Cobra Kai that their enemies think they are the heroes and that Cobra Kai are the villains. He says that there is no good or bad, there are only the strong and the weak.
With Cobra Kai growing in strength and influence, it seems like it'll be up to Johnny and Danny to stop Kreese.
JOHNNY AND DANNY AS ONE UNIT
Season 2 explored the budding friendship between longtime rivals Johnny and Danny (Ralph Macchio). While their teaching methods were different, Danny seemed to finally understand that Johnny was not Kreese, and that the new Cobra Kai was, in a way, a good thing for the kids.
Of course, Miguel's injury and the big school fight put a damper on all that, but the Season 3 trailer shows the karate masters joining forces. Early into the clip, Danny tells Johnny that the reason the kids are in the trouble they're in is because of the issues between the two of them, and that they'll have work together if they want to help the students.
There's also a scene of Johnny and Danny fighting some guys in what looks to be a chop shop, and driving around together, as Danny's wife Amanda (Courtney Henggeler) puts it, like Tango and Cash.
So, what exactly do Johnny and Danny have planned? And does it spell trouble for Kreese's Cobra Kai?
KUMIKO RETURNS
In 1986's The Karate Kid Part II, Danny LaRusso meets a young lady named Kumiko, played by Tamlyn Tomita. Kumiko becomes the second love in Danny's life, after Elisabeth Shue's Ali Mills from the first film; unfortunately, their relationship doesn't last.
Now, fans will get to see what happened between Danny and Kumiko in Cobra Kai Season 3, when Danny travels to Okinawa and meets with his former flame.
Entertainment Weekly spoke with Tomita recently about her return to the character, and she teased what fans can expect.
"I think it'll answer a lot of questions, and fans will be happy as to where [the characters] find themselves and the kind of discussions they have," Tomita said. "I think fans will be pleased. I just hope with all the hope in my heart that we all did a good job."
Danny's nemesis from the second Karate Kid film, Yuji Okumoto's Chozen, will also pop up in the new season of Cobra Kai, so sparks are ready to fly.
ROBBY IS IN TROUBLE
Johnny's son, Robby (Tanner Buchanan) has seemingly fallen on hard times since the end of Season 2.
Robby, who was turning his life around after meeting Danny and training under him, may be spiraling after being the one who injured Miguel in the school fight. We see the young man being arrested and in some sort of prison or juvenile detention center.
MIGUEL ON THE ROAD TO RECOVERY
And finally, we get to Miguel. His fall off the balcony at the end of Season 2 has left him seriously injured—he will likely have a hard time ever walking again.
This, of course, is causing Johnny great distress, and is widening the divide between Cobra Kai and Miyagi-Do. Although Miguel's mother doesn't want Johnny in her son's life anymore, we know that he's stubborn enough to ignore those wishes. In the trailer, we see him comforting Miguel and trying to get him back on his feet, so it looks like Miguel's recovery will be a long-running arc throughout the new season.
Cobra Kai Season 3 is slated for a January 2021 release on Netflix.
What did you think of the first trailer for Cobra Kai Season 3? Let us know in the comments section.