Colombian Woman Arrested Trying to Smuggle Cocaine Surgically Implanted Between Skin and Muscle of Her Leg
A woman from Colombia demonstrated one of the increasingly creative methods being used by drug smugglers when she was caught with cocaine implanted in her legs.
The 42-year-old was traveling to Spain, via Bogota and Cali, when she was caught with 780 grams of liquid cocaine implants. Police were alerted because she had been acting nervously near airport security.
Lieutenant Wilson Silva said cocaine worth around $36,000 had been implanted "between the flesh and the muscle" of the woman's thighs, Agence France Press reported.
Plastic surgery makes detecting the drug harder because body scans cannot identify the contents of an implant, the agency noted.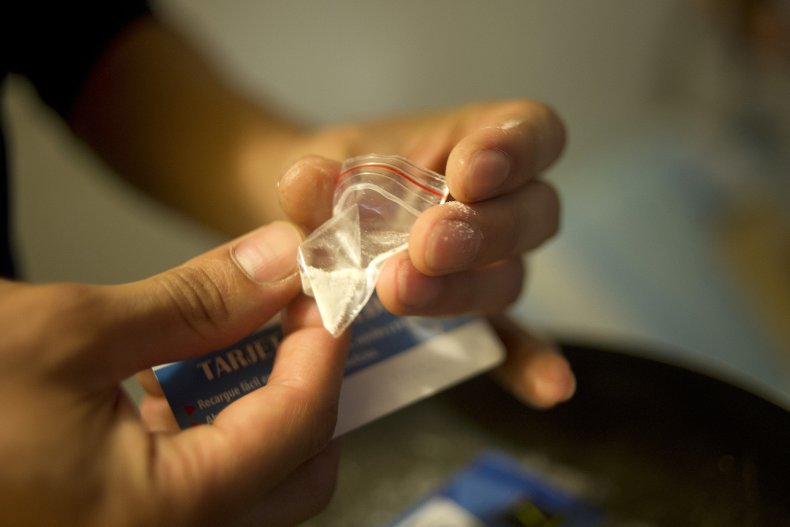 Silva said, according to AFP: "The abnormal is the new normal. It's a terrible way to put the drug into the body of these people so they can get it out of the country and deceive the police."
The woman was taken to a hospital in Bogota where the drug was surgically removed and she will face charges once discharged.
Colombia is the world's biggest producer of cocaine, accounting for around 70 percent of global supply, much of which is destined for the U.S. market.
This year, police have arrested 160 people at Bogota's airport for trying to traffic drugs that were either wrapped around their body or ingested.
Would-be traffickers have been employing many unusual methods. Last month, a Colombian man was arrested at Barcelona's El Prat airport with a pound of cocaine hidden under his toupee. Catalan police said that the "perfectly-sealed package taped to his head," contained 503 grams the drug which was worth more than 30,000 euros ($34,000).
Back in 2014, police arrested a 43-year-old Venezuelan woman at Madrid's international airport after she had arrived from Bogota with 3.7 pounds of cocaine hidden in her breast implants, CBS reported.
Figures released by the United Nations this week reveal that potential cocaine production in Colombia grew by almost 6% last year, to 1,120 tons despite a slight decline in illegal coca leaf plantations, the AFP reported.
Colombia's President, Iván Duque, is under pressure from the United States to resume aerial fumigation to destroy the coca crops that the drug is made from, and which funded the decades-long civil war, The Washington Post reported.