Cocker Spaniel Reacts to Pregnant Owner's Baby Bump Moving in Sweet Video
Adorable footage of a cocker spaniel reacting to his pregnant owner's baby bump moving around has been melting hearts online.
A video of Toby the dog's response to his "little sister" turning over in the womb was uploaded to TikTok by expectant mom Lauren Taylor. At the time of writing the video has been watched over 4.9 million times with some viewers left close to tears at what unfolds in the clip.
Having a dog around the house during and after pregnancy might seem like a lot of responsibility on top of raising a baby, but there can be huge benefits to keeping a canine for company. A 2022 study published in the scientific journal PLOS One found spending just 10 minutes a day with a dog can help reduce feelings of pain, anxiety and depression.
Dogs have been known to strike up a close bond with new babies, often viewing the infants as a part of their pack. Canine companions can also help parents navigate those first few sleepless months by injecting a little fun into proceedings.
In some cases, dogs can even form lasting friendships with their young wards that can last throughout their lifetimes. Toby certainly appears to be relishing the prospect of becoming a dog sibling for the first time.
In the viral clip, he can be seen reacting with joy as Taylor explains that the movements in her tummy are her unborn daughter telling Toby "hi big brother!"
Maybe it's just the pitch of Taylor's voice, or maybe Toby is genuinely excited but whatever the reality, the sight of the cocker spaniel's tail wagging at the mention of the words "big brother" had many on social media reaching for the tissues.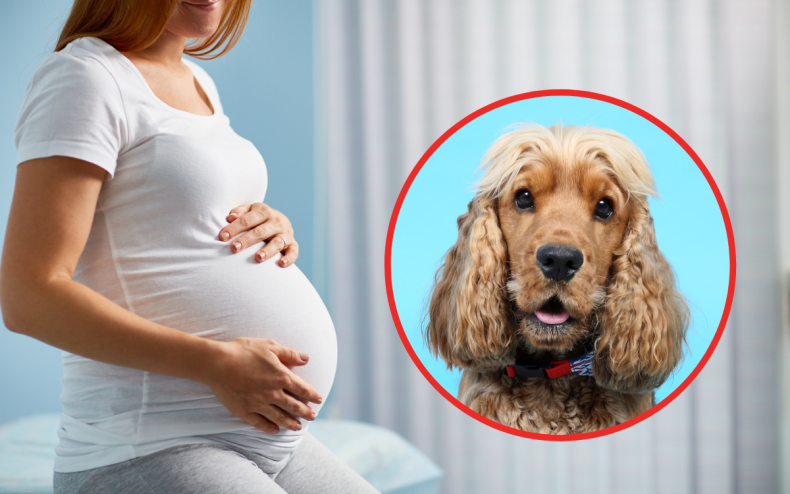 Commenting on the clip, one TikTok user posting as allioop30 said: "We just don't deserve dogs."
Another, writing as theannoyingmum commented: "He's going to be the bestest big brother ever."
And jonatsure confessed: "I'm going to cry, this is so cute."
Several expectant moms weighed in to share similar experiences with their dogs. Lorelaii_b was "crying" as she watched the video, while esquedachristiana86 was left "sobbing" at the footage.
Carriewoby said: "I cry every time I imagine our pup as a big sister! We're due in April and she's gonna be amazing to her little brother."
Lealeathepanda added: "I'm 20 weeks and my dog's started sleeping with her head on my bump. Can't wait til she can feel the movement."
Then there was Jade Redmond, who shared a sad story, writing: "I lost my soul dog 5 months pregnant, I'd give anything to have these memories with him. Please cherish them."
Newsweek has contacted Lauren Taylor for comment.
Do you have funny and adorable videos or pictures of your pet you want to share? Send them to life@newsweek.com with some details about your best friend and they could appear in our Pet of the Week lineup.