Coinbase Outage Angers Users as Bitcoin Prices Plummet
Coinbase, a cryptocurrency exchange platform, faced technical issues on Thursday, upsetting users who are concerned about their investments amid plummeting Bitcoin prices.
Some social media users on Twitter began asking whether Coinbase is down for anyone else, but the company assured users that their funds "are safe."
"We are aware that some customers are having issues trading and accessing accounts on Coinbase and Coinbase Pro. Your funds are safe, and we are actively working on the issue. We'll provide an update here soon," the company's support team tweeted Thursday afternoon.
The Coinbase outage has also been reported by NetBlocks, an observatory that tracks network disruptions and shutdowns. NetBlocks posted a screenshot of Coinbase's page on Twitter that read "we're having connection issues. We're looking into it right now. Please try again later. Your funds are safe."
"Cryptocurrency exchange platform #Coinbase is currently experiencing technical issues with a 502 error at the load balancer; the incident comes amid instability in the crypto market," NetBlocks tweeted.
The trading platform has recently reported a $430 million first quarter net loss based on a decrease in sales and active users, CBS News reported. The sliding revenues were attributed to a decrease in trading volumes and a 19 percent decline in monthly users from the fourth quarter.
"The first quarter of 2022 continued a trend of both lower crypto asset prices and volatility that began in late 2021," Coinbase said on Tuesday in a regulatory filing. "These market conditions directly impacted our results for the first quarter of 2022."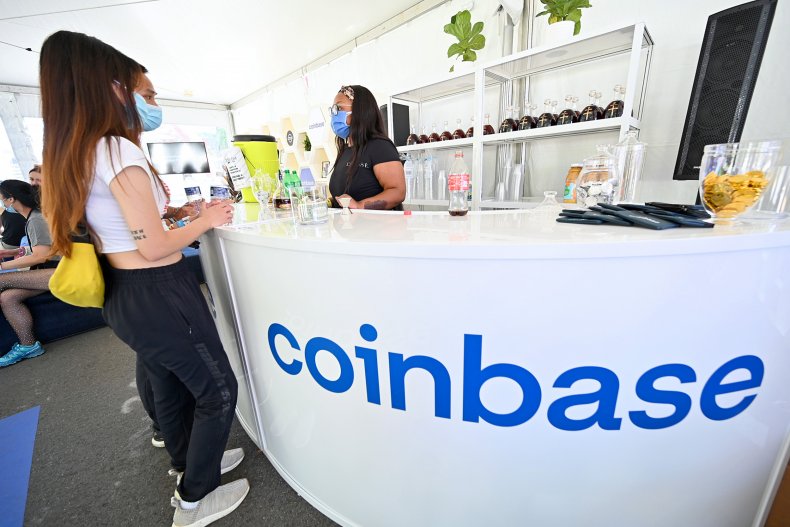 Coinbase users became more concerned about losing their digital assets, according to CBS News, after they learned the company lacks any bankruptcy protections.
The crypto company disclosed in its quarterly earnings report that customers could lose ownership of their assets in the case of bankruptcy, and these assets would then be owned by Coinbase as the debtor filing for bankruptcy.
"Because custodially held crypto assets may be considered to be the property of a bankruptcy estate, in the event of a bankruptcy, the crypto assets we hold in custody on behalf of our customers could be subject to bankruptcy proceedings and such customers could be treated as our general unsecured creditors," the company said in the filing this week.
However, Coinbase CEO Brian Armstrong assured the platform's users that the company is not facing a risk of bankruptcy. In a Twitter thread on Tuesday, Armstrong addressed Coinbase users' concerns about the company's stability and the security of their digital assets.
"There is some noise about a disclosure we made in our 10Q today about how we hold crypto assets. Tl;dr: Your funds are safe at Coinbase, just as they've always been," Armstrong tweeted.
"We have no risk of bankruptcy," Coinbase CEO said in a follow-up tweet, adding "however we included a new risk factor based on an SEC requirement called SAB 121, which is a newly required disclosure for public companies that hold crypto assets for third parties."
The price of cryptocurrencies, including Bitcoin, has further plunged amid a large sell-off that continues to impact the volatile crypto market. As of Thursday afternoon, the price of Bitcoin was $28,236, around a 20 percent decrease over the past five days.
Bitcoin and Ethereum are both down by around 30 percent over the past seven days. Ethereum was trading at about $1,908 on Thursday, down about 18 percent over the last 24 hours. The plummeting prices come after the TerraUSA stablecoin, known as UST, broke its peg to the dollar recently.
Newsweek reached out to Coinbase press team.
Update 5/12/22 3:00 p.m. ET: This story has been updated to include additional information.