It can be easier to shed layers to run in the summer heat than it can be to go running in the rain and cold weather. Even the chill of early mornings can be enough to tempt shutting off the alarm and staying in a warm bed. With a few pieces of gear made for cool or wet conditions, however, running in the rain and cold temps could be much more enjoyable.
The key for running throughout the winter is gear that can block the environment without trapping in all the heat. Running gear should always have an element of ventilation to it so that moisture has an escape route.
It may still be warm in plenty of parts of the U.S., but winter is coming. Suddenly, one day a tank top and 5-inch shorts won't cut it when you want to go outside to take a run. Here's some gear that might help. As always, the prices listed may fluctuate over time.
New Balance PMV Shutter Speed Jacket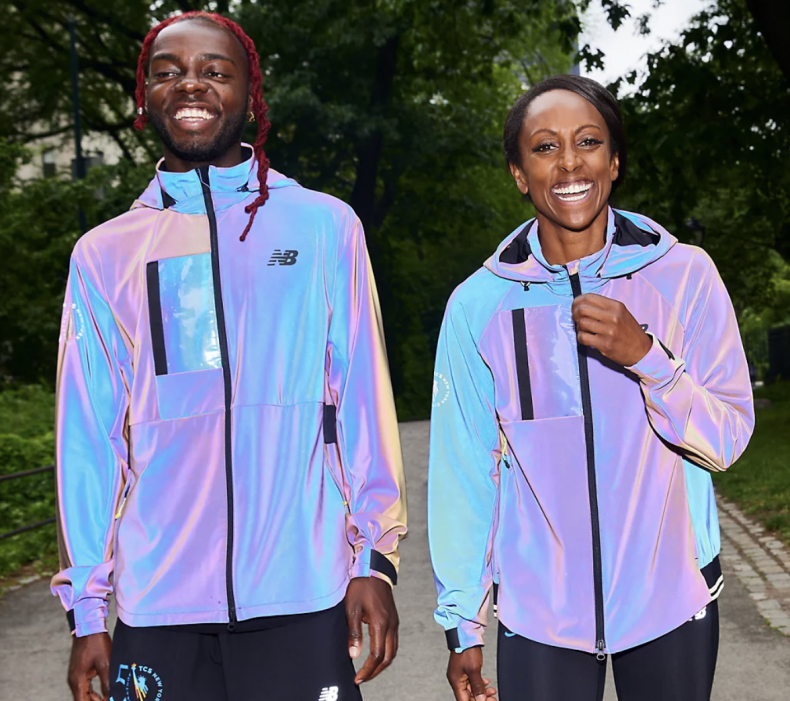 The most notable thing about this New Balance jacket is its iridescent, wind-resistant fabric that has full coverage reflectivity for complete visibility to cars and people. If you're running at night or in inclement weather, you should be able to be seen at all times.
This jacket also has a secure front chest pocket that can fit a phone. The Lucent Touch material will even let you manipulate a phone screen without taking the phone out of your pocket, so it remains protected from the elements the whole time.
Buy at New Balance for $234.99.
Allbirds Wool Dasher Mizzles Mid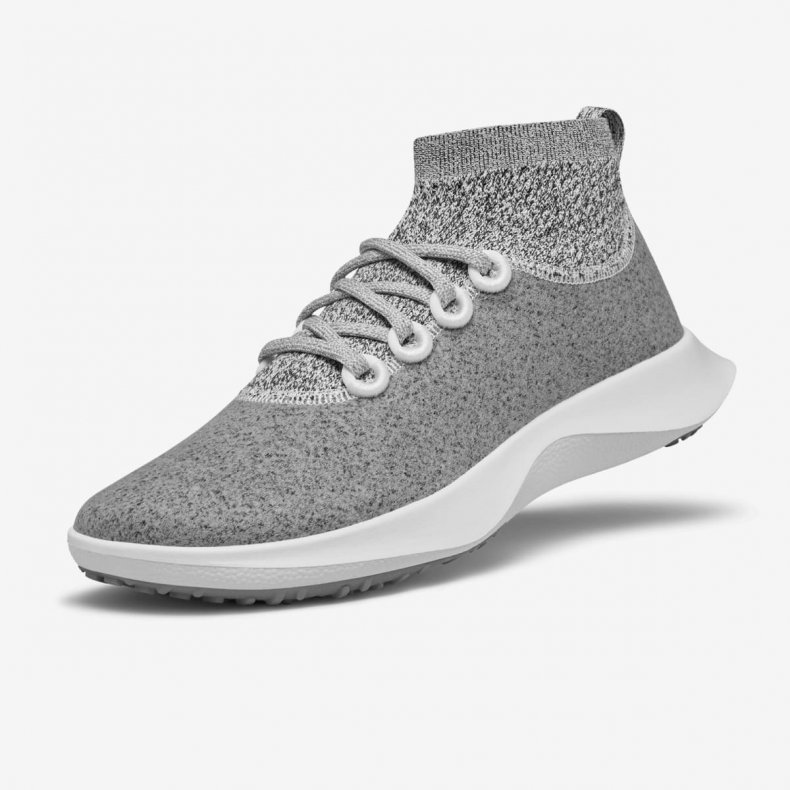 Just like its Tree Dashers, the Wool Dasher Mizzles Mid running shoes are designed for speedy road use. The difference between the two models is that the Mizzles adds a no-slip rubber grip sole, a water-repellent upper and a knit sock collar for cold, wet weather. The higher knit collar will keep water from getting inside the shoes whether it's from rain or puddles.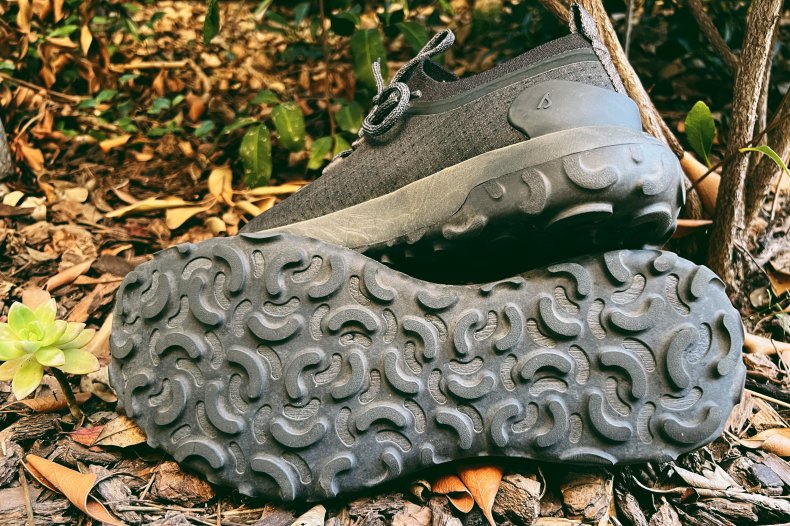 If you are looking for an even more rugged shoe, the new Allbirds Trail Runners SWT adds thick rubber lugs for enhanced traction and a weather-resistant upper to keep your feet dry. They're great for wintertime use and wet, fallen leaves. After using the shoes off-road, in chilly weather, I found them to be comfortable and capable for all times of the year.
Nathan Sports Tour Jacket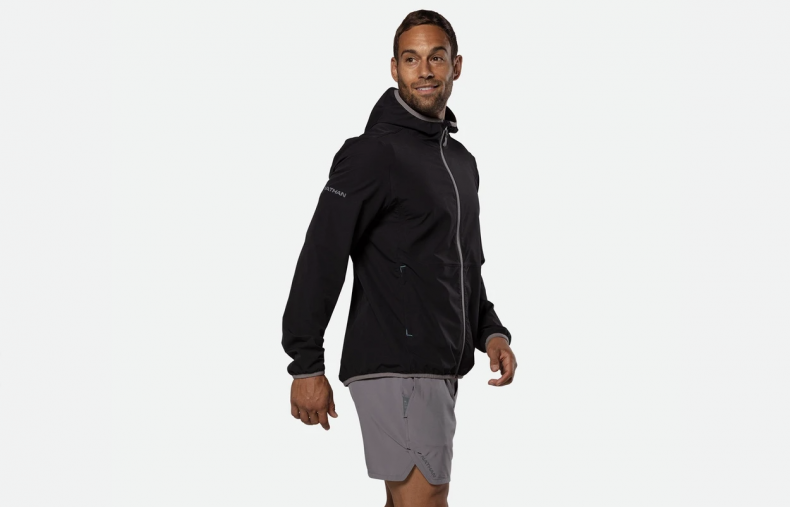 Nathan Sports Tour Jacket is a thick, water-resistant option that can handle more substantial rainfall. This could also be a solid outer shell to layer on top of other long-sleeve shirts for really cold locations. There are reflective elements to keep you visible and breathability built-in so the jacket doesn't become a sauna.
Buy at Nathan Sports for $125.
UA Outrun the Storm Pants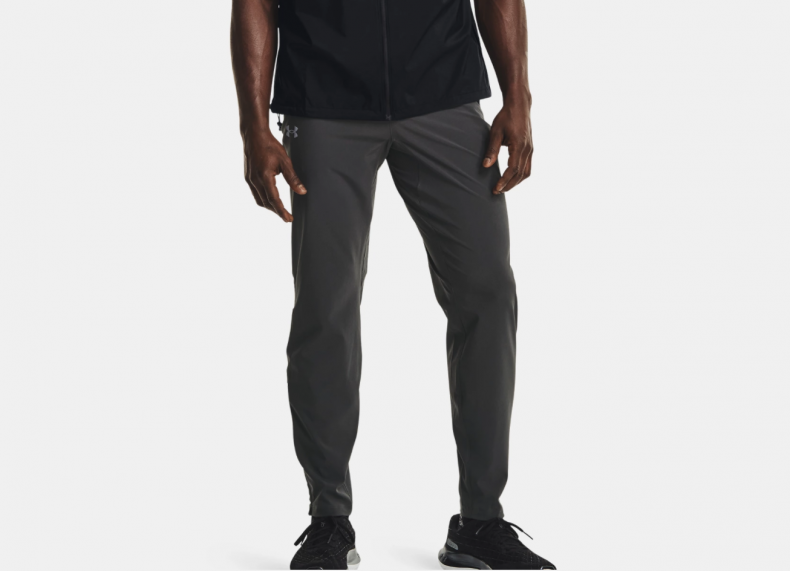 The Under Armour Outrun the Storm pants use UA Storm technology that repels water but still keeps breathability intact. The pants have an expandable waistband pocket (that's also water-resistant) so things like a phone stay secure and dry.
The Outrun are lightweight, with stretch-woven fabric that feels incredibly nice to run in. There's also a loop in the back of the waistband to hook a shirt or towel through, as well as zippers on the legs to expand the bottom openings.
Janji Rainrunner Pack Jacket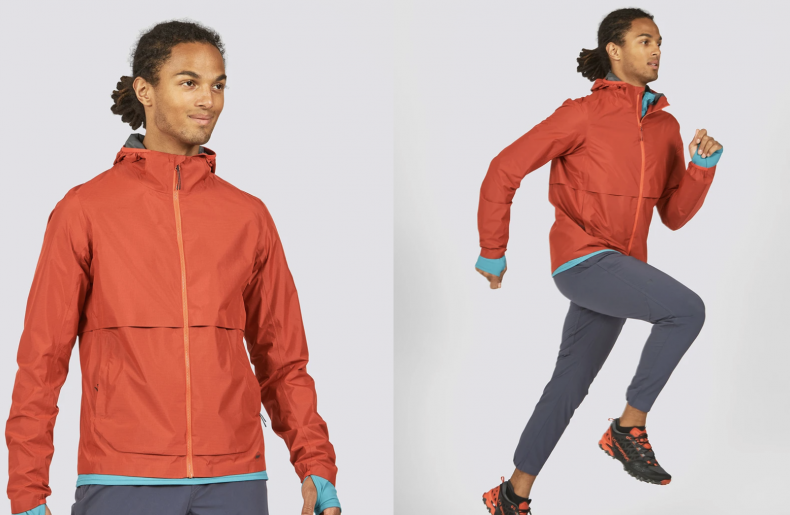 I used this jacket to run in during the fall season's first rain, and it worked well to keep me dry. It's waterproof, so I didn't worry about getting drenched. The one problem I did encounter, however, was the hood kept slipping down over my eyes. There is no fastener to tighten the hood fit. This was a little disappointing since everything else about this jacket is great, including its breathable flaps, fit and thickness. It may fit people differently, so it may be worth taking a chance on.
Tracksmith Brighton Neck Warmer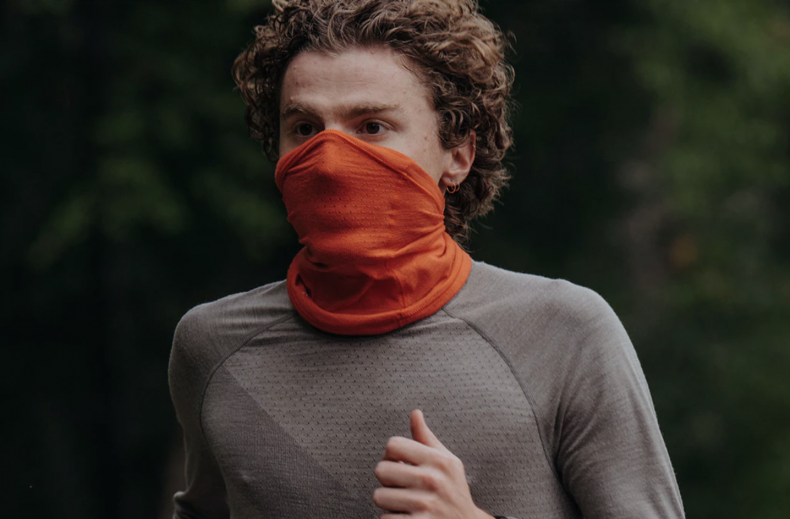 A really chilly run might demand an extra piece of gear such as a neck and face warmer. I really like the Brighton from Tracksmith because of its fit and feel. It's not too thick or smothering, and it includes some breathable holes so that it's comfortable to run in.
It features a curved hemline for a tailored fit and can be tucked into the neckline of your top. It's easy enough to keep over the bridge of your nose or to pull down once you've warmed up.
Nathan Sports Stealth Jacket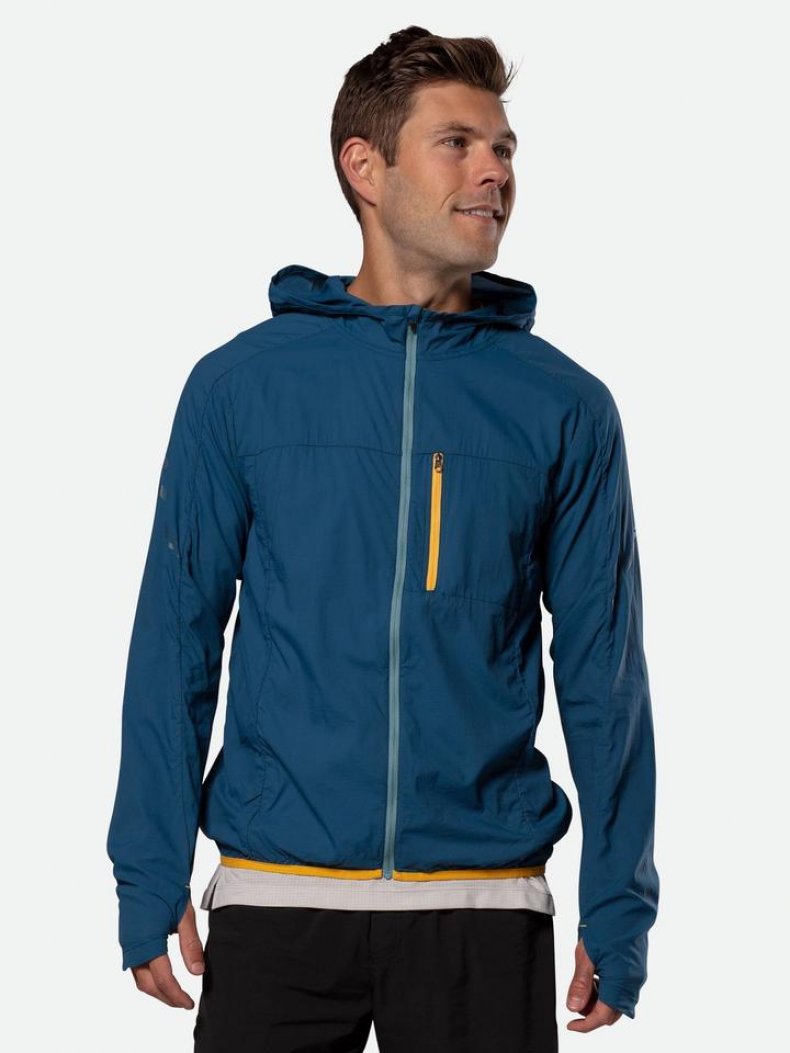 The Stealth Jacket is on the thinner side so it will probably work best for early winter or locations that don't drop below 50 degrees Fahrenheit. Its headlining feature is that it doesn't rustle or make the traditional swooshing sounds so many jackets do when you run in them.
This is a great portable option that can fold up into its own pocket. It's also windproof and has a special coating for water resistance. I found this jacket to be wonderful for running. It also could likely be used year-round.
Lululemon Down for It All Vest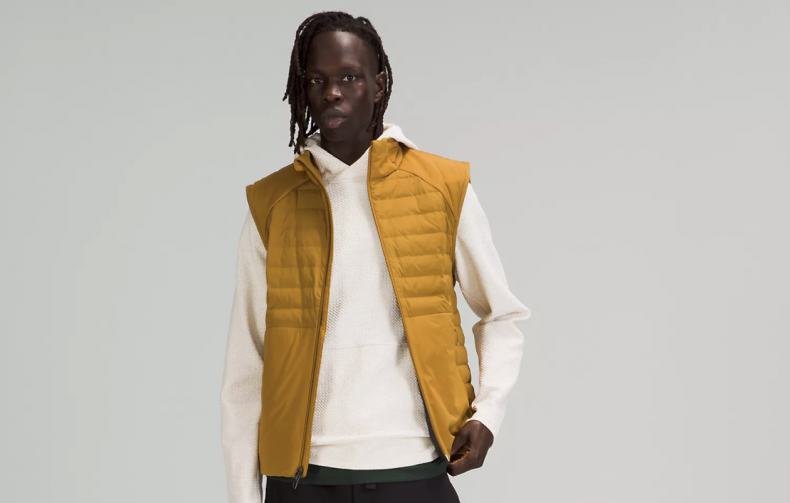 A vest is a perfect running companion during the winter, and this one from Lululemon is an excellent choice. It's water-repellent and windproof. Its 700-fill-power goose down also allows for lightweight warmth.
The Down for It All Vest has reflective elements and exterior zippered pockets to keep items from falling out or rain from getting in. Lululemon also touts its PrimaLoft insulation around areas that can be most exposed to rain and snow, so that you can stay warm, even when wet.
Swiftwick Maxus Zero Tab Socks (3-Pack)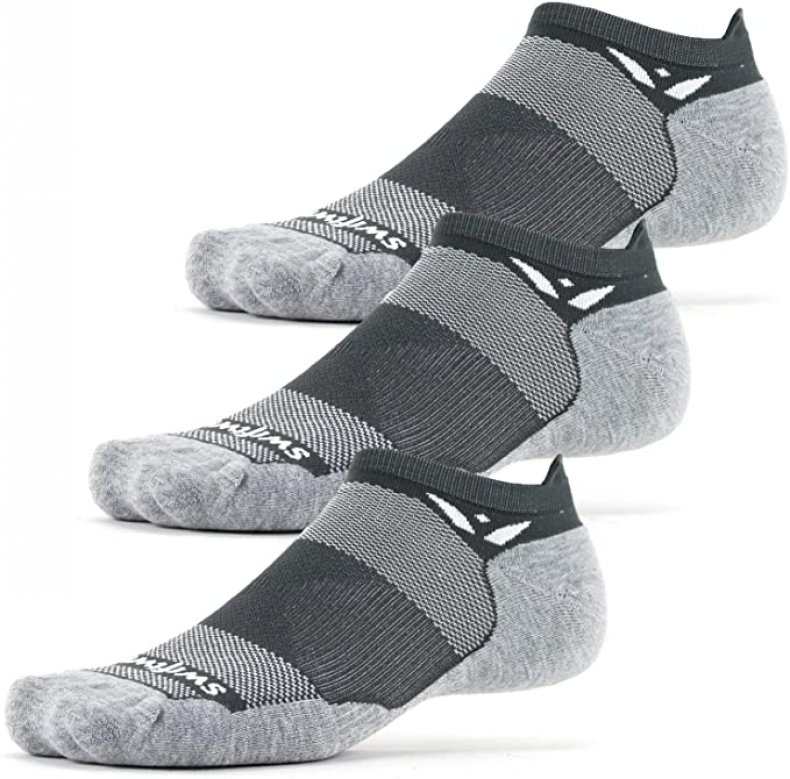 I'm a big fan of Swiftwick's running socks, and new, fresh socks always make a difference out on the road. These have a plush footbed, which not only absorbs a little impact but will also keep your feet warmer on cold days. These socks will also help with sweat management and, as the name suggests, wick moisture away quickly. There is a micro tab in the back to protect your heel from your shoe.
Ten Thousand Far Beanie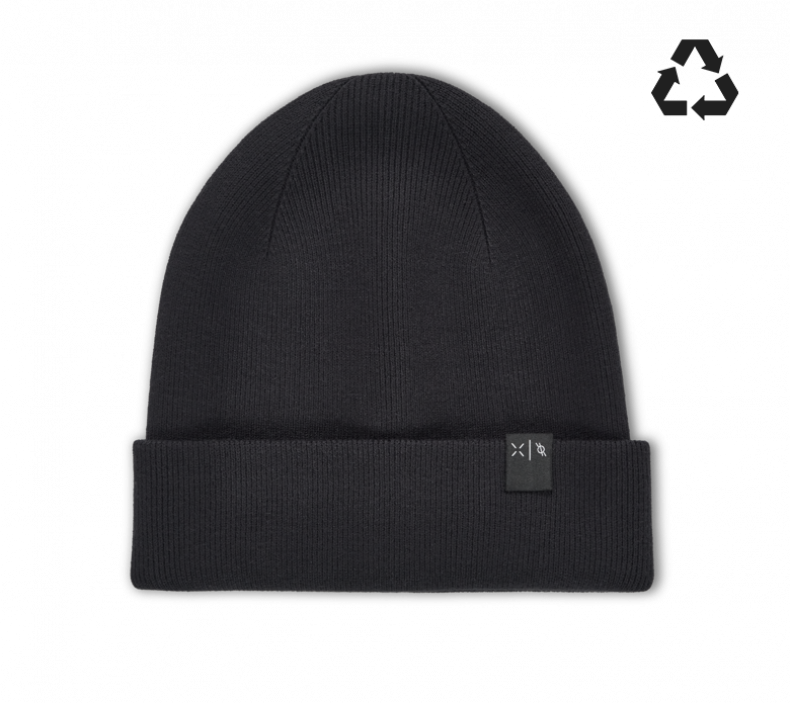 One of the key features of Ten Thousand's Far Beanie, part of the Far collection, is its long-lasting fit and ability not to stretch out over multiple runs. The beanie uses a recycled fabric with an anti-odor treatment, so it should stay fresh, too.
For less frigid temperatures, there's also the Ten Thousand Session Pants, which feature an array of zippered pockets to keep items from falling out or from rain getting in.
Buy the Far Beanie at Ten Thousand for $38.
Phoozy Apollo II Phone Case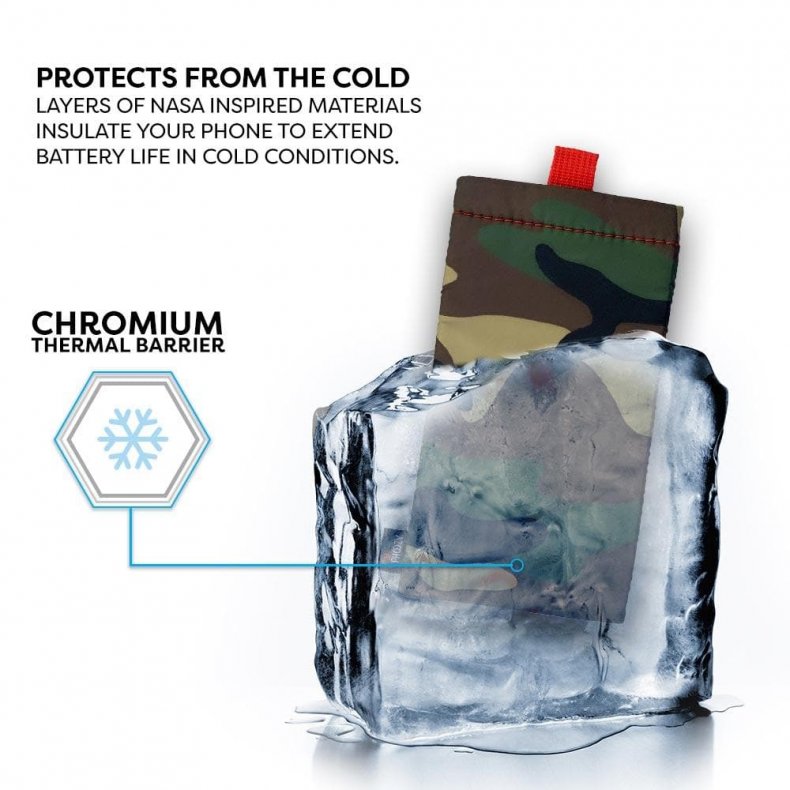 Depending on where you're running in the cold, a specialized sleeve case for your phone may be helpful in keeping it protected and charged. The Phoozy Apollo II is more of a sleeve than a case, but slipping your phone into it can protect it from extreme hot and cold temperatures.
It can also extend a phone's battery up to four times longer in cold conditions, whether you leave it in the car or pack it in a carrying sling. The Phoozy case can also protect a phone from drops and keep it floating in the water.
Newsweek may earn a commission from links on this page, but we only recommend products we back. We participate in various affiliate marketing programs, which means we may get paid commissions on editorially chosen products purchased through our links to retailer sites.