'Colin in Black and White': Who Are Colin Kaepernick's Adoptive Parents Rick and Teresa?
Colin Kaepernick's personal story is outlined in the new Netflix series Colin in Black & White, and he shares the spotlight with his adoptive parents, Rick and Teresa Kaepernick.
The new series, co-created by Kaepernick and Ava DuVernay, highlights Colin's high school life as an African American growing up in a predominantly white neighborhood. Colin also appears as himself, narrating the ongoing story and performing pieces to camera.
While he and his story are the focus, his parents are featured throughout. Rick Kaepernick is played by Parks and Recreation actor Nick Offerman and Teresa is played by Weeds star Mary-Louise Parker.
Who Are Colin Kaepernick's Adoptive Parents?
We are introduced to Kaepernick's parents early on in Colin in Black & White on Netflix. He explains to the audience that he was adopted by Rick and Teresa Kaepernick as a baby.
Colin's family story was widely reported during his burgeoning NFL career. Rick and Teresa already had two children, a son Kyle and a daughter Devon, but also lost two baby boys, Lance and Kent, to heart defects.
They then decided to adopt Colin who was five weeks old at the time. Episode 6 of Colin in Black & White suggests that baby Colin wasn't their first choice but they took him into their home when they were offered him by a nurse.
In a 2013 article published by ESPN, Teresa describes the moment she laid eyes on Colin for the first time. "I'll never forget that day," she said. "They brought him in an infant carrier and set him down. The birth mother was there. I looked at her and she nodded and I just picked him up out of the carrier. The minute I picked him up, I just cried. We gave her a big hug. And she needed a couple more minutes. And then we left."
Rick and Teresa lived in Fond du Lac, Wisconsin until the family moved to California when Colin was four years old. Colin was a 4.0 GPA student at John H. Pitman High School in Turlock, California where he represented the school in football, baseball and basketball.
Rick, who was previously the Senior Vice President of Growth and Development with Hilmar Cheese Company, described to ESPN how the adoption affected their lives with Colin.
He said: "It all went really smoothly. I know it's not usually that smooth with adoptions, but it was. Colin never had any adoption issues at all. The only difference is his skin is a little bit browner than ours."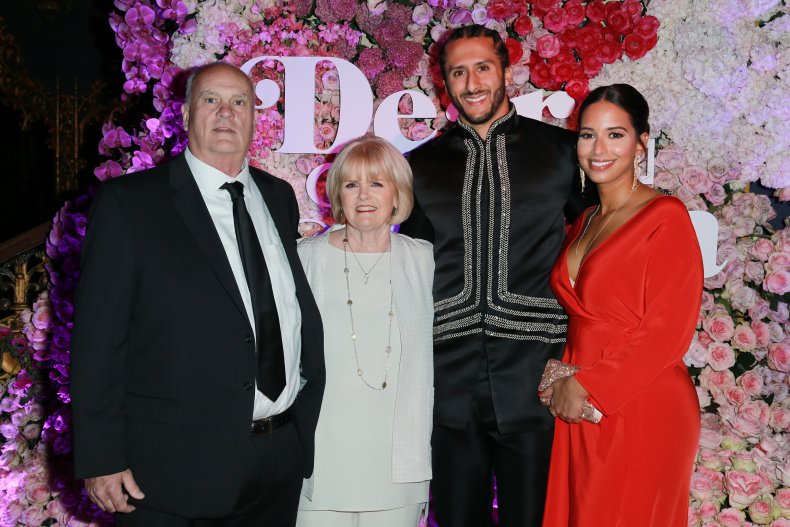 Since Colin's departure from the NFL, Rick and Teresa published a statement in 2017 supporting their son.
They wrote: "Colin is carrying a heavy load and following a difficult path that he truly believes in. He is putting his entire future and possibly his life on the line for those beliefs.
"As his parents, it pains us to read articles and tweets saying that his family does not support him; this could not be further from the truth. We want people to know that we are very proud of our son and admire his strength and courage in kneeling for the rights of others."
Who Are Colin Kaepernick's Birth Parents?
Colin Kaepernick's birth mother is a nurse from Thornton Colorado named Heidi Russo. Russo, a Caucasian woman, gave birth to Colin in Milwaukee in 1987 when she was 19 years old. Colin's birth father is an African-American man whose identity is unknown.
Russo has been outspoken about being Colin's birth mother and sent him multiple correspondence over the years but was asked to stop by Teresa, according to ESPN.
Colin has never met his birth mother. Explaining his decision to keep his distance prior to Super Bowl XLVII, he said: "It's not really a respect thing. It's just, that's my family. That's it."
Russo has spoken out against Kaepernick's decision to kneel during the national anthem and tweeted multiple times about doing so.
Speaking to Denver publication Westword in 2020 after the George Floyd tragedy, Russo said of Kaepernick: "I completely support and agree with what his protest is all about, and I always have. I just never agreed with the manner in which he chose to do it. There are other ways he could have done it instead of kneeling while he was playing football."
More details of Kaepernick's upbringing are shared and dramatized in Colin in Black & White.
All six episodes are available to watch on Netflix now.