Is Colin Kaepernick the Modern Day Cassius Clay? Peter King Believes QB Will Go down as Historic Figure
Colin Kaepernick could become a historic figure and a "modern day Cassius Clay" after Nike decided to make him the face of its latest commercial campaign, says NBC Sports' Peter King.
On September 3, the sporting apparel giant announced the former San Francisco 49ers quarterback would be one of the faces promoting the campaign to celebrate three decades of the company's "Just Do It" motto.
The decision was widely criticized by a number of political commentators and Nike customers alike, who have accused Kaepernick of disrespecting the flag since he chose to kneel during the national anthem in 2016.
However, King believes Kaepernick's stance and Nike's choice deserve credit and that the Wisconsin native will go down in history. "I applaud Nike and I think it's [a] fantastic [decision]," King told The Rich Eisen show on September 4.
"I'm not predicting this will happen, but I'm telling you what this reminds me. The rancour and the controversy surrounding Colin Kaepernick right now reminds me of when I was a kid and the rancour and controversy that surrounded Cassius Clay, who became Muhammad Ali."
In 1964, Ali famously converted to Islam and rejected what he called his "slave name." He was arrested two years later for refusing to be drafted into the U.S. military and opposing America's involvement in the Vietnam War. Ali was stripped of his titles and did not fight for four years, until the U.S. Supreme Court overturned his conviction in 1971.
"Down the road, I think that Colin Kaepernick is going to be viewed as a historic figure, as much as people who don't like him or don't like his politics blanch at that," King said. "Everybody thought the exact same stuff about Ali and look when he died; it was like a president died, it was like having a state funeral."
After becoming a free agent in 2017, Kaepernick wasn't given a tryout by another team, which has led him to accuse the NFL franchises of colluding with each other to prevent him from returning to the league.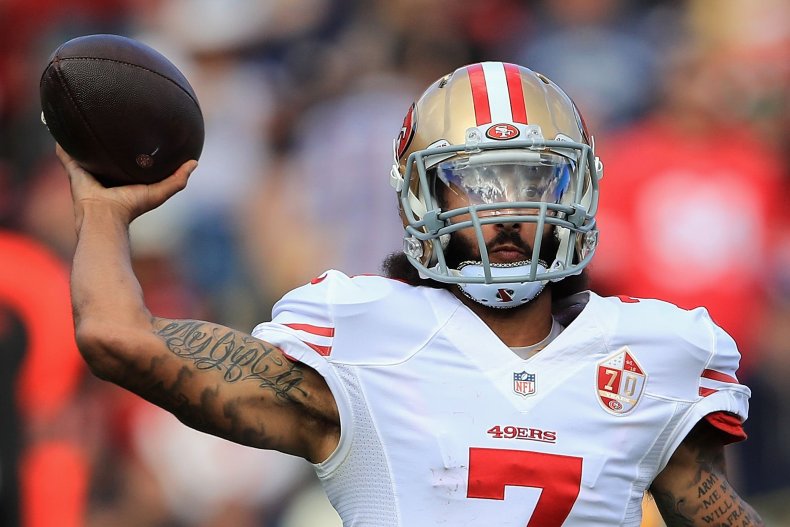 Last week,it was confirmed the NFL had failed in an attempt to get Kaepernick's lawsuit against the 32 league owners dismissed and the case will now go to a trial.
When asked how the NFL would react at news that its main apparel partner opted to make a player who is suing the league as the main face of its new campaign, King admitted that "there's no question that it has to be discomforting for them".
However, King also warned the NFL would regret its decision to ostracize Kaepernick.
"This guy five years ago led a team to the Super Bowl [the 49ers reached Super Bowl XLVII ] and had one of the most electrifying playoff games against Green Bay than any quarterback has ever had in the history of the league.
"It's silly to think he doesn't have a spot in the NFL and I just think people are so spooked right now over the anthem protest and the anthem issue," King said. "In retrospective, the NFL is going to look very, very small at not allowing Kaepernick to play."
According to a research conducted by YouGov, whose findings were compiled by Statista, almost half of recent Nike customers have a positive view of Colin Kaepernick, a percentage which falls to 34 among the general public.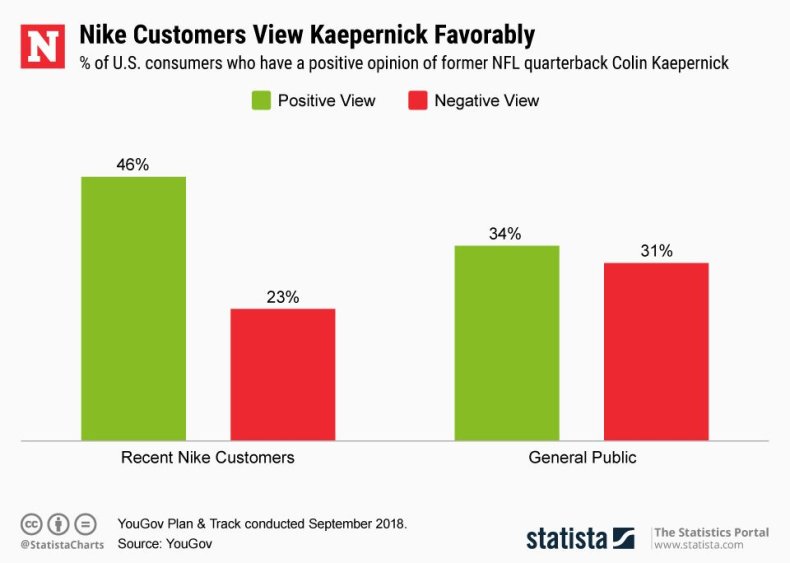 This article was updated to include an infographic.