Nike Boycott: Colin Kaepernick 'Just Do It' 30th Anniversary Campaign Sparks Fury, Protests
News that Colin Kaepernick will be the face of Nike's "Just Do It" 30th anniversary campaign did not go down well with a host of conservative commentators, who branded it as "scummy."
On September 3, the sporting apparel giant announced the former San Francisco 49ers quarterback would be one of the faces promoting the campaign meant to celebrate three decades of the company's "Just Do It" motto.
"Believe in something. Even if it means sacrificing everything," reads the ad, which features a picture of Kaepernick and was shared on social media on Monday. The campaign also includes LeBron James, Serena Williams, Shaquem Griffin and Odell Beckham.
Kaepernick signed with Nike in 2011 but the company has not used him in the last two years, since he rose to prominence in 2016 when he opted to kneel rather than stand during the national anthem as an act of silent protest against social and racial injustice.
Nike's decision was lambasted by a Fox News panel. "This disingenuous idea, this is just 'Oh, Colin Kaepernick is just trying to make a statement' […] baloney!" Townhall.com senior columnist Kurt Schlichter said.
"He is targeting us. He knows what this means to us. He knows how insulting it is. He knows how disrespectful it is and Nike is empowering it. I don't buy it. This is scummy, this is lousy, this is rotten, and I'm never buying another Nike product again and I think millions of Americans are going to agree."
Kaepernick's protests drew a mixed response within the sport and outside the NFL's sphere, but it also served as an example for a number of other NFL players who chose to emulate their colleague.
Gianno Caldwell, Fox News political analyst, admitted institutional racism and racial injustice "absolutely exists" in America. However, he explained that while he respected Kaepernick's right to kneel during the anthem, he drew the line at his decision to protest against the American flag.
"If he is really, really serious about it, and I've said this about other NFL players as well, take it beyond a protest," he told Fox News host Ed Henry. "Go meet with members on Capitol Hill. These are very rich and influential people who can actually make a change in this country and bring about some real reforms.
"So I find it very difficult when it comes to this issue to see what they are really looking to do beyond protest because you're not taking a real action outside of what I feel to be a dividing of the country by disrespecting the flag."
The outrage wasn't just confined to Fox News studios either, with some Nike customers choosing rather singular ways of protesting against the company. On Twitter, a user posted footage of a porch fire lit with his Nike shirts, while the sound man for country act Big and Rich opted to cut the logo off his socks.
Meanwhile, a fellow disgruntled customer set his shoes on fire instead, accusing Nike of forcing him to choose between the American flag and his shoes just after the NFL had forced him to choose between his sport and his country.
Since Kaepernick first knelt during the national anthem, the NFL has been embroiled in a political row, with some suggesting players have every right to protest, while others accuse them of disrespecting the U.S. flag.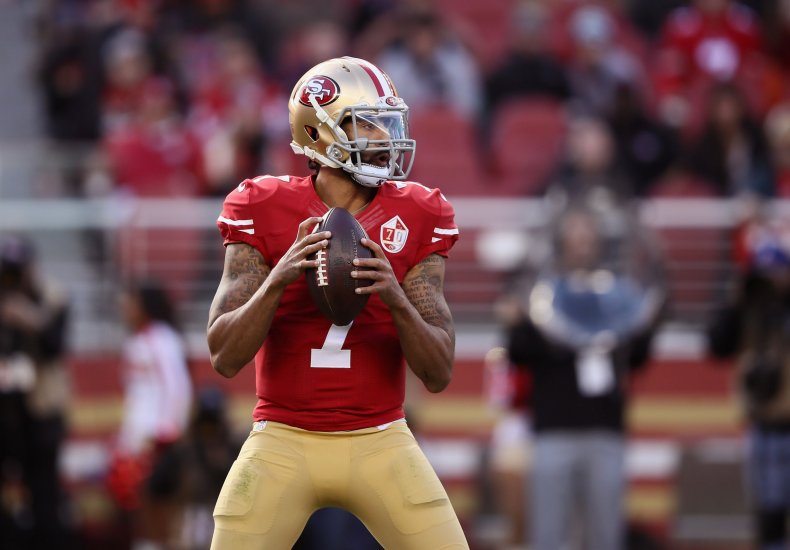 The divide has run through players, owners and fans alike. President Donald Trump has repeatedly stoked the flames by urging NFL owners to sack players who refuse to stand for the national anthem.
In May, the NFL introduced a new policy which states players will either have to stay in the locker room or stand on the sidelines during the anthem. However, the policy has since been put on hold as negotiations between the NFL and the NFLPA continue.
Last week, it was confirmed the NFL had failed in an attempt to get Kaepernick's lawsuit against the 32 league owners dismissed and the case will now go to a trial.
After becoming a free agent in 2017, the Wisconsin native wasn't given a tryout, which has led him to accuse the NFL franchises of colluding with each other to prevent him from returning to the league.