Colin Powell Says He's No Longer a Republican After Calling on Trump to Resign Like Nixon
Colin Powell, who led the State Department under former President George W. Bush, on Sunday announced that he no longer considers himself a "fellow Republican. Powell's remark comes just days after he called for President Donald Trump to resign over the mob that stormed the U.S. Capitol last Wednesday.
In an interview on CNN, host Fareed Zakaria asked Powell to comment on the Republicans who have "refused to condemn" Trump for inciting the violence that resulted in the Capitol building attack, leaving five people dead.
"They did and that's why I can no longer call myself a fellow Republican," Powell said. "I am not a fellow of anything right now."
Powell, who's been a prominent critic of Trump over the past four years, also offered a sharp rebuke of the Republicans who have stood with Trump amid his efforts to overturn the presidential election.
"I don't know how [Trump] attracts all these people," he said. "They should've known better. But they were so taken by their political standing and how none of them wanted to put themselves at political risk, they would not stand up and tell the truth, or stand up and criticize him or criticize others."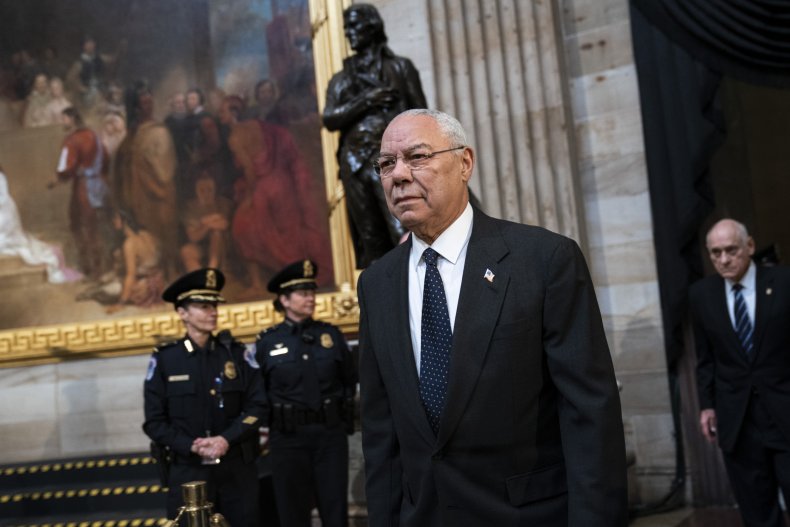 "We need people who will speak the truth, who will remember that we are here for our fellow citizens, they are here for our country. They are not here simply to be re-elected again," the former longtime Republican added. "Right now we need you to be real Americans who we can trust, who will tell the truth, who will argue on the basis of facts, and not just argue on the basis of what their primary looks like."
Newsweek reached out to the Republican National Committee for comment.
Powell's remarks came days after he encouraged Trump to take a page from former President Richard Nixon's book and resign in the aftermath of the Capitol riot.
"Those who are suggesting impeachment or the 25th Amendment, that's time-consuming," Powell told NBC on Friday. "I wish he would just do what Nixon did, and that's step down."
He also encouraged Republicans to tell Trump "it's over... the plane's waiting for you, you're out."
Over the past few days, Trump has faced mounting calls for his resignation or removal from office, including from more than 200 members of Congress. The effort to oust Trump has been led by Democratic lawmakers, but a handful of Republicans have joined the movement. For instance, Congressman Adam Kinzinger of Illinois on Thursday called for Vice President Mike Pence and the Cabinet to remove the president.
"Sadly, yesterday it became evident that not only has the president abdicated his duty to protect the American people and the people's House, he invoked and inflamed passions that only gave fuel to the insurrection that we saw here," Kinzinger stated in a video shared to Twitter. "It's time to invoke the 25th Amendment and to end this nightmare."