A collector has revealed the exact shade of crockery to look out for in your kitchen—as it could be radioactive.
TikTok user Krypton shared a video showing a vibrant red plate, which is hiding a dark secret.
The bright crockery is from a Fiesta Tableware Company dinner collection, which has launched 52 colors since 1936, according to its website.
Then produced by the Homer Laughlin China Company, of West Virginia, the FIESTA dinnerware brand started off with five colors—red, cobalt blue, green, yellow and old ivory.
But the rich red was produced by adding uranium oxide to the glaze—making the dinnerware radioactive.
Krypton showed the plate online, saying: "This Fiestaware is probably the most active sample I have. It's radioactive because it was painted with a uranium-based glaze, to give it that rich orange color. The dish was mostly popular from the 1930s to the 1970s. People were unaware of the side effects of eating out of uranium dinnerware.
"I have strict safety measures in place when I work with any kind of radioactive material. The gloves aren't meant to stop the radiation, the gloves are so that I don't get uranium dust on my hands. My Fiestaware is very old and it has accumulated chips and cracks in the paint that can release uranium dust contained within it. It's far more deadly than the radiation."
The clip, which shows them measuring radiation with a Geiger counter, has been watched more than 3 million times since being uploaded over the weekend.
Krypton shared other videos showcasing everyday radioactive items, including uranium glass that glows, as well as glowing uranium seaglass.
Sharing thoughts on the plate, TikToker Lee Kemp wrote: "For reference normal background radiation is between 30-50CPM and anything of 100 is considered a warning. This was 30x the normal amount."
Deej joked: "'Why's it spicy' vibes."
"Imagine in the future when they discover other forces we don't know exist," User pointed out.
Agreeing, AshPizzle504 wrote: "I'm curious what we're exposing ourselves too now that will be bad in the future."
While Charlie commented: "So I ate off these plates with my extended family well into the 2000s bc no one knew, until my cousin learned about these plates in school."
And Carmen wrote: "I feel in danger just watching it."
A spokesperson for Fiesta told Newsweek: "When Fiesta was introduced in 1936, one of the materials used to color the glazes was uranium oxide. The uranium was used to make the original red, which was actually more orange then red. Uranium oxide was widely and legally used during this era to color not only ceramic glazes, but glassware as well. Anywhere a red color was desired, uranium oxide was the source of that color. Almost any antique ceramic with a deep orange/red color is likely to be radioactive."
The red Fiesta shade was produced up until 1943, with the Oak Ridge Associated Universities (ORAU) consortium explaining: "Since this uranium could be used in the production of an atomic bomb, Fiesta red became a victim of World War II when the US government confiscated the company's stocks of uranium."
The color returned in 1959, this time by using depleted uranium rather than the original natural uranium, ORAU added. But the shade was discontinued in 1972, when according to the company, the FIESTA dinnerware brand was "retired."
Though the brand saw a revival in 1986, this specific red shade has never returned but colors such as "scarlet" and "claret" have been sold.
The original old ivory was also made using uranium, although ORAU explained the red contains far more than the paler color.
They said: "It is worth noting that the use of uranium to produce a red ceramic glaze was not limited to Fiestaware. Almost any antique ceramic with a deep orange/red color is likely to be radioactive, e.g., Caliente, Early California, Franciscanware, Harlequin, Poppytrail, Edwin M. Knowles, and Vistosa.
"In addition, various manufacturers, including the Homer Laughlin Company, have used uranium to give their ceramics other colors, e.g., yellow, green, brown. Buckley et al estimated that 2 million pieces of dinnerware between 1959 and 1969 that employed uranium containing glaze."
Commenting on the possible ill effects of using the dinnerware, Paul Frame, health physicist from ORAU, wrote: "It is likely that the major health issue associated with this dinnerware is not the radiation exposures but the ingestion of uranium or other metals that have leached into food or drink in contact with the dinnerware."
Now the range, which doesn't use uranium anymore, is popular throughout the U.S, with discontinued shades snapped up by collectors.
"Since its reintroduction in 1986, all Fiesta colors are free of uranium and lead as well, meeting all FDA regulations," said a Fiesta spokesperson. "However, any quick search on the internet will show that there is a high level of interest from collectors who covet these radioactive pieces. It is recommended that these pieces not be used for food, but having them on display is very safe."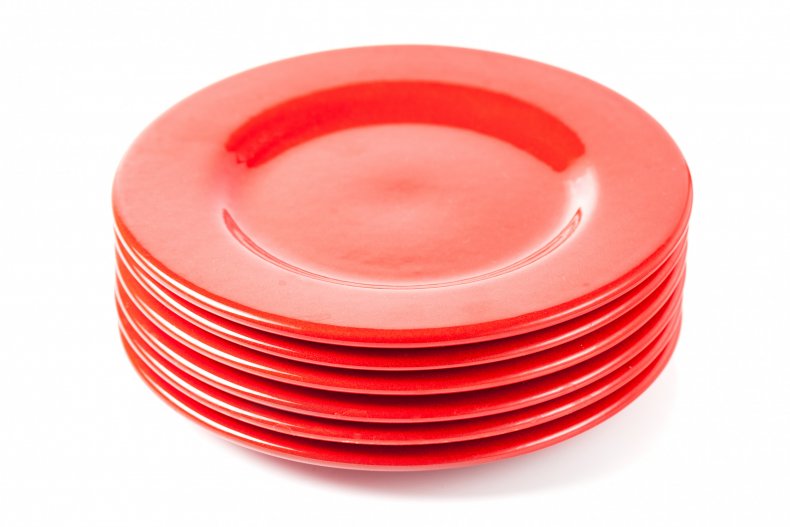 Update 05/12/21, 3:40 a.m. ET: The article has been updated with comments from a Fiesta spokesperson.