Sister Jean: How I Became a Basketball Star at 98 
As I always do before the start of the NCAA tournament, I filled out a bracket. Normally no one cared who I picked, but because Loyola University Chicago was finally back in the big dance, a local TV station asked if they could broadcast my picks.
I picked the Loyola Ramblers men's basketball team to go all the way to the Sweet Sixteen—I thought I was going out on a limb with that one!
The day before we left for Dallas in March 2018, I sat for an interview with CBS. They sent a camera crew to Chicago to interview me, Coach Porter Moser, and some of our players. I enjoyed the visit, but I didn't think much of it at the time. Who would be interested in a 98-year-old nun when the NCAA tournament was going on?
The game that started it all
Our first opponent was Miami. I did my usual prayer with the team in the hallway before the game and took my seat in the stands. I really thought we could win the game, but when we were down by five points with just under three minutes to play, I feared we were heading back to Chicago.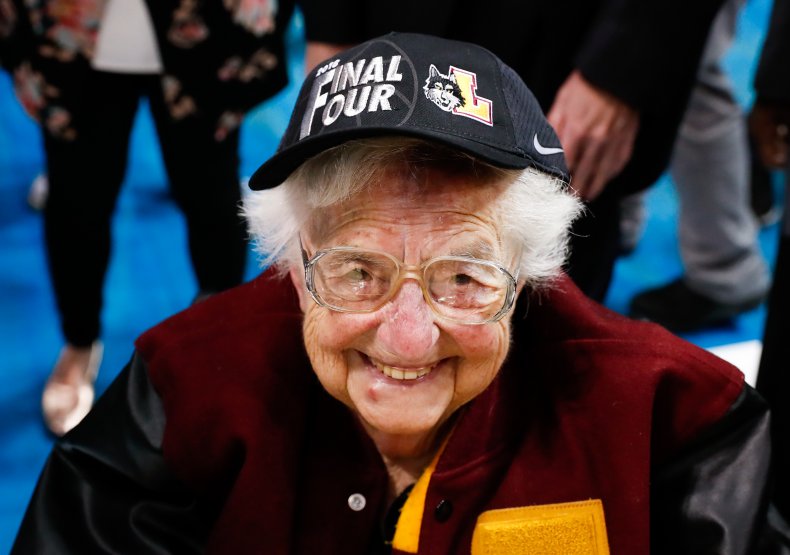 We made a terrific comeback but still trailed by one point heading into the closing seconds. Miami had a chance to go up by three with 9.6 seconds left but they missed a free throw. Ben Richardson got the rebound and immediately passed to Marques Townes, who dribbled quickly upcourt. Marques could have taken the shot and tried to be the hero, but instead he passed it to Donte Ingram. Donte was a good five feet behind the three-point line, but because time was winding down he had to shoot it. It went in just as the final buzzer went off to give us the "Big W."
I thought my heart might explode! As soon as that ball went in, all our bench players ran onto the court and celebrated. It was pure, youthful joy. That's what March Madness is all about. All those years of waiting to get back into the tournament were worth it to see that shot go in.
The players finished up their celebration and headed for the locker room. On their way off the court, each one stopped to hug me—sweaty hugs!—and share a few words. It's amazing to see the transformation that comes over the players in that moment. They're so excited, they're childlike.
Rosalyn Gold-Onwude, a sideline reporter who worked the game for TNT, came over and asked for my reaction. I didn't realize it at the time, but during the game Rosalyn had done a report on me, explaining to the audience who I was and what role I played for the team. "Oh, thank God, thank God we did it, because we knew we would do it," I said.
As I sat in my wheelchair outside the locker room, still flush with joy and excitement over the win, I noticed something weird was happening. Whenever I looked up, a photographer was aiming his or her lens at me and snapping away. A few reporters came up to me and asked me questions. A television reporter did the same with his camera crew. I couldn't help but chuckle at the thought that if this was back in the 1950s, I would have had to stay pretty much out of sight, because sisters weren't supposed to have their pictures taken. In 2018, however, I didn't have such restrictions, so I was free to soak it all up.
From team chaplain to TV sensation
It wasn't long after my morning meditation the next day, that the phone in my hotel room rang. It was Bill Behrns, the head of communications for men's basketball at Loyola. He told me there was a reporter waiting for me in the lobby, and would I mind going down to speak with him? I said sure. I got dressed, went to the lobby, did the interview, and came back to my room. Then Bill called again and said he had someone else who wanted to speak with me. Thus began an exhilarating and exhausting day of riding that elevator up and down, up and down. It was a lot of riding and a whole lot of talking, but I never got tired. I loved talking about the Ramblers, and I wanted the whole world to appreciate what these kids had done.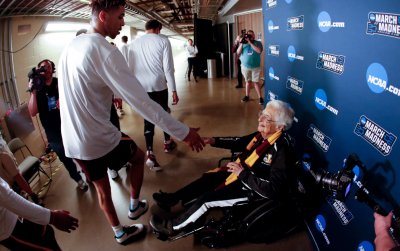 So many interview requests were coming in that Bill had to assign someone on his staff to handle them all. It seemed they were always handing me a phone and asking me to speak to a reporter. I talked to The New York Times, the Washington Post, and lots of other media. USA Today called me "the most universally beloved fan during this year's NCAA tournament." All the sports shows were talking about Sister Jean and the Loyola Ramblers, and a lot of news shows were talking about us as well. I guess we were one of those stories that transcended sports. When I was wheeled through the lobby of our hotel or went to a restaurant to eat, people would shout my name and ask to take a selfie.
It only took me ninety-eight years to become an overnight sensation.
As excited as I was by all the attention, I would never let that interfere with my duties as chaplain. That meant meeting the team for the pregame prayer as usual. The difference this time was that I was wearing a microphone pack, and we were surrounded by cameras who recorded my message to the boys. "Don't let those Tennessee team members scare you with their height," I said in reference to our next opponent, the Tennessee Volunteers. "Height doesn't mean that much. You're good jumpers. You're good rebounders. You're good at everything, and just keep that in mind."
Sister Jean's Ramblers and Barack Obama
The game was tense, and as usual I calmed my nerves (and my stomach) by eating popcorn. At one point the TV cameras showed me watching intently while I popped that popcorn into my mouth. I was told later that that video became a popular gif on social media, although I'm not exactly sure what that means.
With twenty seconds to play, Tennessee took a one-point lead. We had one more chance, and fittingly it was seized by Clayton Custer, who was our leading scorer and the player of the year in the Missouri Valley Conference. As the seconds ticked away, Clayton took a few dribbles and pulled up for a shot. It was short and hit the front of the rim. I've seen more balls hit that part of the rim than I could count, and they almost always bounce away. This time, however, the ball bounced up, hit high up on the backboard, hit the front of the rim again, and went through the hoop with 3.6 seconds to go. That gave Tennessee just enough time for one more shot, but they missed a three-pointer. The game was over! Loyola 63, Tennessee 62.
To say I was thrilled is the understatement of the century. My first thought when the game was over was to get down to that court as soon as possible. There was no way I was going to miss my sweaty hugs! The players celebrated with one another and shook hands with the Tennessee players. Then, one by one, they filed by my wheelchair and embraced me.
A few moments later, my new BFF, Rosalyn Gold-Onwude, came over with her microphone to ask me what I said to the team in my prayer before the game. "I told them that we were going to win, that we could do it and God would be on our side and we were just going to do it today," I said. "To keep calm and just put into play everything the coaches taught them to do."
Everything was happening so fast. Of course, I had hoped and prayed that our team could win these games, but to see them do it was still quite a shock. And I certainly never expected that I would become such a big part of the story. Now I was seeing articles referring to our team as "Sister Jean's Ramblers." Even Chicago's most famous resident, Barack Obama, wrote a tweet saying, "Congrats to @LoyolaChicago and Sister Jean for a last-second upset—I had faith in my pick!"
Interviews, merchandise and a chance at the Sweet Sixteen
"I'm really happy to be saying good morning to all of America today."
It was 6:30 in the morning on Tuesday, March 20, 2018. That morning I was doing an appearance on Good Morning America and speaking with the hosts back in New York City. This was a particular thrill for me because I like that show very much and I'm a big fan of George Stephanopoulos. I never miss his Sunday morning news show.
The possibility that I would be on Good Morning America would never have entered my mind one week before, but at that point it was very much in line with everything that was going on in my life. Ever since we had gotten back to Chicago, I felt like I had been caught in a hurricane—a wonderful, joyful, loving, godly hurricane.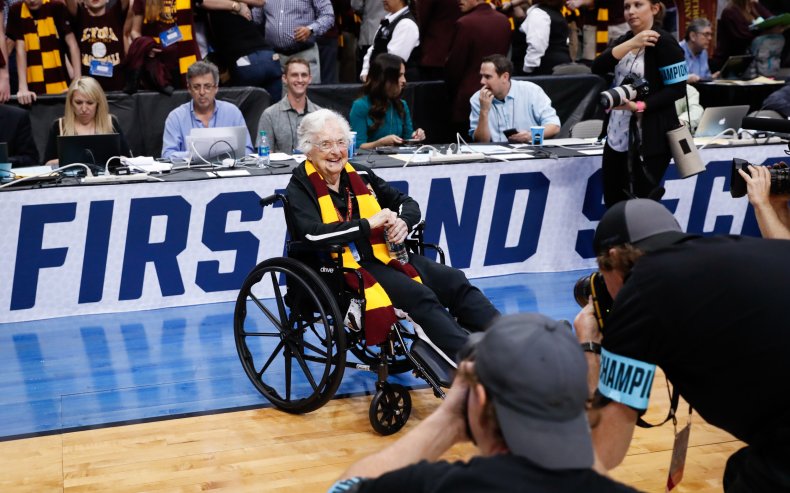 Here's what my Monday looked like: At 6 a.m., I hosted a camera crew from Chicago's CBS affiliate in my apartment at The Clare. That was followed by an interview with Chicago's WGN News. At 8:15 another camera crew, this one from ESPN, interviewed me at Loyola, and then I dialed into ESPN's Golic and Wingo show to do an interview along with Porter. "Without a doubt, I'm the luckiest coach in America," Porter told them. "I have an honorary assistant coach with direct divine intervention from above."
During the afternoon I did an interview over Skype with the TV show Access Hollywood. Then I did a third interview with ESPN, followed by yet another CBS interview. In between all those interviews I must have answered more than three hundred emails. The New York Times sent a reporter out to spend the day with me for an article that was published under the headline "A Day in the Life of Sister Jean, Media Darling."
Everywhere I looked, my image was being projected to the public. Some two dozen companies asked permission from Loyola to use my name and likeness on T-shirts, sweatshirts, signs, and even socks. The LEGOLAND Discovery Center in Chicago displayed a Sister Jean mini-figure that showed me dunking a basketball. Another Sister Jean bobblehead doll, this one manufactured by the National Bobblehead Hall of Fame and Museum, hit the market, and within forty hours it became the best-selling bobblehead in the museum's history.
The attention was flattering, but I was acutely aware that the only reason people were talking about me was because of what the team had accomplished. I only hoped that with all of this going on, the players would be able to keep up with their studies.
Living our dreams in Atlanta
The scene was even bigger when we got to Atlanta, where we were scheduled to play Nevada in the Sweet Sixteen. The team and I arrived there to great fanfare, especially when we rolled up to the hotel. Loyola had assigned a couple of security people to follow me around and protect me from well-wishers. I tried to tell them that wouldn't be necessary—"What am I, some kind of rock star?" I teased—but they insisted. I must admit, the security came in handy over the next few days.
I can't say I've given much thought as to why I became such an object of fascination. Yes, our team was writing a Cinderella story, but that didn't have much to do with me. I think it starts with the fact that I'm so old. Let's face it, people love little old ladies! We're harmless, we're cheerful, and we've been through a few things.
Eventually, it was time to play the game. Once again, I wore a microphone and was trailed by TV cameras for the pregame prayer. As the boys held hands with me and one another and formed a circle, I sensed they were a little more nervous than usual. "Are you ready to play?" I said with a smile, hoping to lighten the mood. They responded yes, and then I went into my prayer:
"Good and gracious God, as we gather to beat that pack of wolves, stay focused, use your heads and your hearts, and let's make that next game our Elite Eight. God bless us, go Ramblers, and amen!"
When the game finally tipped off, I could hardly sit still. I don't know what it is about our guys—maybe they like torturing me?—but once again they were nervous and got off to a bad start, falling behind by twelve points during the first ten minutes. After that we were really on fire and took a 28–24 halftime lead. I noticed during the game that the fans from Kansas State and Kentucky, who were there to watch their teams play in the second game, were cheering like mad for us. We had become America's darlings.
Our best player that night was Marques, which was great considering he didn't play so well the first two rounds. He led us in scoring with eighteen points, and he hit the biggest shot of the night when he made a three-pointer with 6.3 seconds to play to give us a 69–68 win. Amazingly, we had won our three NCAA tournament games by a total of four points. Clayton actually had a chance to take the big shot, but he sensed that Marques was hot, so he got him the ball instead. Once again, Clayton showed that he was a great team player.
As he ran off the court, Clayton hugged me and shouted, "Sister Jean, we busted your bracket!" I've never been so happy to be so wrong!
Two days later was our Elite Eight game against Kansas State, which I'm happy to say was a lot more boring. It's a good thing, too, because I don't know that my heart could have taken another buzzer beater. I was able to enjoy the second half as our boys finished with a 78–62 win. Tom wheeled me onto the court for my sweaty hugs, and I had a great view as one Rambler after another climbed the ladder and cut down the net commemorating our regional championship.
As I looked around the arena and soaked up the moment, I had to shake my head. Loyola University was going to the Final Four for the first time since 1963. We were indeed on a mission from God. People called it a miracle, but I say all the boxing out helped too.
This is an edited extract taken from Wake Up with Purpose!: What I've Learned in My First Hundred Years by Sister Jean with Seth Davis published on February 28 and available to pre-order here. Copyright © 2023 by Jean Dolores Schmidt, BVM ("Sister Jean". Used by permission of Harper Select, a division of HarperCollins Focus, LLC.
All views expressed in this article are the author's own.