College Chancellor Threatened With Legal Action Over Charlie Kirk Protests
Turning Point USA is considering legal action against the University of California, Davis, and a local newspaper. This comes after a talk by the TPUSA leader Charlie Kirk at the campus on Tuesday was marred by violent protests.
The conservative youth movement alleges UC Davis Chancellor Gary S. May, and The Sacramento Bee, "parroted" the "completely fabricated internet lie" that Kirk had "advocated for violence against trans people."
A police officer was injured outside Kirk's event, and two people arrested, after protesters attempted to storm the university building it was being held in. Around 100 demonstrators took part, many dressed all in black, with several smashing glass window panes on the entrance door.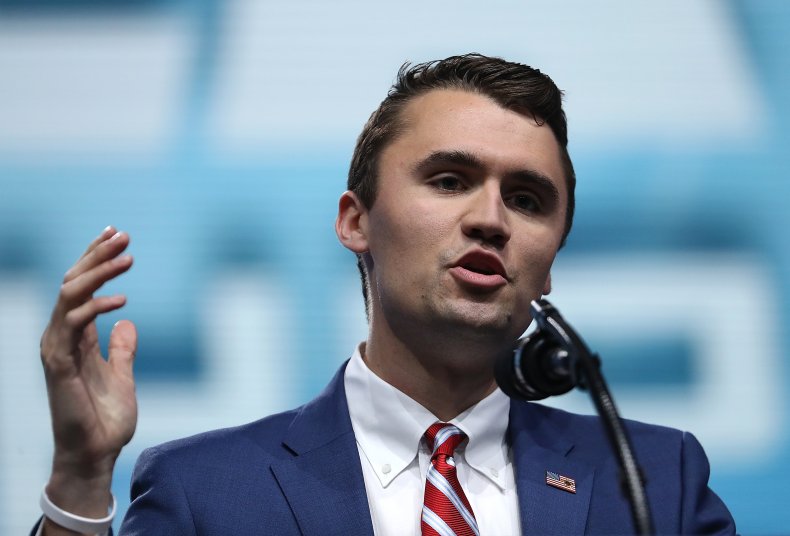 Campus free speech has emerged as a significant political issue across the United States. The proportion of students who think it is secure has fallen by 12 points, to just 47 percent, since 2019.
Andrew Kolvet, a TPUSA spokesman, told Newsweek: "Much of what happened on Tuesday night was due to a completely fabricated internet lie that Charlie Kirk advocated for violence against trans people. This lie was parroted by The Sacramento Bee—without doing basic journalism—and later by the Chancellor of UC Davis, Gary S. May.
"While The Sacramento Bee has retracted those allegations and apologized, Chancellor May has not. Our students and TPUSA deserve an apology," said Kolvet.
"The Chancellor and The Bee poured fuel on this fire and contributed to the violence we saw unfold. At this time, TPUSA is examining all of its legal options with the university and The Sacramento Bee."
Newsweek has emailed both UC Davis and The Sacramento Bee for comment.
Ahead of Kirk's address, Chancellor May released a statement. He thanked students for "sharing your distress at a student group hosting a speaker who is a well-documented proponent of misinformation and hate, and who has advocated for violence against transgender individuals."
May did not provide any examples to support the claim that Kirk had "advocated for violence" against trans people.
May added: "Campuses may not prohibit student organizations such as TPUSA from inviting these speakers, even if the speaker's intended speech is loathsome and hurtful to me, and others in our campus community."
The Sacramento Bee has apologized "for any misunderstanding" after publishing its opinion piece. The newspaper wrote that Kirk had "suggested transgender people, who he has referred to as 'garbage,' ought to be lynched," before his UC Davis talk.
To support the claim, The Bee linked to a clip of Kirk discussing transgender issues with former college swimmer Riley Gaines, who claimed a trans athlete had exposed male genitals in the women's locker room.
In response, Kirk said: "Someone should have took care of it the way we used to take care of things in the 1950s and '60s."
However, the Turning Point founder said he was not advocating violence, but instead referring to what he believed would have been the reaction of "local law enforcement."
Following Kirk's complaint, The Bee removed the reference to lynching. The newspaper wrote: "A review of the video shows that Kirk never advocated for trans people to be lynched. In fact, he strongly denies the accusation."