Charlie Kirk Tells Antifa to Party More After Angry College Protest
Charlie Kirk has urged supporters of left-wing movement Antifa to party at beach resorts, rather than protest against his events.
The Turning Point USA co-founder spoke out after activists tried to shutdown a talk he gave at the University of California, Davis, on Tuesday.
Police made two arrests after around 100 demonstrators, many dressed all in black, tried to get into Kirk's event, smashing windows and scuffling with law enforcement.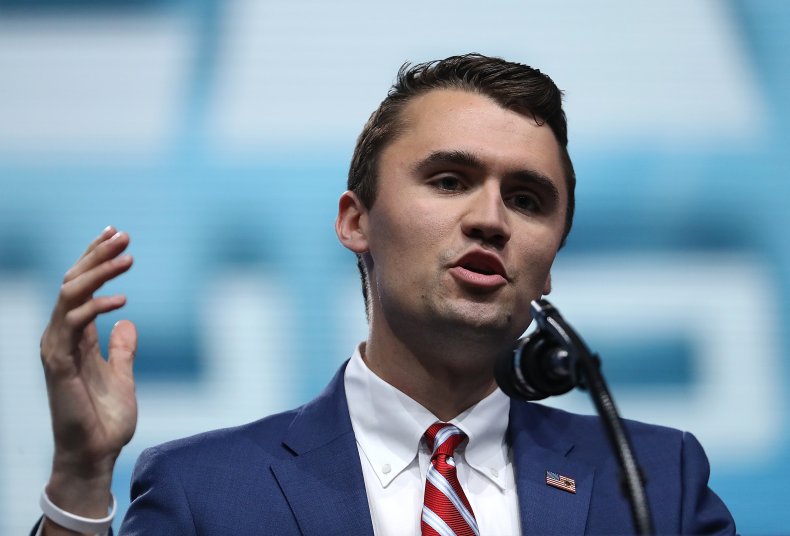 The activities of self-styled militant anti-fascists, or Antifa for short, have sparked controversies across the country. House Republican Marjorie Taylor Greene called for the movement to be designated as a terrorist organization.
Kirk discussed the disorder during an appearance on Jesse Watters' Fox News show on Wednesday. He told his host that "the mob was there to try and do violence."
The conservative activist said there was "damage, vandalism and spray painting" in response to his visit, adding: "Somebody really could have got hurt."
Watters suggested "Antifa" should "maybe just take a week off and go to Panama City beach... have a drink, get in the pool, and lighten up."
Kirk agreed, replying: "I think you're onto something about the vitamin D – it finally explains why Antifa is so depressed and angry. They're covered head to toe in, like, military-style gear. Maybe if they let themselves out, you know, 'sun's out, guns out,' they actually get some vitamin D, get a little happier out there.
"Why are they so angry? They live in the greatest nation ever to exist in the history of the world. What injustice are you protesting?" Kirk added.
According to UC Davis, one police officer was injured during the clashes outside Kirk's event. Referencing the University Credit Union Center, where the event was held, the college said: "Outside the UCUC, about 100 protesters gathered and for brief times blocked the main event entrance and the pathway to the entrance.
"One officer sustained an injury when he was jumped on from behind and pushed to the ground, and two people were arrested and taken to Yolo County Jail for allegedly painting graffiti on an exterior wall of the University Credit Union Center."
UC Davis added that 10 glass window panes had been broken by protesters, but said they did not manage to get inside the building.
Newsweek has contacted Turning Point USA for comment via the media form on the group's website.
On Wednesday, business tycoon Elon Musk responded to a video Kirk posted on Twitter showing protesters breaking windows. The Twitter CEO and owner tweeted: "Not a peaceful protest at all."
Police in Wadsworth, Ohio, made two arrests on Saturday after clashes broke out between supporters and opponents of a drag show in the town.
Some of those protesting the event waved swastika-emblazoned flags, and repeatedly chanted: "There will be blood."
On March 4, police in Atlanta made 35 arrests after left-wing protesters attacked an under-construction police training facility in the city, starting a number of fires.