Marjorie Taylor Greene's Antifa Plan Trashed by Counter-Terrorism Experts
Georgia Representative Marjorie Taylor Greene's resolution calling for the Antifa movement to be designated as a "terrorist organization" has been sharply criticized by a number of counter-terrorism and counter-extremism experts.
The House Republican introduced the proposal to Congress on Tuesday, arguing: "Antifa has been terrorizing Americans for years, and it's time to end the lawlessness."
Greene's proposal comes at a time of intense debate in the United States about political extremism, with both Republicans and Democrats attempting to link opponents to groups or movements that use violence to achieve political goals.
On Sunday, police in Atlanta made 35 arrests after "violent agitators" attacked a law enforcement training facility in the city, lighting multiple fires. The same complex was also attacked in January, with Atlanta police telling Newsweek domestic terrorism charges would be filed.
Greene explicitly referenced Sunday's Atlanta violence in support of her bill, commenting: "Last weekend, Antifa rioters firebombed the future police training facility in Atlanta."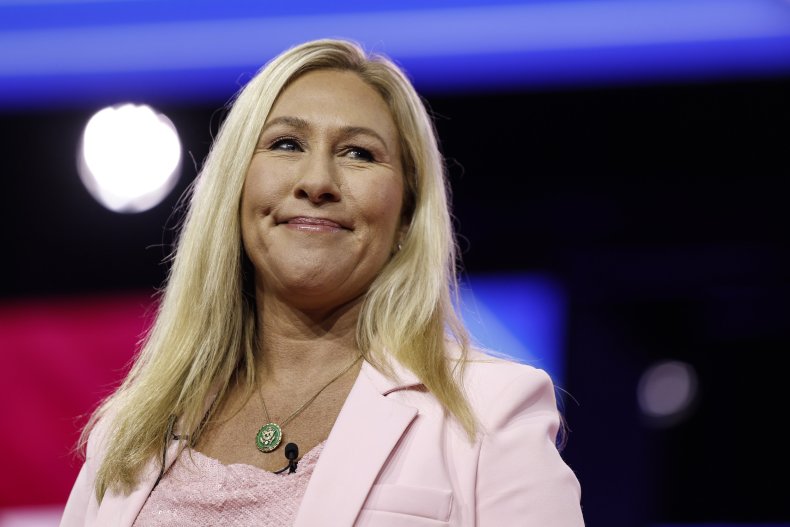 Donald Trump pledged to declare Antifa a terrorist group in 2020 as president, while House Republican Lauren Boebert introduced a bill to this effect in 2021, though it failed to pass the chamber.
However, a number of experts told Newsweek Antifa, short for "anti-fascism," is more of a loose network than a coherent organization.
"Claims such as that by Rep. Greene are political, not substantive. By most accounts, Antifa is a network or movement of loosely affiliated activists, not an organization as such. Those describing it as 'terrorist' tend to use that label pejoratively," Peter Romaniuk, the director of the Center on Terrorism at the City University of New York, said.
"Antifa is not an organization (in any logical definition of the term). There is no way to accurately designate it as a 'terrorist organization,'" Professor James J.F. Forest, a University of Massachusetts academic who also edits the Perspectives on Terrorism journal, told Newsweek.
"This resolution is yet another political scam meant to appeal to specific voters, an attempt to highlight the threat of violence from the extreme far left, in order to try and deflect attention from the threat of violence from the extreme far right...the extreme far left is presently disorganized and leaderless, punctuated by largely ad-hoc protests that sometimes devolve into brief spasms of violence," he said.
A number of the academics argued the proposal is inoperable because there is currently no means of designating a domestic political organization, as opposed to an overseas one, as a terrorist group in the United States.
Speaking to Newsweek, Tricia Bacon, an associate professor at American University who has written a number of books on terrorism, explained: "This proposal is a non-starter because there is no legal basis to 'designate' a domestic organization. The very first legal criteria evaluated to determine whether a given organization can be formally designated is that it needs to be a foreign organization.
"In this case, one could debate whether Antifa meets the criteria for an organization, given its lack of structure," she said. "But it is unambiguous that it is a domestic entity, which means that it cannot be formally designated as a terrorist organization in the United States. There is no legal mechanism in the U.S. to designate a domestic terrorist organization, only a foreign terrorist organization."
Professor Audrey Kurth Cronin, an expert in international security at Carnegie Mellon University, made a similar point.
"There is no legal mechanism for designating a US-based domestic group as 'terrorist.' There are many mechanisms for labeling foreign groups and actors but none for US domestic groups," Cronin told Newsweek.
"Antifa is a loose movement that has no leader, no hierarchical structure and an unknown number of members. Without proving that Antifa is 1) a discreet group; and 2) primarily located outside the United States, there is no U.S. legal tool that can be used to 'designate' it."
Professor Joseph Young, an expert in political violence at Washington D.C.'s American University, agreed, telling Newsweek that the U.S. has a "Foreign Terrorist Organization (FTO) list" but not a domestic one.
More generally, Young said Antifa is "only loosely connected with a handful" of recorded terrorist attacks around the world, "suggesting they are not a major threat." He added, though, that law enforcement is right to take note of "any group that uses violence in our democracy."
Jeffrey Lewis, who teaches the "Terror and Terrorism" course at Ohio State University, told Newsweek technological developments have made it easier for individuals to associate themselves with an extremist movement without having to be directly involved, leading to looser organizations.
"The impact of electronic communications/social media on political violence is forcing us to rethink basic ideas about what really differentiates an organization from a movement," he said. "Now people can immerse themselves in the ideology of a movement vicariously, from a distance, whereas in the past such an immersion would typically have taken place in a more real, physical environment. It would have been people getting together and so seen as an actual organization.
"Now that virtual communities and movements have become so powerful and compelling, the difference between formal organization and informal movement has blurred quite a bit, for the left, right, and for Islamic militants as well."
Newsweek reached out to Marjorie Taylor Greene via phone for comment.