Atlanta 'Cop City' Videos Show Protesters Attack Police Training Facility
Fires broke out at the site of a planned public safety training center in Atlanta's outskirts after a protest led to clashes between police and protesters on Sunday.
The Atlanta Police Department said 35 people had been detained after "violent agitators" had "used the cover of a peaceful protest" to conduct a coordinated attack on construction equipment and police officers.
The planned training center would include a shooting range, classrooms, a mock village, an emergency vehicle driving course, stables for police horses and a "burn building" for firefighters to practice putting out fires. Opponents have derisively dubbed the project, estimated to cost $90 million, "Cop City."
Video shared by the department showed what appeared to be fireworks thrown at officers near a gate at the site of the planned Atlanta Public Safety Training Center. Other clips on social media showed smoke and flames coming from multiple spots on the property.
Opponents have been protesting for more than a year under the slogan "Stop Cop City," saying that building it would involve cutting down trees and harming the environment as well as increase the militarization of police in Georgia.
Sunday's events began with a festival that was part of a week of demonstrations.
Hundreds of people attended, but a group broke off from the concert to start a protest, WSB-TV reported, citing witnesses.
Agitators "changed into black clothing, entered the construction area, and began throwing large rocks, bricks, Molotov cocktails, and fireworks at police officers," Atlanta Police said, adding that multiple pieces of construction equipment were destroyed.
A group called Defend the Atlanta Forest said police converged on an area away from the construction site where the festival was being held to make arrests.
"It's important to note that the the 35 people that police arrested tonight were not 'violent agitators,' but peaceful concert goers who were nowhere near the demonstration," the group tweeted. The group has been contacted for further comment.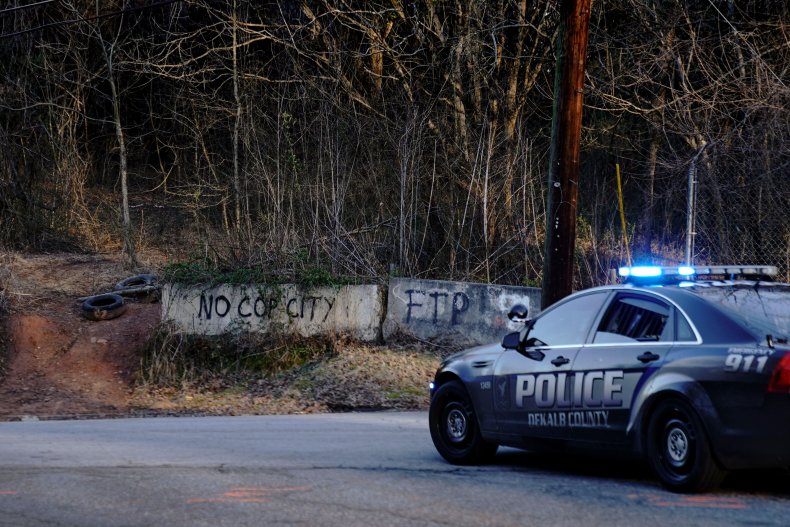 The Atlanta Solidarity Fund, which supports people arrested at protests, tweeted that police "seem to be lashing out at anyone present at the music festival."
They wrote: "Music is not a crime, protest is not a crime. The first amendment doesn't go away when a single person sets a fire."
Police said that the "illegal actions of the agitators could have resulted in bodily harm. Officers exercised restraint and used non-lethal enforcement to conduct arrests."
Defend The Atlanta Forest's website promoted a "week of action" from March 4 to March 11, describing it as the fifth such week of activities.
"We call on all people of good conscience to stand in solidarity with the movement to stop Cop City and defend the Weelaunee Forest in Atlanta," said a statement on the website.
With more events planned, Atlanta police said they and other law enforcement agencies have "a multi-layered strategy that includes reaction and arrest."
Tensions have escalated at the construction site in recent months.
In January, police fatally shot 26-year-old activist Manuel Esteban Paez Teran as they were trying to clear protesters camping at the site.
Teran was inside a tent in the woods and didn't comply with verbal commands from law enforcement officers trying to clear the area, the Georgia Bureau of Investigation has said.
According to the GBI, when Teran shot and injured a state trooper, other law enforcement officers returned fire and killed him. That shooting remains under investigation.
Update 3/6/23, 5 a.m. ET: This article and its headline have been updated to include additional information.