Marjorie Taylor Greene Calls Atlanta Cop City Attack 'Domestic Terrorism'
Republican congresswoman Marjorie Taylor Greene has called the attack on the police and fire training facility in Atlanta on Sunday by protesters "domestic terrorism," alleging it was planned for weeks and announced on social media.
"Antifa attacked the Atlanta future Public Safety Training Facility. This is domestic terrorism," Greene wrote on Twitter on Sunday. "It was planned for weeks and announced on social media. Antifa are self proclaimed communists and consistently organize to attack our government over and over again. They should be taken seriously and not tolerated anymore."
Greene's statement aligns with years-long calls from Republicans to brand Antifa a domestic terrorism organization. In 2020, former president Donald Trump—who had pointed at Antifa groups as allegedly responsible for the protests following the killing of George Floyd by police—tweeted that "the United States will be designating Antifa as a Terrorist Organization."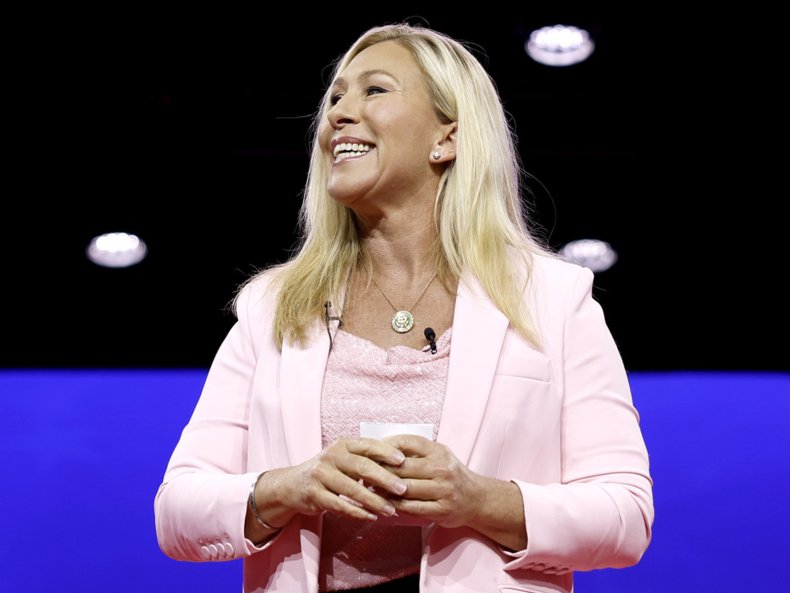 Similar demands were previously dismissed by FBI director Christopher Wray, who said Antifa is a loose network and "not a group or an organization."
The incident took place on the second day of an announced week-long series of protests against the building of the Atlanta Public Safety Training Center, an 85-acre campus to be built in the heart of the 1,000-acre large Atlanta forest which critics have dubbed "Cop City."
The building is estimated to cost $90 million, most of which has been raised by the non-profit organization Atlanta Police Foundation.
Hundreds of protesters were present at the demonstrations, a section of which breached the site of the proposed building and set fire to police and construction vehicles, as well as a trailer. According to a statement by Atlanta Police, protesters also threw large rocks, bricks, and Molotov cocktails.
Atlanta Police wrote that protesters used the cover of a peaceful demonstration "to conduct a coordinated attack on construction equipment and police officers." Some 35 people were detained in relation to the incident.
The incident on Sunday isn't the first controversy to surround the site of the proposed training building.
Environmental activist Manuel Paez Terán, 26, was shot dead by police on January 18. Police fired at least 12 shots during a raid on the forest, and said Terán fired first. The killing sparked calls for an independent investigation by three members of Congress: Representatives Rashida Tlaib and Cori Bush, and Senator Ed Markey.
Terán's family has criticized the lack of body camera footage recording the shooting, which has been recognized by the Georgia Bureau of Investigation (GBI) investigating the incident. A state trooper was also seriously injured during the shooting.
Responding to a request for comment from Newsweek, a spokesperson for Greene claimed that "Antifa is burning down our country." He added: "Please wake up."
Newsweek has contacted the Atlanta Police Department, and the Defend the Atlanta Forest Group for comment.
Update, 3/6/2023 10:45 a.m. ET: This article has been updated to add a comment from Greene's spokesperson.