Neo-Nazis Shout 'There Will Be Blood' at Ohio Drag Event for Children
Neo-Nazis waved swastika flags while chanting "there will be blood" on Saturday during a protest against a drag queen story hour held in Wadsworth, Ohio, just west of Akron.
The all-ages event billed as a "Rock-n-Roll Humanist Drag Queen Story Hour" took place in the city's Memorial Park.
A number of groups turned up to protest including a group of open neo-Nazis and members of the far-right Proud Boys organization. Police arrested two men for disorderly conduct amidst clashes between the protesters and supporters of the event.
Drag events have been targeted by right-wing activists across the United States in recent months, with a particular focus on those accessible to children. In Tennessee, Republican lawmakers have voted to ban "adult cabaret performance" from public property, or any location which could be viewed by a child, with similar legislation being proposed in a number of other states like Kentucky and Oklahoma.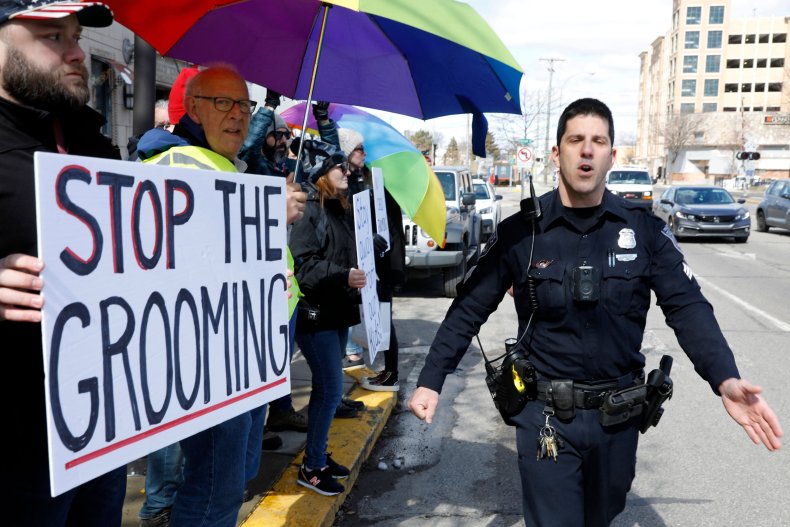 Footage from Saturday's event taken by documentary filmmaker Ford Fischer shows several different right-wing factions protesting against the drag show.
In one video, a group of about 10 men, all dressed in red with black facemasks, waved swastika-emblazoned flags and gave the Nazi salute, repeatedly chanting "Seig, Heil," along with "there will be blood."
According to Fischer, the different right-wing groups, which combined had several hundred protesters, did not all get along, with police having to "defend" the neo-Nazi group from "fellow anti-drag activists."
Other extremist groups who took part in the protest included White Lives Matter Ohio, the white nationalist Patriot Front and the Proud Boys, who "tried to distance themselves from the avowed Nazi groups," Fischer said.
Homophobic and racist abuse, including the N-word, was targeted at attendees, while a Black journalist from the local newspaper Akron Beacon Journal had to leave the event for his own safety after being repeatedly racially abused.
Police tried to keep the pro- and anti-drag protesters apart, though there were some scuffles including one which saw mace deployed. At one point, an anti-drag protester drew what looked like a gun on a group with rainbow-colored umbrellas, though it was later identified by police as a "less-lethal PepperBlaster device."
Aaron Reed, one of the drag show's organizers, told Newsweek: "The opposition was horrifying, but I knew what I was facing when I started this. It's why nobody else had the guts to throw this in my small, rural Ohio town.
"Whether we like it or not, drag queen story hour is the focus of their rage at the moment. They see it as a symbol of LGBTQ around children and they use children as human shields for their bigotry, just like modern George Wallace's standing in the schoolhouse steps trying to protect 'good white Christian kids' from the scourge of sharing public spaces with people not like them," he said.
"They are raging against the dying of their privilege. Equality always feels like oppression to the privileged. This is the front line of our modern civil rights struggle," Reed said. "This is our busses and lunch counters. I'm just standing here getting soup poured on my head by Nazis so I can wake the good, comfortable people up to the hate we are really facing and maybe motivate them to stand up."
In a statement sent to Newsweek, the Wadsworth Police Department said many of those who attended were "non-Wadsworth residents and individuals from out of state."
"The Wadsworth Police Department is committed to protecting the public and upholding the law to include every person's First Amendment right to free speech and assembly," the statement said.