Texas, Ohio College Democrats: Republicans Would Rather 'Keep Letting Innocent Americans Die' Than Defy NRA
As both of their states mourned the loss of lives during two separate shootings, the College Democrats of Texas and Ohio called for legislators and constituents to act.
On Saturday and Sunday morning, more than 20 people were killed during two separate shootings in El Paso, Texas, and Dayton, Ohio. The student organizations felt the need to speak out after the two "senseless tragedies" and renewed their commitment to "sensible gun safety legislation" while calling on others to do the same.
The College Democrats weren't the only ones to advocate for change in the wake of the shootings and multiple presidential candidates offered their opinions on what was necessary. Both Senators Cory Booker and Elizabeth Warren called for increased background checks and Senator Bernie Sanders championed a ban on certain firearms.
"'The time is now' has become an utterly meaningless phrase in the wake of so many tragedies," the joint statement said. "Many of our leaders have not answered the call to protect the people they represent."
The students specifically criticized Republicans for failing to take action to prevent the "needless deaths in our country." Instead of defying the National Rifle Association (NRA), the statement claimed Republican legislators at the national and state-level "would rather keep letting innocent Americans die."
In a statement, the NRA said it would not participate in the "politicizing of these tragedies" but would work to "pursue real solutions that protect us all from people who commit these horrific acts."
Catherine Wicker, executive president of the Texas College Democrats, told Newsweek that she hoped that the two shootings happening within 24 hours of each other would have a bigger impact on enacting change, but called President Donald Trump's statements "concerning."
"Calling someone a 'mentally ill monster' is not only ablest, it is wrong and does not tell the truth of the hate crimes that have happened. The man in Texas was a white supremacist, and there is no way around it," Wicker said. "My hope is that Congress and our local elected officials have a better answer to this when it comes to change."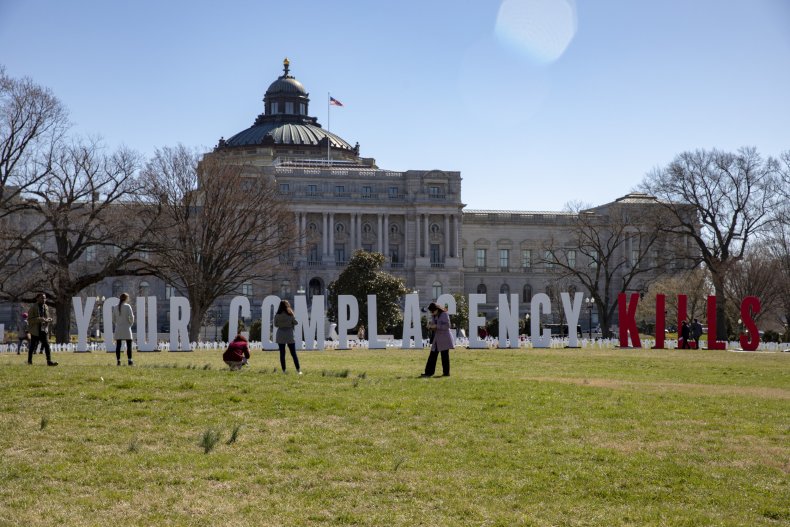 On Monday, Trump characterized the El Paso shooter as a "wicked man," and advocated for red flag laws to remove firearms from those who are deemed a danger to themselves and those around them.
"Our future is in our control," Trump said toward the end of his speech. "America will rise to the challenge. We will always have and always will win. The choice is ours and ours alone. It is not up to mentally ill monsters, it is up to us."
Ahead of the shooting in El Paso, the suspect allegedly posted a manifesto containing hateful, racist content about the Hispanic community and immigrants.
U.S. Attorney for the West District of Texas, John Bash, said the Department of Justice would investigate the shooting as a "domestic terrorism case" and the suspect could face federal hate crime charges. Bash posted on Twitter, "we're going to do what we do to terrorists in this country—deliver swift and certain justice."
Moving forward, the College Democrats of Texas and Ohio asked those in their respective states to lobby the people in power and let them know "we are sick and tired of being sick and tired."
"We call on state and national leaders to end the 'conversation' and pass comprehensive gun control reform," the two federations said. "The time for discussion is long over."
Texas Representative Dan Crenshaw called for the passing of the TAPS Act, which would establish a task force of behavioral threat assessment experts to prevent future acts of mass violence. He also called for the implementation of "red flag" laws at the state level or gun violence restraining orders.
Former Representative Beto O'Rourke, who served on El Paso's City Council, called for reform to gun laws, as well as, an acknowledgment of the "hatred" and "open racism" that's occurring.
The College Democrats of Texas and Ohio also expressed their gratitude for the first responders and hospital staff in both El Paso and Dayton. Without their efforts and quick response, more lives could have been lost. Along with calling for the lobbying of legislators, the student organizations encouraged people to help victims by donating blood.
A June poll conducted by College Pulse found the majority of college students supported banning "assault-style weapons," and Wicker said college students' views on gun control could impact the 2020 election.
"If you think about it, many of the students that organized campus walkouts in the wake of [the] Parkland, [Florida, shooting] with March for Our Lives are voting for the first time," Wicker explained. "They have been asking for answers for years and people are ignoring them. They are going to speak out even louder this time at the ballot box."