Which Players Have Opted Out of the 2020 College Football Season so Far?
The continued spread of the novel coronavirus pandemic across the U.S. means the prospects of the college football season getting underway as scheduled at the end of month have grown slimmer by the day.
On Saturday, the Mid-American became the first FBS Conference to postpone football until the spring of 2021 and multiple reports on Monday suggested the Big Ten and Pac-12 will officially cancel their seasons later this week.
In the unlikely event of football going ahead as scheduled in the fall, a number of players will not take part in the upcoming college football season after opting out with at least one player from every Power 5 conference—the Atlantic Coast Conference, Big 12, Pac-12, Big Ten and Southeastern Conference—deciding against playing this year.
Following the example of their NFL counterparts, some have cited concerns related to the COVID-19 outbreak as their reason to skip the 2020 season, while others will start preparing for the NFL Draft next year and have opted out of the season in order to minimize the risks of suffering an injury or contracting coronavirus.
Penn State linebacker Micah Parsons falls in the latter category along with Virginia Tech defensive back Caleb Farley and Minnesota wide receiver Rashod Bateman.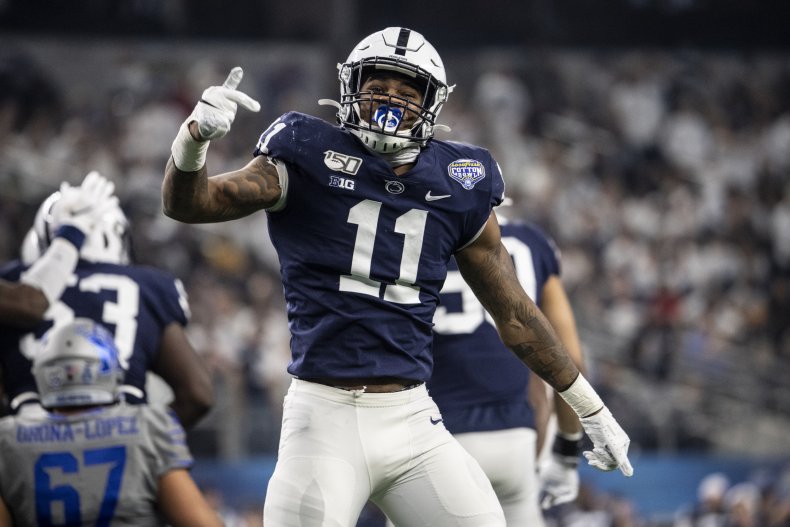 The trio—who were all due to begin their junior seasons—will be joined on the sidelines by a host of other starters, including Purdue wideout Rondale Moore, Pittsburgh defensive tackle Jalen Twyman and Maryland quarterback Josh Jackson. The Terrapins are one of many programs with multiple players choosing not to play this season, with six withdrawals as of Tuesday morning.
Both Duke and South Carolina will be without at least two players each, while North Carolina has reported three withdrawals, including starter defensive back D.J. Ford. Meanwhile, a quartet of Michigan State players, including starting defensive end Jacub Panasiuk and starting right tackle Jordan Reid have both opted out.
Earlier this month, the NCAA Board of Directors stated schools had to honor the scholarship of the players who choose to opt out.
"All student-athletes must be allowed to opt out of participation due to concerns about contracting COVID-19," the NCAA requirements read.
"If a college athlete chooses to opt out, that individual's athletics scholarship commitment must be honored by the college or university."
Here's a list of FBS players who have opted out so far.
Arizona State QB Kevin Doyle
Auburn—LB Chandler Wooten
Duke—LS Ben Wyatt, OL Jacob Rimmer
Florida State—Jamarcus Chatman
Houston—DT Sedrick Wilson
Illinois—RB Ra'Von Bonner
Maryland—DL Jalen Alexander, OL Austin Fontaine, OL Johnny Jordan, QB Josh Jackson, DB Vincent Flythe, LB T.J. Kautai
Miami—DE Gregory Rousseau
Michigan State—OT Justin Stevens, LB Marcel Lewis, DE Jacub Panasiuk, RT Jordan Reid
Minnesota—WR Rashod Bateman
New Mexico State—DL Jomaious Williams
North Carolina—DB D.J. Ford, DB Bryce Watts, DB Javon Terry
Penn State—LB Micah Parsons
Pittsburgh—DT Jalen Twyman
Purdue—WR Rondale Moore
South Carolina—OL Mark Fox, OL Jordan Rhodes
Syracuse—DL Cooper Dawson
UAB—RB Daquon Godfrey
USF—WR Jernard Phillips, DT John Waller
Vanderbilt—PK Oren Milstein
Virginia Tech—DB Caleb Faley
Washington State—DB Pat Nunn, WR Kassidy Woods
West Virginia—S K.J. Martin