2019 College Football Schedule: Week 1 Games, Where to Watch, Live Stream, TV Channel
After a seven-month wait, college football is back in town. The 2019 season began last week with a smattering of games across the FBS—the top tier of college football—and the FCS in the so-called "Week Zero".
Proceedings, however, begin in earnest this week, with all the FBS big-hitters involved over four days starting from Thursday, when four games kick off at 7 p.m. ET.
Clemson begins the defense of its national title an hour later, when it hosts Georgia Tech at Memorial Stadium in one of the evening's four nationally televised matchups.
The Tigers were crowned the best college football team in the country for the second time in three years in January when they defeated Alabama 44-16 in the College Football Playoff, becoming the only team in the history of the playoffs era to go 15-0.
The Crimson Tide, meanwhile, opens its campaign two days later, when it takes on Duke.
Here's all you need to know about Week 1.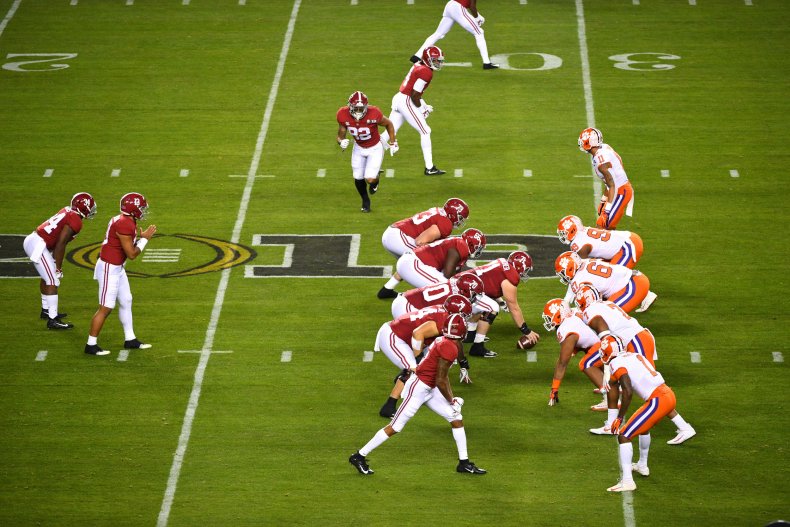 When does Week 1 start?
Only two games involving FBS teams were scheduled for Week Zero, with the large majority of heavyweights in the top tier of college football not back in action until this week.
Week 1 of the college football season begins on August 29, when Cincinnati hosts UCLA in the first of four nationally televised games on the slate for Thursday night.
Defending champion outfit Clemson is in action later that day, kicking off its campaign at home against Georgia Tech, before an all-Texas affair between Texas State and Texas A&M.
Friday sees another four games broadcast across the country, beginning with Wisconsin's road game against South Florida and Utah State's trip to Wake Forest.
The lion's share of the action comes Saturday, with a host of games including last season's runner-up Alabama taking on Duke in Atlanta.
Sunday and Monday have one game each, with Oklahoma hosting Houston, before Notre Dame travels to Louisville to round up the first week of the season.
TV coverage
As usual, coverage of the college football season will be split across a variety of networks. ABC will broadcast games in the ACC, American, Big 12, Big Ten and Pac-12 conferences.
Games in the latter three conferences will also be broadcast on FOX and ESPN, with the latter also carrying matchups from the ACC, American, Mountain West, SEC and Sun Belt conferences.
CBS will also broadcast SEC conference games, while NBC retains exclusive broadcasting rights to Notre Dame's home games.
Live stream
Live streams throughout the season will be available via the broadcasters' digital platforms, as well as fuboTV and DirecTV.
Week 1 TV schedule (All times ET)
Thursday, August 29
UCLA @ Cincinnati—7 p.m., ESPN
Georgia Tech @ Clemson—8 p.m., ACC Network
Texas State @ Texas A&M—8.30 p.m., SEC Network
Utah @ BYU—10:15 p.m. ESPN
Friday, August 30
Wisconsin @ South Florida—7 p.m., ESPN
Utah State @ Wake Forest—8 p.m., ACC Network
Purdue @ Nevada—9:30 p.m., CBS Sports Network
Oklahoma State @ Oregon State—10:30 p.m., FS1
Saturday, August 31
Florida Atlantic @ Ohio State—12 p.m., FOX
Ole Miss @ Memphis—12 p.m., ABC
South Alabama @ Nebraska—12 p.m., ESPN
South Carolina vs North Carolina (in Charlotte, North Carolina)—3:30 p.m., ESPN
Duke vs. Alabama (in Atlanta, Georgia)—3:30 p.m., ABC
Northwestern @ Stanford—4 p.m., FOX
Virginia Tech @ Boston College—4 p.m., ACC Network
Boise State @ Florida State (in Jacksonville, Florida)—7 p.m., ESPN
Georgia @ Vanderbilt—7:30 p.m., SEC Network
Oregon vs. Auburn (in Arlington, Texas)—7:30 p.m., ABC
Georgia Southern @ LSU—7:30 p.m., ESPNU
Middle Tennessee @ Michigan—7:30 p.m., Big Ten Network
Fresno State @ Southern California—10:30 p.m., ESPN
Sunday, September 1
Houston @ Oklahoma—7:30 p.m. EST, ABC
Monday, September 2
Notre Dame @ Louisville—8 p,m. EST, ESPN