College football returned with a bang this weekend, as the opening week of the season delivered a mixture of expected results, surprising upsets and routs across the FBS—the top tier of college football.
Clemson began the defense of its title with a 52-14 win over Georgia Tech on Sunday. Trevor Lawrence went 13-of-23 and was held to a modest 168 passing yards and one touchdown pass, but Travis Etienne stole the show.
The running back rushed for 205 yards on 12 carried and had three touchdowns as the Tigers' season got off to a bright start.
Alabama began its quest to regain the national title in emphatic fashion, thrashing Duke 42-3 in Atlanta, Georgia. The Crimson Tide was kept scoreless in the first quarter, before scoring 35 points in the next two periods.
Heisman Trophy favorite Tua Tagovailoa completed 26 of his 31 passes, throwing four touchdown passes and finishing with 336 passing yards.
Aside from Tagovailoa, two other quarterbacks were the talk of the town in Week 1. Jalen Hurts, a transfer from Alabama, marked his Oklahoma debut with a brilliant performance, throwing for 332 yards and three touchdown passes after completing 20 of 23 passes.
Hurts added 176 rushing yards over 16 carries for three scores on the ground, as the post-Kyler Murray era began triumphantly for the Sooners.
Justin Fields' debut for Ohio State was similarly impressive, as he went 18-of-25 for 234 yards and four touchdowns.
Elsewhere, No.3-ranked Georgia beat Vanderbilt 30-6, while Bo Nix's heroics inspired No. 16 Auburn to a 27-21 over No. 11 Oregon.
No. 12 Texas A&M beat Texas State 41-7, while Wisconsin thrashed South Florida 49-0 and Penn State buried Idaho 79-7.
Iowa State, meanwhile, survived a scare to beat Northern Iowa 29-26 and No. 7 Michigan swatted Middle Tennessee away 40-21.
Here's all you need to know about Week 2.
When does Week 2 start?
Week 2 of the college football season begins on Friday night, with Virginia hosting William & Mary, while Wake Forest travels to Houston to play Rice.
Fresh from a comeback win against Florida State, Boise State makes its home debut for the season when it welcomes Marshall, before Arizona State plays Sacramento State.
The lion's share of the action is scheduled for Saturday, with all the top-25 ranked teams involved. The highlight of the day see defending champions Clemson taking on No.12 Texas A&M, while No. 2-ranked Alabama welcomes New Mexico State and No. 3 Georgia hosts Murray State.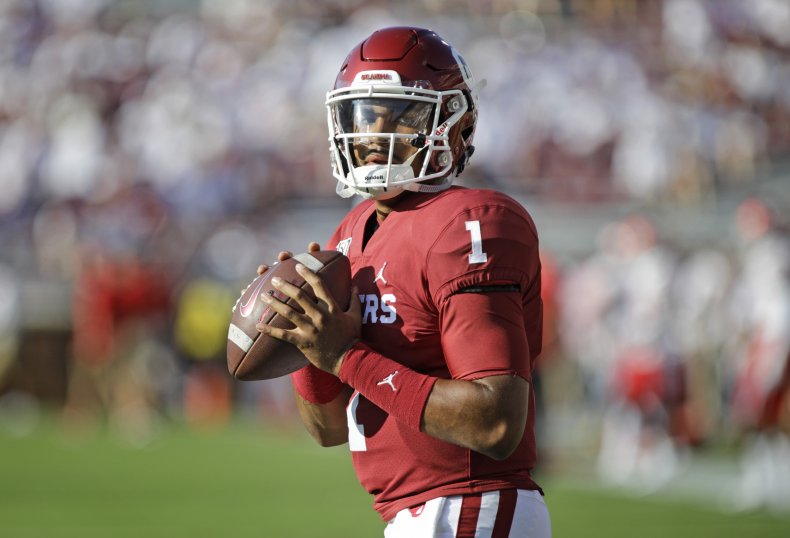 TV coverage
As usual, coverage of the college football season will be split across a variety of networks. ABC will broadcast games in the ACC, American, Big 12, Big Ten and Pac-12 conferences.
Games in the latter three conferences will also be broadcast on FOX and ESPN, with ESPN also carrying matchups from the ACC, American, Mountain West, SEC and Sun Belt conferences.
CBS will broadcast SEC conference games, while NBC retains exclusive broadcasting rights to Notre Dame's home games.
Live stream
Live streams throughout the season will be available via the broadcasters' digital platforms, as well as fuboTV and DirecTV.
Week 2 TV schedule for college football Top 25 teams (All times ET)
Saturday, September 7
Cincinnati @ Ohio State—12 p.m., ABC
Army @ Michigan—12 p.m., FOX
Rutgers @ Iowa—12 p.m., FS1
Syracuse @ Maryland—12 p.m., ESPN
Northern Illinois @ Utah—1 p.m., Pac-12 Network
Texas A&M @ Clemson—3:30 p.m., ABC
Central Michigan @ Wisconsin—3:30 p.m., Big Ten Network
Nebraska @ Colorado—3:30 p.m., FOX
New Mexico State @ Alabama—4 p.m., SEC Network
Murray State @ Georgia—4 p.m., ESPN2
Northern Colorado @ Washington State—5 p.m., Pac-12 Network
UCF @ Florida Atlantic—7 p.m., CBSSN
LSU @ Texas—7:30 p.m., ABC
UT Martin @ Florida—7:30 p.m., ESPNU
Nevada @ Oregon—7:30 p.m., Pac-12 Network
Buffalo @ Penn State—7:30 p.m., FOX
Tulane @ Auburn—7:30 p.m., ESPN2
Western Michigan @ Michigan State—7:30 p.m., Big Ten Network
California @ Washington—10:30 p.m., FS1
Stanford @ USC—10:30 p.m., ESPN
About the writer
Dan Cancian is currently a reporter for Newsweek based in London, England. Prior to joining Newsweek in January 2018, he was a news and business reporter at International Business Times UK. Dan has also written for The Guardian and The Observer.