Colorado Man Receives Stimulus Check for Mother Who Died Two Years Ago
Millions of Americans are still waiting to receive their stimulus checks. But a Colorado man says he got one in the mail for his mother despite notifying the IRS that she had died back in 2018.
Lee Cohen, a resident of Highlands Ranch, told Denver7 News: "My mom passed away two years ago and I received the stimulus check for her."
Cohen received the check in an envelope that listed him as his mother's representative. "I couldn't believe they sent it since my mom was deceased. I even filed a final tax return for her, so they have the data," he said.
He reportedly filed his mother's final tax return with the Internal Revenue Service (IRS) earlier this year before the stimulus checks were sent out.
And he informed the U.S. Social Security Administration of her death in order to discontinue her benefits. Cohen also said the Treasury Department likely did not check public records for his mother's death certificate.
"They must not have their systems tied together," he said, adding that had notified the government of his mother's death in several ways.
"We are wasting a lot of taxpayers money sending out checks to people that shouldn't receive them...I'm sure some people are cashing them."
Cohen also reported seeing the letters "DECD" printed on the check just after his mother's name. Believing these four letters stand for "deceased," he said: "They knew she was deceased, so they shouldn't have sent it."
He voided the check sent to his mother and posted it to the IRS office in Fresno, California: "I mean I could have deposited it, because my name is on it, as the executor. But it's not my money."
Both the IRS and the Treasury reportedly declined to reveal how many checks have been mailed out to deceased people when Denver7 News asked.
Newsweek has contacted the IRS and the Treasury for comment.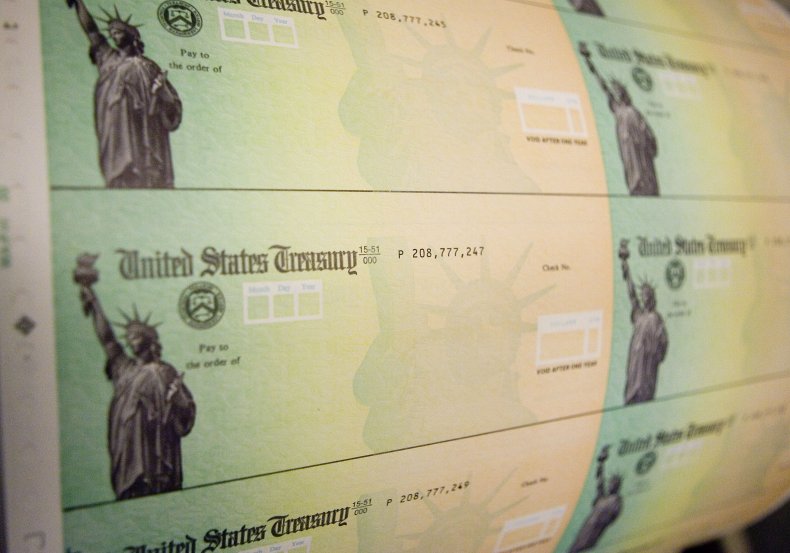 Earlier this month, another deceased person was reported to have been sent a stimulus check in Colorado. Lee Ann Van Loucks received a stimulus check made out to her mother Mary Strubel, who died two years ago, Denver's CBS4 reported.
The check was also reported to have the letters "DECD" printed on it, which Van Loucks also believes is short for deceased. "I thought, hmm, nobody noticed that?" she told CBS4.
Van Loucks also noted her mother's Social Security benefits stopped arriving just a few weeks after her mother died, so she was surprised the IRS wasn't aware.
"I think it's a huge waste, and I'm just kind of sickened by it, especially during a time like this," Van Loucks said.
"How many people need these checks and aren't getting them, and how often is this happening, and how widespread is this issue, and what is this costing us?"
A spokesperson for the IRS told CBS4 at the time that the agency wasn't sure how many deceased people have received stimulus checks or what could have led to such errors.
The agency was reported to have issued 130 million checks, as of May 11, with a low error rate, the spokesperson told CBS4 at the time.
Also in May, a group of senators signed a letter that was sent to U.S. Secretary of the Treasury Steven Mnuchin and U.S. Commissioner of the IRS Charles Paul Rettig to raise concerns that deceased individuals were receiving the economic impact payments.
The letter called on both departments to "take immediate action to prevent these improper CARES [Coronavirus Aid, Relief, and Economic Security] Act payments."
Delaware Senator Tom Carper, a co-signer of the letter, noted in a post on his official Twitter account: "Why are deceased people receiving stimulus checks? It's critical Americans get relief quickly, but these improper payments represent serious waste and a burden to those who receive them."
The stimulus check payment is part of the government's $2.2 trillion CARES Act, which Congress passed in March to provide financial relief for Americans impacted by the pandemic.
The novel coronavirus, which was first detected in Wuhan, China, has infected more than 4.9 million people globally, including over 1.5 million in the U.S.
Over 323,700 have died, while more than 1.7 million have reportedly recovered from infection as of Wednesday, according to the latest figures from Johns Hopkins University.
The graphic below, provided by Statista, illustrates U.S. states with the most confirmed COVID-19 cases.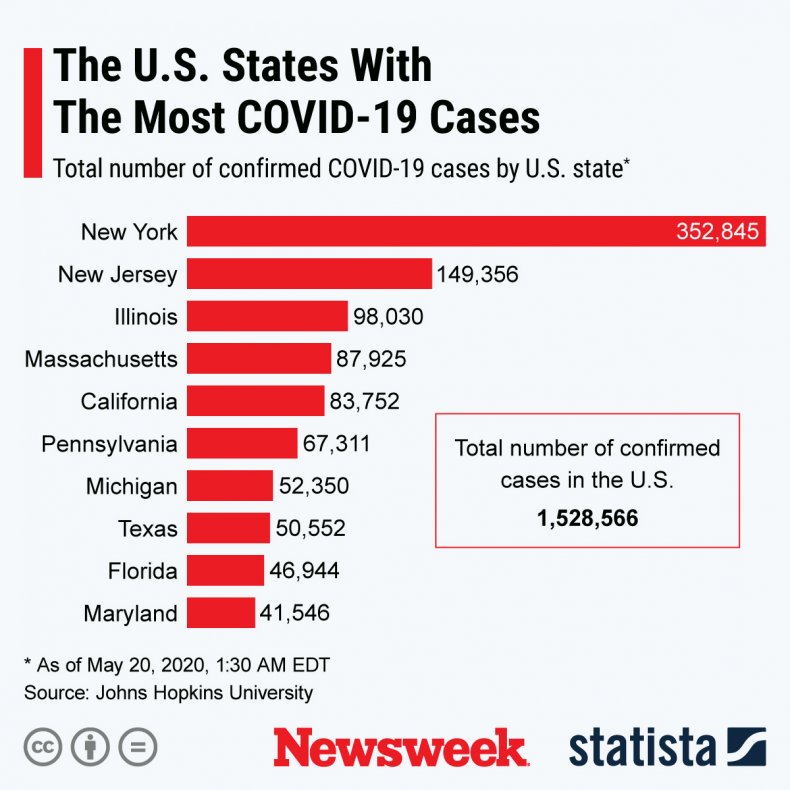 The graphic below, provided by Statista, illustrates the spread of the COVID-19 virus across the U.S.