Democratic Colorado Secretary of State Jena Griswold has filed suit to remove Republican Tina Peters, an ally of MyPillow CEO Mike Lindell, as the top elections official in Mesa County.
Griswold filed the lawsuit on Thursday, seeking to strip County Clerk Peters of her powers administering elections in Mesa County. Responsibility for the county's elections would be reassigned to two Republicans, former Colorado Secretary of State Wayne Williams and Mesa County Treasurer Sheila Reiner, Peters' predecessor as county clerk. Griswold said the move was necessary because Peters "is not fit to serve" in the role during elections this November.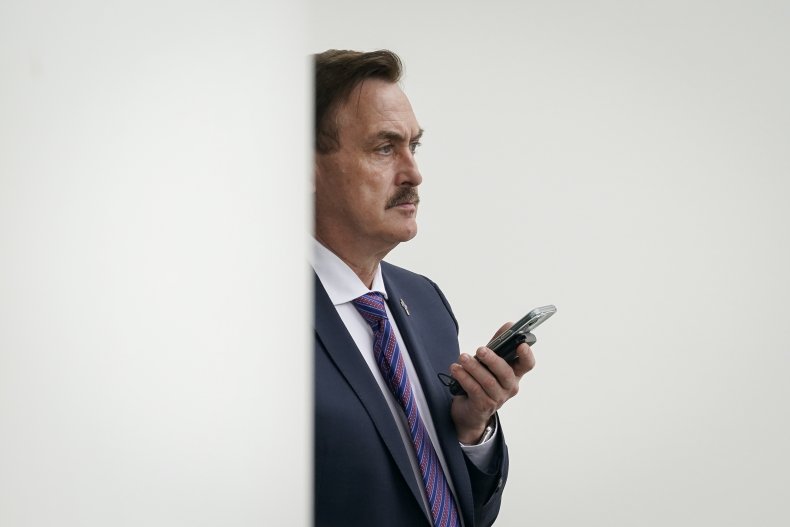 "My priority is ensuring that the voters of Mesa County have accessible and secure elections," Griswold said in a statement. "With the quickly approaching election, I am taking action to ensure that the county's election office can provide great elections for Mesa voters. As Secretary of State, I will continue to provide the support and oversight needed to ensure the integrity of Colorado's elections."
Griswold alleges that surveillance cameras monitoring Mesa County's voting machines were intentionally shut down by Peters or someone working for her on May 25. During the time that the cameras were turned off, Peters allegedly allowed a person named "Gerald Wood" to copy data from and potentially tamper with the machines.
Passwords purportedly taken from the machines were later shared online by Ron Watkins, a supporter of the false conspiracy theory that the 2020 election was stolen from former President Donald Trump. Watkins was also one of the subjects of an HBO documentary that earlier this year alleged he was the person behind the pro-Trump QAnon conspiracy theory.
Peters is being investigated by the FBI and Colorado over the allegations. She has reportedly been avoiding her home state since appearing at Lindell's so-called "Cyber Symposium" in South Dakota earlier this month. Officials moved to replace the potentially compromised voting equipment in her absence. Lindell told Vice News he is helping Peters hideout of concerns for her "safety."
During Peters' appearance at the symposium, she suggested that Dominion Voting Systems was involved in the Colorado investigation. Lindell, who is being sued for defamation by Dominion for $1.3 billion, has baselessly claimed the company helped "steal" the election by "flipping" votes from Trump to President Joe Biden.
No credible evidence of fraud was presented at the symposium, despite Lindell earlier claiming that evidence shown at the event would lead the Supreme Court to unanimously and inexplicably "reinstate" Trump as president by August 14.
Peters' tenure was controversial before the 2020 election. During her first year as county clerk, she allowed 574 ballots to sit uncounted in a drop box outside her office long after the November 2019 election was over, according to The Daily Beast. A ballot drop box used during the 2020 primaries, installed outside Peters' office and under her watch, was also allegedly defective and leaked ballots into a parking lot.
Newsweek reached out to Peters for comment.