Columbus, Ohio, Councilmember Suggests Having Social Worker Present May Have Led to Different Outcome for Ma'Khia Bryant
A Columbus, Ohio, councilmember suggested there might have been a different outcome for Ma'Khia Bryant had a social worker been present at the scene of Tuesday's fatal police shooting of the 16-year-old.
"I continue to say I can't help but think what would happen if we had social workers present. If we had community-based intervention present," Councilmember Shayla Favor told CNN on Thursday.
"Now, currently in Columbus, Ohio, we do have a mobile crisis response team," Favor continued. "And that's where a mental health specialist is paired with an officer and shows up on scene. And they are able to diffuse some of the situations when residents are in the midst of a crisis."
Bryant was fatally shot by a Columbus police officer on Tuesday. Body camera footage released by officials showed her lunging at another girl with a knife in her hand. An officer opened fire when it appeared Bryant was attempting to lunge at a second person, firing four shots and striking the teenager.
The shooting came about 20 minutes before the verdict was delivered in the Derek Chauvin trial. The former Minneapolis police officer, who knelt on George Floyd's neck for over nine minutes before he died last May, was found guilty on two counts of murder and a charge of manslaughter.
Favor said she felt relief when the verdict was read but also sees the conviction as a starting point.
"Tuesday, I along with many Americans had that initial sigh of relief, but it is only a moment, because the fight continues. And I am hoping that through that conviction we can reach across the aisle, that we can reach consensus as a country to do what is right in order to protect all residents, all people of this country," she said.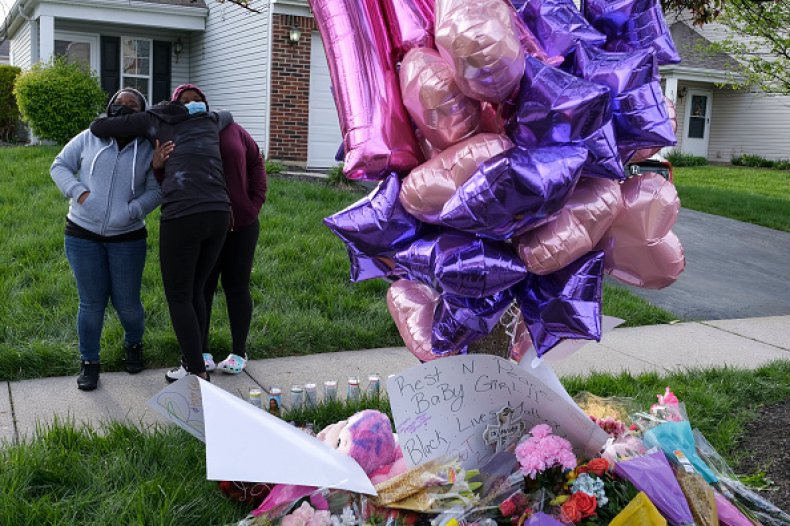 Favor said she backs Ohio Governor Mike DeWine's upcoming bill that would increase police training, create a use-of-force database and lead to independent investigations of offending officers. But she emphasized that there needs to be more alternatives to policing as well.
The councilmember also said that her push for more mental health specialists is supported by city residents.
"My colleagues and I engaged in a set of community engagements after the murder of George Floyd last year, and from those conversations, we overwhelmingly heard from our residents that we need to invest in non-police or other community-trained modes of policing—unarmed crisis response," Favor said.
Newsweek reached out to Netcare Access, a Franklin County crisis center that oversees Columbus, for comment but did not hear back before publication.
Netcare Access offers 24-hour mental health and substance abuse crisis intervention and assessment services. It was established well before last summer's protests, which demanded that funds be taken from police budgets and invested in other community services.
"We know that out of 4,000 calls for service, only 4 individuals ended up in jail. It's imperative that we put additional resources towards scaling these types of alternative models that can reduce some of the burdens put upon our police officers, but even more importantly, save precious lives," Favor wrote to Newsweek in a statement.
"Last summer, following hours of community engagement with Columbus residents, we heard overwhelmingly that they want to see non-police, community trained, unarmed responders intervening in these types of scenarios," she added. "These are the types of changes that I believe could have resulted in a different outcome on Tuesday."
Updated 04/22/21, 2:12 p.m. ET: This story was updated with additional comment from Favor.