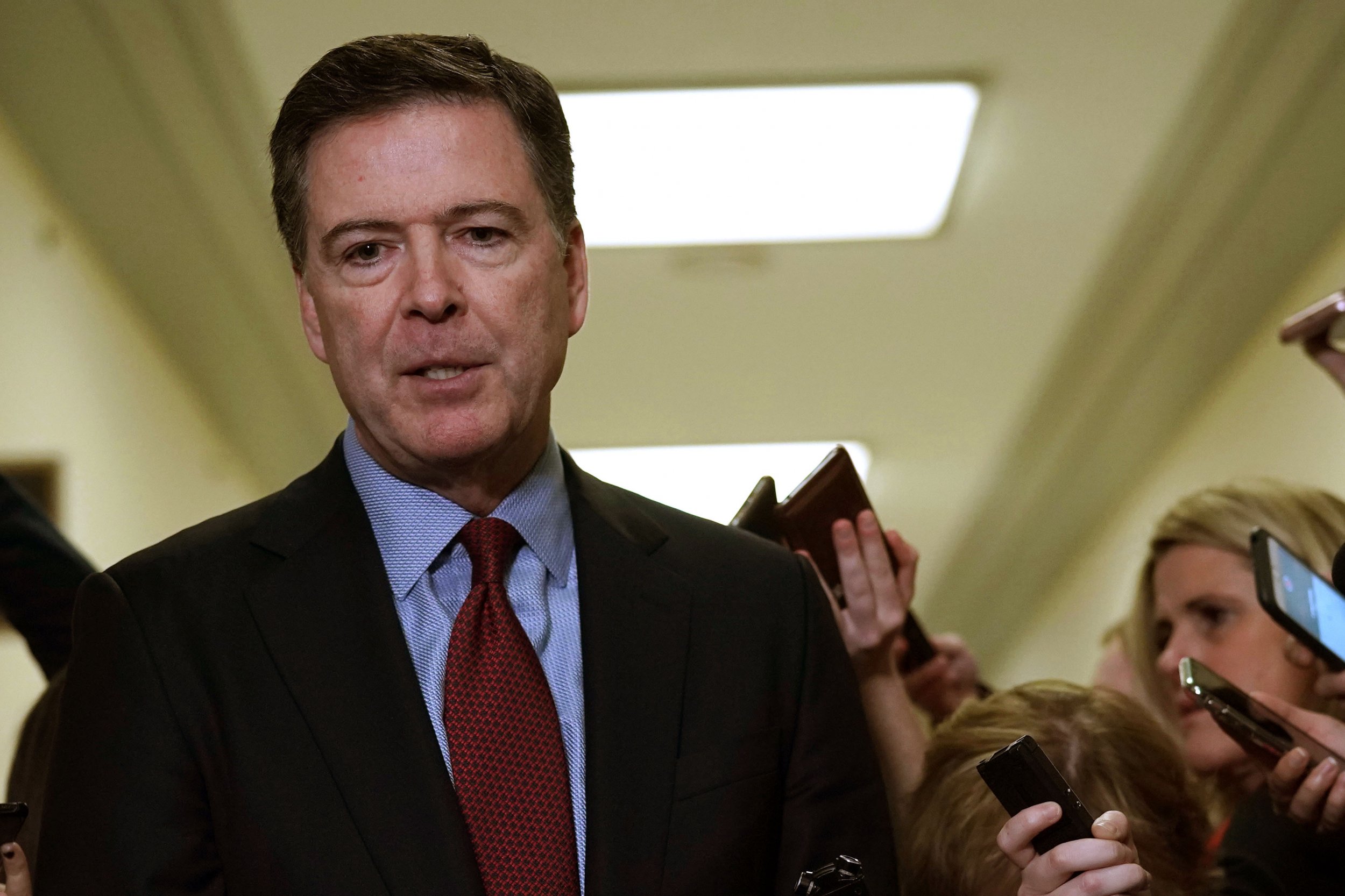 Emerging from a nearly seven-hour closed-door session with lawmakers on Friday about the Hillary Clinton email investigation and the origins of how the Russia probe arose, Former FBI Director James Comey blasted the meeting as a "waste of time" that could have been done in the public eye.
"We could have done this in open setting," Comey said, because "we're talking again about Hillary Clinton's emails for Heaven's sake... A whole lot of Hillary Clinton's email, which will bore you."
On Twitter, the former FBI director said the hearing "wasn't a search for truth, but a desperate attempt to find anything that can be used to attack the institutions of justice investigating this president."
Comey also revealed that he will appear again before the House Judiciary and House Oversight and Government Reform Committees on December 17 to answer more questions. That session will likely be conducted in the same manner; privately.
"So, I'm not sure we can do this at all," Comey said. "But I'm trying to respect the institution and to answer questions in a respectful way."
The committees are due to produce a transcript within the next 24 hours of the day-long meeting, which will shed light on specifically what was discussed and the manner in which the session was conducted.
Throughout the day, both Democrats and Republicans emerged from inside the room to reveal tidbits of information to reporters about what was unraveling inside.
Republicans, such as Darrell Issa, said that Comey was repeatedly directed by an attorney from the Department of Justice, who was present for the hearing, not to answer certain questions.
Democrats and Comey rebuked that claim, instead saying there were only a handful of questions that he could not answer because of ongoing criminal investigations.
The former FBI director said he could not comment on a report from The New York Times in September, which said that Deputy Attorney General Rod Rosenstein reportedly considered wearing a wire to secretly tape Trump and attempted to recruit his cabinet members to invoke the 25th Amendment, a measure that would forcibly remove the president from office. According to the report, this occurred in May 2017 shortly after Comey was fired by Trump.
Comey has appeared before lawmakers on Capitol Hill to answer questions–both publicly and privately–at least five times since 2016. Following Comey's firing, special counsel Robert Mueller was appointed by Rosenstein to investigate possible Russian election interference and collusion with the Trump campaign.
Prior to Friday's closed-door session, Comey said he would agree to testify publicly but did not want to do so privately for fear of Republicans's "selective leaking and distortion." The former FBI director feared that Republicans would "peddle a distorted, partisan political narrative about the Clinton and Russian investigations through selective leaks," according to his attorneys in a suit to quash the congressional subpoena. In their filing, Comey's attorneys argued the subpoena to testify privately violated House rules, "harasses the witness," had no "legitimate purpose," and that it "wreaks of political theater."
Attorneys for the Judiciary Committee argued for a closed-door meeting, not because of classified information, but because the committee believed House rules allowed it, the subject matter was of importance to the country, and a private session would be conducted quicker than a public one.
After attorneys for both parties presented their arguments before a federal judge in Washington, D.C., last week, Comey agreed to testify in private under the conditions that he is allowed to reveal publicly what was discussed and that the committee release a full transcript of the session within 24 hours of its completion.