Trump Commerce Chief Wilbur Ross Threatened NOAA to Agree With President's Alabama Hurricane Tweet: Report
The Trump administration's Secretary of Commerce threatened top employees at the NOAA after the agency contradicted the president in a tweet about Hurricane Dorian's prospective path.
Three people familiar with the alleged face-saving threat say U.S. Secretary of Commerce Wilbur Ross forced the Birmingham office of the National Oceanic and Atmospheric Administration agency to produce a rare unsigned statement disavowing their own employees' position last week on whether or not Dorian would hit Alabama. The New York Times reported Monday afternoon that Ross called acting NOAA administrator Neil Jacobs and told him the agency's political staff would be fired if the contradiction of Trump's Alabama remarks was not fixed.
Update: A Commerce spokesperson issued a response to the NYT report Monday evening, "The New York Times story is false. Secretary Ross did not threaten to fire any NOAA staff over forecasting and public statements about Hurricane Dorian."
Three people speaking to the Times on the condition of anonymity said Dr. Jacobs objected to Ross' demands but was told via phone last Friday that the NOAA-Birmingham office was trying to embarrass Trump with their factual Twitter rebuke to Dorian potentially hitting Alabama, which sits on the Gulf of Mexico.
The three anonymous individuals told the Times that Ross' firing threat is what ultimately led to the agency releasing the unusual NOAA statement backing up the president's Alabama claim.
The corrective NOAA tweet was used by late-night comedians, cable news pundits and Democratic politicians to mock Trump's apparent geographical misstep. But Trump continued doubling down on his Alabama hurricane prediction, even using a black Sharpie to draw in a circle on an NOAA map presented to the American people from his desk in the Oval Office on September 4.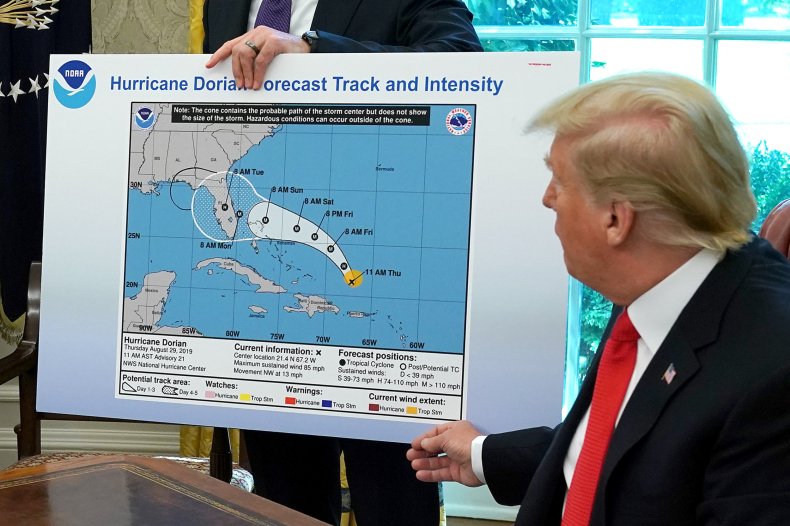 Most of the agency's career government employees are not subjected to such politically motivated ultimatums, but a few top officials labeled "political staff" which includes Dr. Jacobs are appointed and removed by the administration.
A dissenting senior Trump administration official told The New York Times that the NOAA-Birmingham office had simply been wrong and they corrected their mistake to make sure the record was correct. The Times noted that the official "provided no evidence to support that conclusion."
Adding to the overblown controversy, Trump tweeted out a video which looped a clip of a CNN pundit saying Alabama may be hit be in Dorian's path several days before that prediction proved wrong. The same tweet concluded with a CNN logo appearing to drive off a road and explode.
NOAA's acting chief scientist, Craig N. McLean sent an email to staff members saying the agency would be investigating why they suddenly reversed their own stance in order to agree with the president's incorrect weather commentary. McLean told the Times the NOAA's actions could be considered "a danger to public health and safety."