Trump Gloats as NOAA Releases Statement Supporting Claims Hurricane Dorian Could Hit Alabama
President Donald Trump spent the last couple of days showing maps that indicated Hurricane Dorian's path could include Alabama. On Friday evening, the national agency that gives weather advisories defended his claim. Moreover, the president tweeted a video showing a CNN meteorologist explaining how during the initial reports of Dorian's path that some states in the Gulf of Mexico could possibly be affected.
First, the National Oceanic and Atmospheric Administration (NOAA) issued a statement that said Dorian's original predicted path did include Alabama.
An unnamed NOAA spokesperson said that between Aug. 28 and Sept. 2, "information provided by NOAA and the National Hurricane Center to President Trump and the wider public demonstrated that tropical-storm-force winds from Hurricane Dorian could impact Alabama."
NOAA went on to say the National Weather Service tweet on Sunday morning "spoke in absolute terms that were inconsistent with probabilities from the best forecast products available at the time."
About the same time NOAA claimed the president was correct, Trump tweeted a video from CNN that shows a meteorologist say Dorian could cross into the Gulf of Mexico, in which south Alabama borders along with Florida and Mississippi. The video is edited to show the CNN meteorologist repeat the word "Alabama" several times.
Hurricane Dorian strengthened into a powerful and deadly Category 5 storm before making landfall three separate times in the Bahamas beginning on Sunday. That same day, the president tweeted "In addition to Florida – South Carolina, North Carolina, Georgia, and Alabama, will most likely be hit (much) harder than anticipated."
Twenty minutes after Trump's tweet, the National Weather Service in Birmingham, Alabama tweeted that its state would not feel impacts.
"Alabama will NOT see any impacts from #Dorian. We repeat, no impacts from Hurricane #Dorian will be felt across Alabama. The system will remain too far east," NWS Birmingham wrote.
Media outlets began ridiculing the president about the Alabama claim, and it escalated when he began showing maps of Dorian's projected path outlined in black, with an extended area outlined in white that engulfed the entire Florida peninsula and then another addendum drawn in black that clipped part of southeastern Alabama, just north of the Florida panhandle.
At that point, the #Sharpiegate hashtag exploded on Twitter, and every news outlet poked fun of the president; even Fox News downplayed his maps. Still, Trump stood by his claims of the storm once being projected to affect Alabama.
And on Friday afternoon, NOAA issued its statement that stood by the president.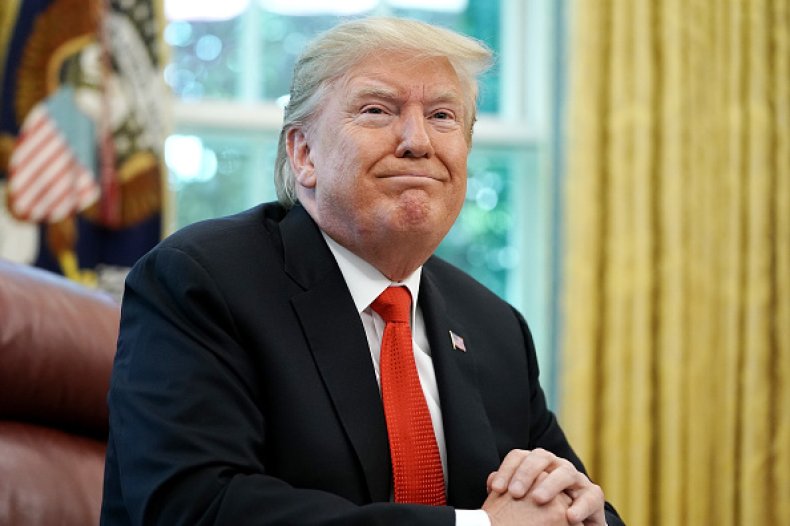 Dorian is responsible for at least 30 deaths in the Bahamas and three more in the United States. After leaving the Bahamas, Dorian moved westward toward Florida and crept up the east coast before making landfall on the U.S. mainland Friday morning as a Category 1 storm when it hit North Carolina.
Dorian is still moving up the east coast, and states as far north as Massachusetts are under tropical storm advisories. Dorian was still a Category 1 storm Friday evening with winds greater than 85 mph.