Hurricane Dorian: Trump Says Alabama Will Be Hit by Storm, National Weather Service Says It Won't
The National Weather Service (NWS) had to quickly reassure people that Alabama would not be hit by Hurricane Dorian after President Donald Trump mistakenly said that the state would be in the firing line for the Category-5 storm heading westwards from the Caribbean.
After the hurricane made landfall in the Bahamas on Sunday with winds of 185 miles per hour, the president issued an ominous warning about the storm's path as it headed towards the U.S.
He tweeted: "In addition to Florida – South Carolina, North Carolina, Georgia, and Alabama, will most likely be hit (much) harder than anticipated," the president tweeted on Sunday.
"Looking like one of the largest hurricanes ever. Already category 5. BE CAREFUL! GOD BLESS EVERYONE!"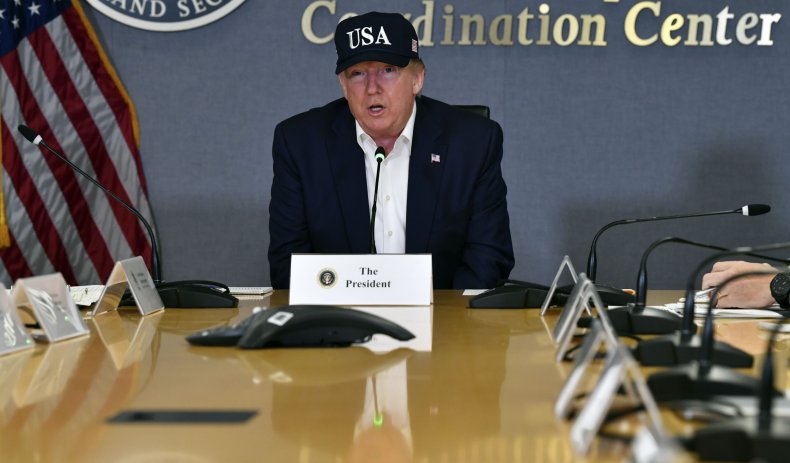 However the Birmingham branch of the NWS was quick to reject Trump's claim, tweeting that Hurricane Dorian "was too far east" to make landfall in Alabama.
"Alabama will NOT see any impacts from #Dorian. We repeat, no impacts from Hurricane #Dorian will be felt across Alabama. The system will remain too far east," the NWS Birmingham tweeted.
Although the NWS's clarification was unequivocal, Trump managed to repeat the claim later at a press conference held at the Federal Emergency Management Agency (FEMA) headquarters in Washington DC.
He told journalists: "And Alabama could even be in for at least some very strong winds and something more than that, it could be.
"This just came up, unfortunately. It's the size of the storm that we're talking about. So, for Alabama, just please be careful also," the president said.
Meteorologist James Spann was curt in his assessment of Trump's comment, tweeting to his 415,000 followers: "Alabama will not be impacted by Dorian in any way."
Trump also caused confusion when he said that he was uncertain if he had heard of a Category-5 storm before, telling reporters that such a hurricane "is something that I don't know that I've even heard the term, other than I know it's there."
However despite Trump's assertion, Hurricane Dorian is in fact the fourth Category-5 storm to have threatened the U.S. since he took office in January 2017.
CNN reporter Daniel Dale tweeted that Trump had made the same comment before about Category-5 hurricanes at least four times before between 2017 and 2019.
Dale also tweeted to his 600,000 followers how Trump had "falsely claimed six times that Hurricane Maria made landfall in Puerto Rico as a Category 5, though it was a Category 4."
Last week, Trump reportedly suggested that the U.S. military should bomb hurricanes to stop them from making landfall, according to Axios, a claim that Trump strenuously denied in a tweet.