For years theater-goers have been wondering if they would get a chance to see a new Stephen Sondheim musical on Broadway again. Well it seems to have happened with the debut of the exciting new production of Company at the Jacobs Theatre. This gender-switched delight starring Katrina Lenk is not so much a revival or a revisal of the landmark 1970 production as it is yin to the yang of the original. It is a virtually new Sondheim show that will sit quite comfortably side by side by side next to the original.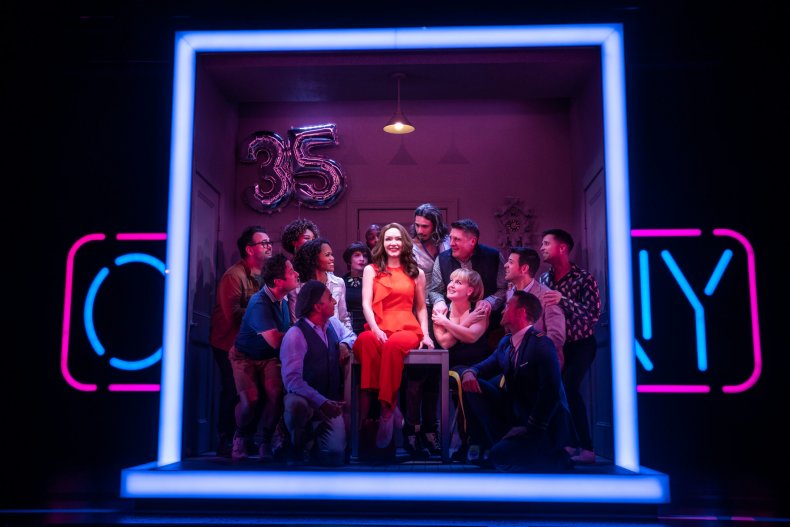 The death of Sondheim on November 26 hangs heavily over all of Broadway and especially this musical, which was really his breakthrough show. Marianne Elliott gave a touching speech before the November 26 performance. She spoke of Sondheim's active interest in and work on George Furth's book and the lyrics of Company. This was not a matter of just changing a few gender-specific pronouns.
There are many changes in lyrics and dialogue. David says Bobbie reminds him of the Chrysler Building—not the Seagram's Building. And the girls who play wife are now in their prime and they clutch a copy of Time, just to keep in touch. People who know the play fairly well will notice them; those who know it too well might feel a bit off-balance, especially those who try to sing along. It's not talk of God and the decade ahead that will allow you to get through a verse; so don't try, just hum if you must.
Sondheim's lyrics have been accused of being cold and unfeeling. There are too many examples to the contrary. Company, alone, has the touching "Someone Is Waiting" and "Being Alive," an anthem to the importance of relationships.
Sondheim was a terrier in his defense of his book writers. One suggested even the smallest change to the book of say Merrily We Roll Along at their own peril. In Company, this was never an issue. The book is solid and the interplay between text and lyrics is seamless.
Given the quality of the music and lyrics, which has yielded several great cast albums, one can easily forget how funny the book of Company is. And Elliott has assembled a cast of comic veterans who are at the top of their game. Jennifer Simard is a chameleon. Hilarious as a gambling nun in Disaster, she is unrecognizable here as Sarah (does anyone still wear a habit?). She does not miss a beat. Her interplay with Christopher Sieber as Harry as a couple ready to fall off two different wagons is one of Company 's comedic highlights.
Relationships and dynamics changed, and his involvement was extensive. When Elliott finished her speech, Patti LuPone, a longtime Sondheim interpreter, emotionally spoke of dedicating the production to Sondheim's memory. Clearly, Sondheim's involvement was much more than on just a technical level.
At the center of all these good and crazy people is Bobbie, almost a cipher, a blank slate onto whom everyone else projects their needs, desires and anxieties. She swipes left through life, unable to commit to marriage or to someone, and passes the time with her friends. She is perfectly content to be relatively content about her status—except when those friends decide to help, freely dispensing advice that comes with a price: her mental well-being. At best she gets mixed signals; at best she has mixed feelings. Unlike her Bobby forebears, however, her anxiety is complicated, more internally driven by her biological clock. If a 35-year-old woman forgets it is ticking, it seems there is someone nearby to remind her.
Bobbie is a tough role: If she's not an Alice in a wonderland of wacky friends, then she's at least a Jerry in a city full of Kramers. Lenk is perfect as Bobbie, whose biological clock is probably ticking louder for her friends than for her. She is a good friend—a single, attentive and attractive one. And she can sing, wistfully in "Marry Me a Little" and passionately as "Being Alive." She is the glue that holds this company and this Company together.
As far as songs go, Sondheim really spreads the wealth. Every performer gets at least one moment to shine.
Amy from the 1970 version is now Jamie, a gay man, and the patter song "Getting Married Today" is a little more believable here. If men and women both have some ambivalence and anxiety toward marriage, when it comes to weddings, women, it seems to me—a superficial white male—at least, have a razor-sharp focus and a determination that rivals Patton taking Palermo. Regardless, Matt Doyle's electric performance of this nervous breakdown set to music is a real showstopper.
In 2011, LuPone played Joanna in the Lincoln Center production of Company opposite Neil Patrick Harris. Playing Joanna to Lenk presents a completely different dynamic. Her "Ladies Who Lunch" still brings down the house, but her woman-to-woman interactions with Bobbie versus Bobby are completely different. She serves this rendition up with more humor, though still with a bile chaser.
Too often Sondheim gets dismissed as a genius as if the words and music flow easily from his mind to the stage. That, however, negates all the hard work that clearly goes into his art. A small forest probably gave its all for the Blackwing pencils he needed to write and rewrite the songs that seem so effortless. And somewhere in his home is a well-annotated copy of Clement Wood's Unabridged Rhyming Dictionary and an equally marked-up Roget's Thesaurus, which he readily admitted to using a lot. All this is evident in the reworking of Company. His genius, of course, was in making it seem so effortless.
The great filmmaker Ernst Lubitsch reportedly had a sign in his office that read something like: "How can we make this scene better?" One can easily envision Sondheim having a similar sign somewhere if not in his working area, then certainly in his head. His attention to detail is evident in his every lyric and note in this (and that) Company.
Finally, cast albums have often been the gateway for Sondheim addicts. They allow for repeated listening and savoring of his words and music. One can see how his songs stand so well on their own, apart from the libretto. What they do not do is give the listener a sense of how well integrated the text and lyrics are, especially in this show. Songs are seamlessly mixed with dialogue, sometimes long stretches of it.
And if nothing comes of Square One, the Luis Buñuel project that Sondheim was working on with David Ives, then this new Company is as fine a farewell as one could wish for from the greatest theatrical composer in many a generation. So, rise, get yourself a Sazerac sling and raise your glasses to this wonderful new production.
Company is playing at the Bernard B. Jacobs Theatre, 242 West 45th Street, New York. For more information and tickets, go to CompanyMusical.com. Proof of vaccination is required for entry and masks must be worn inside the theater at all times.