Comparing Sean Hannity Private Texts and Public Remarks on Fox News Before Jan. 6
Fox News' Sean Hannity struck a decidedly different tone the night before the insurrection at the U.S. Capitol than he did while on air the morning of the incident.
The House panel investigating the January 6 insurrection on Tuesday requested an interview with Hannity, one of former President Donald Trump's most prominent allies in the media.
In a letter to Hannity, Rep. Bennie Thompson, the select committee's chairman, and vice-chair Liz Cheney said the panel wants to ask him about communications he had with former Trump and others in the days leading up to and after January 6.
The letter said the panel is "specifically focused" at this time on text messages it has in its possession—dating from December 31, 2020 to January 20, 2021—between Hannity and Trump, White House staff and Trump's legal team.
The letter notes that on the night of January 5, Hannity "sent and received a stream of texts."
In one, Hannity wrote that he was "very worried about the next 48 hours." In another to former White House chief of staff Mark Meadows, Hannity wrote: "Pence pressure. WH counsel will leave."
The letter also says that it appears from other text messages that Hannity may have spoken directly with Trump that evening regarding his planning for the following day.
But on his show, Hannity was more upbeat and showed none of the concern shared in the messages.
"Big day tomorrow, big crowds apparently showed up to the point where the West Wing could hear the music and the chanting of the people that were there already," Hannity said on his show that evening, shortly after introducing Texas Sen. Ted Cruz on his show.
"And this all kicks off in the morning tomorrow," he added.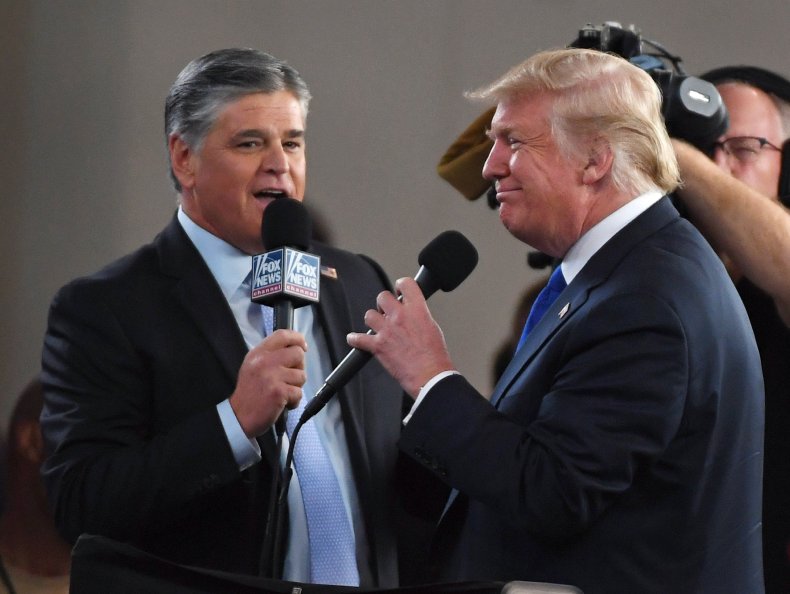 Hannity has condemned the violence that took place after a mob of Trump supporters stormed the Capitol in a bid to disrupt the certification of Joe Biden's victory, though he has never criticized Trump for remarks the former president made to the crowd prior to the violence, including exhorting them to "fight like hell."
But Hannity has repeatedly rebuked the committee investigating the deadly riot, calling it "a sham" on his show on December 14.
"Their goal is to purge the Republican Party of Donald Trump and his supporters and make it impossible for Trump to run again for president," he added.
Hannity also complained after Cheney publicized his texts, describing the move as a "weak attempt to smear" him and Trump.
Hannity's lawyer Jay Sekulow told The Associated Press on Tuesday night that they are reviewing the committee's letter and "will respond as appropriate."
Newsweek has contacted Fox News for comment.