Border Patrol Chief 'Extremely Offended' Over Alexandria Ocasio-Cortez's Concentration Camp Comments
The Department of Homeland Security called accusations that the facilities used to detain migrants, and specifically migrant children, are "concentration camps" as offensive during a Congressional hearing Thursday afternoon.
"I personally find [concentration camp remarks] offensive," Carla Provost, chief of United States Border Patrol, said during the House Homeland Security subcommittee hearing.
"My men and women, as well as the men and women in [Immigration and Customs Enforcement], are doing the best that they can with the limited resources that they have," she continued. "I'm calling agents that are bringing toys for children and buying them with their personal money. Agents are bringing in clothes, they're going above and beyond day in and day out to try to care for these individuals to the best of their ability."
Provost then added that agents who care for migrant children are not trained to care for them and did not sign up for the job, "so I am extremely offended by those comments."
The testimony came in response to Alexandria Ocasio-Cortez's repeated descriptions of tent camps set up by various agencies under Homeland Security as "concentration camps." The congresswoman's remarks have sparked support and criticism for using the term most commonly associated with Nazi Germany.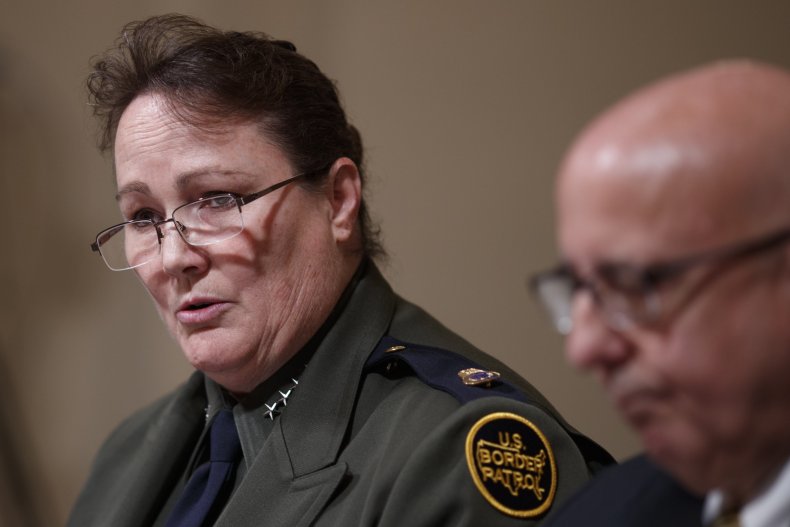 Regardless of the phrase, migrants are being kept in crowded, cold camps with no education, no basic sanitary supplies, like toothbrushes and soap, and where they are told to sleep on concrete floors.
The Department of Homeland Security said that these conditions come from a lack of resources and money to match the low of migrants into the U.S. who are fleeing violence and poverty in the Northern Triangle region of Central America. On Wednesday, the Senate Appropriations Committee agreed to $4.6 billion in emergency funds for what the Trump administration has referred to as a "border crisis."
Still, critics argue that the lack of humane conditions in migrant detention camps are not for lack of funding.
"You don't rip the clothes off of children and hand them back to their mothers naked because of 'overload,'" wrote Elizabeth McLaughlin, founder of the Gaia Project for Women's Leadership, on Twitter.
"You don't turn down the temperature to freezing in rooms where people are crammed in so tight they can't lay down because of 'overload.' You don't strip people of their personal belongings because of 'overload," she continued. "You don't deny mothers baby food because of 'overload.' You don't take medicine away from children because of 'overload.' You do it because you want people to die."
At least seven children have died while being held in migrant detention centers and camps since late 2018.