Concerns as Confused Cat Brings Home 'the Wrong Kitten'
A video of a cat bringing "the wrong kitten home" has raised concerns since it was shared online.
In a viral clip shared by the TikTok account lisamatty13, a cat brings home an unexpected visitor. But the video's caption is a bit misleading.
When the video starts, loud high-pitch crying can be heard coming from a different room within the house. Seconds later, the origin of the cries becomes clear—a cat was holding a young rabbit in its mouth.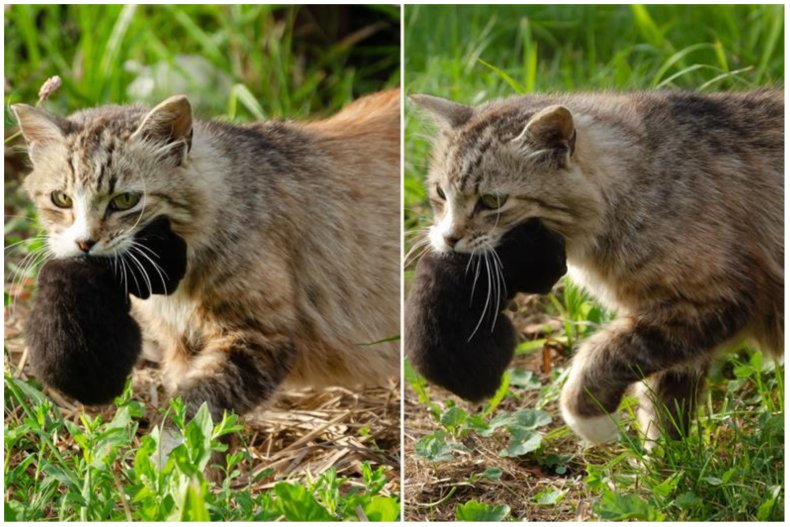 The cat then drops the rabbit, which was filmed quivering and shaking. Before the video ends, the cat can be seen sitting in front of the rabbit which appears to still be distressed.
According to the United Kingdom-based veterinary charity People's Dispensary for Sick Animals (PDSA), as prey animals, rabbits behave differently from other animals and their body language can be quite subtle.
It added: "Rabbits don't tend to make much noise and when they do it's a sign they're feeling very threatened. You may hear them grunting or growling and in extreme cases, they can scream."
A tensed-up body can indicate that the rabbit is "stressed or worried." They can indicate this change in mood by crouching and angling their heads up, rather than having them flat against the ground.
Since being shared on Friday, February 24, the clip has attracted more than 3 million views and some 233,200 likes.
But many of those who commented on the video shared their concerns about the young rabbit and hoped it was treated well once the camera stopped recording.
TikTok user But?CanHeBeatGoku said: "Don't think she thought that was her kitten. I think it's just some fast food."
Rocker dud added: "Please tell me that you saved that baby."
Imke Wiechen-Mahler posted: "My cat did it too and then raised the rabbit with the bottle. [The] bunny is fine and lives in our paddock."
Sierra commented: "Well, I guess you have a baby bunny now."
Newsweek reached out to lisamatty13 for comment.
The PDSA said there are five welfare needs that rabbit owners should aim to meet:
Health. Make sure your rabbits get regular check-ups and vaccinations to keep them healthy. Keep an eye on their teeth and feed them the right diet to avoid issues, too, as dental problems can be common in rabbits.
Behavior. Make sure you provide everything your rabbits need to fulfill their natural instincts and behave like bunnies.
Companionship. Rabbits should never be kept alone. They are social animals and love having another (neutered) rabbit friend to play with.
Diet. Make sure you feed your rabbits the best diet to keep them happy and healthy. We would not recommend a muesli-type diet. Their body size of fresh hay every day is really important
Environment. Providing the perfect home for your bunnies can go a long way to keeping them happy. As well as enough space to live in, they need an outdoor run with plenty of space to play and hop.
Do you have funny and adorable videos or pictures of your pet you want to share? Send them to life@newsweek.com with some details about your best friend and they could appear in our Pet of the Week lineup.