Watch Vet Nurse Hilariously Practicing for Exams on Her Dog—'New Patients'
A woman delighted audiences on TikTok after sharing a video of herself practicing a medical assessment on her pet dog.
"When all you have is your dog to practice your practical assessment on," Kalia Hess captioned the now-viral post.
Hess is currently a full-time nursing student and a part-time veterinary technician. She told Newsweek: "I was a veterinary nurse for five years but I am now switching to human medicine. I am currently in nursing school, which is what's going on in the TikTok video. I am performing a physical assessment on my dog to practice for my skills check-off in class."
The video clip had been shared on the social media platform under Hess' online username @KaliaHess4 on February 7. To date, the viral video has received over 624,000 likes, and 3,000 comments and has been viewed more than 4.4 million times.
Hess comically captioned the video: "Now accepting new patients."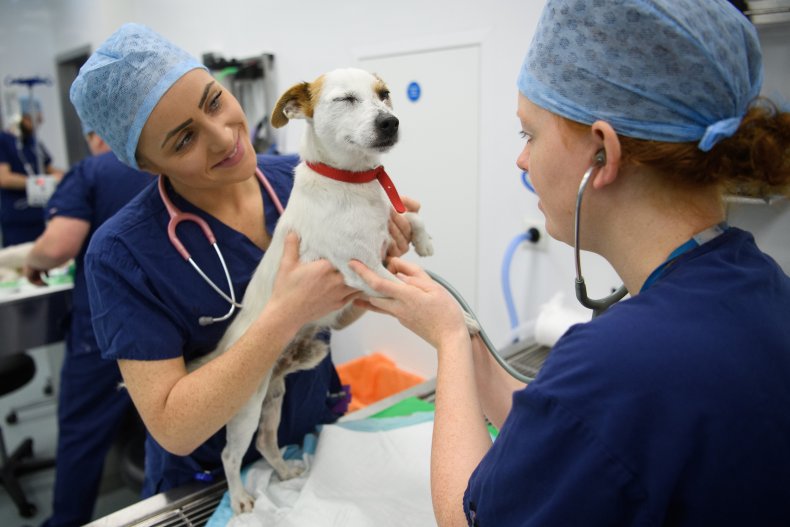 How Can You Become a Veterinary Nurse?
According to the pet charity People's Dispensary for Sick Animals (PDSA), while a career in veterinary medicine is highly rewarding it requires hard work and determination to achieve and sustain.
To succeed in the field you'll be needing a mixture of sufficient work experience and university qualifications.
The PDSA writes: "Once you have your qualifications, you'll be ready to move on to your degree. These are typically five-year courses. Other courses have the option of a pre-vet foundation year for students with alternative entry requirements, or a sandwich year making them longer. Some programs for students who already have another degree in a science subject are only four years."
The University of Arkansas, where Hess studied, houses a veterinary school within its animal science department.
"Students interested in attending veterinary school will take a science-oriented, pre-professional program that leads to a B.S. degree in animal science. In addition to the chemistry, biology and other science courses in this curriculum, our department offers several classes specifically designed to better prepare students for veterinary school and for a successful practice afterward," the university says on its website.
What Do the Comments Say?
Many of the comments left under the video on TikTok poked fun at Hess' dog for complying with his faux practical assessment.
"The way his eyes keep lookin at the camera," one TikTok user wrote.
"I understood everything he said," another user commented.
A different TikTok user commented: "This is so cute."
"I have my cat as a practice patient during my nursing years," another user wrote, equating their experience to Hess'.
Do you have funny and adorable videos or pictures of your pet you want to share? Send them to life@newsweek.com with some details about your best friend and they could appear in our Pet of the Week lineup.